Business & Regulation
Business Practice,
Trends & Forecasts
A Second Tour of Duty… Lessons Learned with Annalisa Jenkins
Annalisa Jenkins, new CEO of PlaqueTec, began her first tour of duty with the British Navy as a medical officer, but has since climbed the ranks of pharma to become a CEO and member of numerous boards.
Annalisa Jenkins |
The battlefield and the boardroom are more similar than you might think
For me, everything started with the military. I was raised in a military family and when I was searching for financial support for my medical studies it seemed a good time to join the British Navy, which had just started to open its doors to women in the medical branch. I served as a medical officer in the British Navy and was part of the Minesweeper Squadron during the Gulf conflict. Ultimately, I rose to the rank of Surgeon Lieutenant Commander, but after my tour of duty I wanted to go back into research, so I trained in cardiovascular medicine. I worked for the National Heart and Lung Institute, where I investigated the role of cholesterol on atheromatous plaques, and in 1997 I was offered the opportunity to join the pharma industry as a cardiovascular medical advisor at Bristol-Myers Squib (BMS), which was an exciting opportunity; in the 1990s, BMS was one of the top cardiovascular companies in the world.
It was a great step for my career to learn how to develop and register medicines – and seeing drugs that you have helped develop being given to patients is tremendously rewarding.
The military turned out to be an excellent precursor for a career as a woman in the pharma industry. Frankly speaking, the pharma industry is very male dominated, but the military is too, so I was used to it. Looking back, I learned many valuable lessons at a young age in the Navy that really helped me to build my business career; in particular when navigating the corporate levels of big pharma. In fact, I have previously given presentations about going from the battlefield to the boardroom. The military taught me the importance of leadership, respecting and valuing each employee equally, and courage and resilience under pressure, as well as being able to cope with a risky, innovative and global environment – all essential skills if you want to succeed in senior roles in the pharma industry.
Pharma does more than simply make medicine
The move to BMS was my opening to the pharma industry – and since then I have traveled all over the world. You might say I did my first global tour of duty in the military, and my second in the pharmaceutical industry! At BMS, I had the opportunity to live and work across 50 countries. I mostly worked in scientific medical affairs and cardiovascular drug development. It was a great step for my career to learn how to develop and register medicines – and seeing drugs that you have helped develop being given to patients is tremendously rewarding. As one example, in 2006 I was asked to chair BMS's steering committee for immune-oncology. We acquired Medrex and ultimately ended up with one of the first immuno-oncology programs in the clinic for patients living with melanoma. I will never forget the days when we started to unlock the phase II data and saw patients with stage II melanoma, who were destined to only live 6-12 months, living beyond 2-5 years – including some young women who went on to have children. Another project I am immensely proud of is the work I did at BMS with HIV. In the Navy, I treated sailors with HIV returning from tours of duty in Africa in the 1980s – essentially it was hospice care for those individuals. Fast forward twenty years later when I was at BMS and a single pill a day could help prevent death from HIV. And it wasn't just the medicine making that helped make a difference; I was also able to get involved in BMS's philanthropic effort in Africa; the Secure the Future Program aimed to prevent mother-to-child HIV transmission and take care of children who either had HIV or had been orphaned by it. The program started a long-term interest in philanthropy and healthcare in Africa – and a few years ago I established a UK charity called You Belong. It looks at new pathways of healthcare and community-based care for people living with mental health diseases in Uganda and Sub-Saharan Africa. I really want to be able to make a difference to healthcare – and I am fortunate to have that opportunity.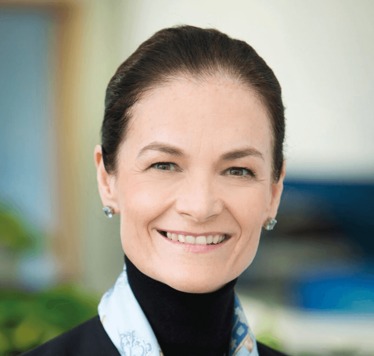 Annalisa's Top Career Tips
Value everyone equally
Be kind and gracious every day
Be solutions oriented
Be inquisitive
Jump in and take risks
Be a role model to others every hour of every day
Embracing the unknown opens new doors
I stayed at BMS for about 14 years, progressing through different roles at the company. There will always be times in your career when you must embrace the unknown if you want to move up – and there will be many times when you need to figure out the way forward by yourself. At one point, I moved to Australia to become BMS's Executive Medical Director across Australia and New Zealand. It was exciting and seemed like a great step up, but nobody hands you a textbook when you land in a new country… Once reality set in, I had to quickly figure out how to create value, build teams and drive progress in a region that was very new to me. The role of a medical director is an important position in a pharma company, centered on market access, pricing and reimbursement. The UK's cost watchdog, NICE, had really just come to the fore in the late 1990s, but the philosophy of paying for medical value had long been established in Australia and Canada. When I landed in Australia, I had to quickly get to grips with how a single payer system allocates resources and conducts analyses in terms of cost effectiveness. It was a tough learning curve, but the rewards were enormous. I was able to take my experience to even more senior roles, such as when I returned to the US to get involved with running the global organization.
Following industry trends leads to new career opportunities
My time at BMS was a fantastic way to learn about the pharma industry – and I remain eternally grateful to all of my mentors who guided my development through the company. But I still had a love for research and wanted to get more involved in that area. The next stage of my career took me to Europe, to work for Merck Serono. I was tasked with completing the merger of Merck KGaA and Serono Development on a global basis, but predominantly to try and rationalize and refocus the pipeline. The company had over 2500 employees and a budget of $1.5 billion a year, but had been struggling to get drugs over the finish line, so I externalized research, doubled down on oncology and immunology, women's reproductive health, and multiple sclerosis. I helped spot a number of opportunities during my time at the company, including accelerating and investing in the PDL 1 Merkel cell tumor to make sure we could catch up with what was going on at Merck Sharp & Dohme, BMS and AstraZeneca. We also refiled cladribine in Europe and launched new phase II studies in osteoarthritis and Lupus. I'm pleased to say all of those programs have made progress since then – and the company has had two very significant drug approvals in the last 24 months.
I'd already been getting interested in biotech at BMS, but my interest intensified during my time at Merck. We did a number of deals with small biotechs; for example, we were the first company to sign a large deal with Beigene – which have gone on to become a multibillion dollar biotech company in Hong Kong. By the time I left Merck, I had decided that I wanted to get on the biotech bandwagon – it was a clear trend for the industry and also tied in with my general love for R&D. I was particularly interested in small companies, but I also wanted to take the next step in my business career. I started getting involved with boards – which is a really rewarding experience. It's fascinating to see lots of different technologies, and good for your career. I was especially interested in women on boards and diversity.
In time, I received a call from PRIME – they had a small company focusing on gene therapy for haemophilia – Dimension Therapeutics. There were around 10 employees and Fidelity was injecting some cash – and they asked if I was interested in becoming Dimension's CEO. I gave the classic female response of, "I've never been a CEO so I'm not sure I can do the job." They told me not to worry; it would be an R&D focused company so I could run it like the other R&D organizations I'd headed in the past. Famous last words! It was similar to when I stepped into Australia and realized that I had a lot to learn. I realized that we needed to expand our portfolio, and I had to learn what it meant to be a biotech CEO – fast! It went really well at first. In 12 months, we raised $146 million, and we took our lead program into the clinic with some of the best gene therapy manufacturing capability in the sector. Unfortunately – as is all too common in biotech – we had to end that program following an incident in a patient during phase I, which led us to terminate the trial. I then had to think about how to fund the rest of the portfolio as a public company. Ultimately, I decided to restructure the company, culminating in a sale to Ultragenyx – one of the leading rare disease drug development companies out there. I think it was the best option for the company. I was one of the few people who left as a result of the restructuring, but most jobs were saved.
Once again, I am leaping into the unknown – it is the first time that I've had a leadership role in a diagnostics company.
Diagnostics are essential to pharma's future
Rather than going back to big pharma, I wanted to stay with smaller, early-stage companies that could see a major inflection point – either from a scientific or business perspective – on the horizon. I also wanted to return to the UK.
I was still on numerous boards (and still am today), including the board of PlaqueTec – a UK diagnostics company. PlaqueTec is developing a novel approach that can assess an individual's risk for coronary artery disease, so I had a keen interest; it felt as though I was coming full circle in my career. Moreover, it was fascinating to see the field from a new diagnostic angle. I jumped at the chance when they asked if I wanted to be CEO last year. The company's lead technology is the PlaqueTec Liquid Biopsy System – and it's actually the first product approved in the European Union for collecting biomarkers directly associated with plaques within coronary arteries, as a means to assess and potentially resolve residual inflammatory risk. It's a UK invention that emanated from Papworth Hospital, one of the leading global cardiovascular institutions in the world. What makes the technology special is that it is the first that can enter an artery and sample the blood in the direct layer around the plaque, which is where a lot of the inflammatory biomarkers or cytokines reside.
In my research days, I looked at the concept of residual risk – why patients on statins, ace inhibitors or beta-blockers continue to be at very high risk of future acute coronary symptoms. And that made PlaqueTec all the more compelling. There seems to be an increasing interest in the role of inflammation, which can be assessed by paying more attention to some of the unique markers involved. Medical imaging has certainly improved – and it does offer a good static assessment with a focus on structure – but I'm more intrigued at the possibility of looking at dynamic biology in our coronary arteries. Cardiovascular disease is the world's biggest killer and we need new approaches to tackle it.
Once again, I am leaping into the unknown – it is the first time that I've had a leadership role in a diagnostics company; my previous experience with diagnostics was in pharma, working with companies to develop companion diagnostics to support our therapeutics. It can be difficult to build successful businesses in the diagnostic space because of issues around funding, but I believe there are a number of transformational and disruptive shifts going on in our industry – and one of them is the validation of new biomarkers. The FDA and EMA are also pursuing new pathways for the approval of diagnostics, recognizing that they will be crucial as we move towards personalizing medicine. I can't wait to see what the future holds!
Women can be successful in pharma
Working in pharma is a challenge – it's a risky environment and, as I mentioned earlier, male dominated, which can be difficult for some women. I am fortunate because of my background, but I'd also really like to help inspire more females to enter the industry – and upper business roles. I sit on a number of boards and I think board diversity is incredibly beneficial. Today, I am chair of the boards of Vium, Cocoon and Silence Therapeutics, and I sit on the boards of Cell Medica, Oncimmune, Ardelyx, iOx, Phesi and Thrombolytic Science International. I am also a committee member of the Science Board to the FDA and I am on the Advisory Panel of the Healthcare Businesswomen's Association. Is this all hard to balance? I like to think I have carefully selected my roles to ensure they all fit together like a jigsaw puzzle! They all contribute in some way to each other; for example, many of them involve the same investors. From a career point of view, it's never a bad thing to be well known by investors! The fact that all of my roles involve different platforms also allows me to share knowledge and experience across the board, whether that be from a regulatory, manufacturing or drug development point of view. And when you have lots of interesting roles, it also keeps your mind active and fresh.
Some people believe such a busy career comes at the expense of a personal life. It definitely is a 24/7 commitment, but I do have a life too! I go to the gym, love fashion and I have two wonderful children making their way professionally and a great supportive partner! I really hope that by successfully building, leading and chairing companies I can be a good role model. I want to prove that women can make it to senior management, survive and thrive, and have a fun life with family and friends – and that pharma is a great place for someone who understands the importance of strong value-based leadership.
Receive content, products, events as well as relevant industry updates from The Medicine Maker and its sponsors.