Business & Regulation
Business Practice,
Digital Technologies
Ad Men of the Round Table
Four courageous marketer-knights weigh in on what it takes to tilt against the social media windmills of pharma's digital content kingdom
Angus Stewart | | Interview
The same wise man who once said "the medium is the message" also said "the content of any medium is always another medium." Inside YouTube there is television and cinema, and inside Twitter is the poem and the telegraph pole. So, dear reader, please remember that inside this article hides a very old medium indeed: a conversation between friends.
Here, Raman Sehgal (Host of the Molecule to Market podcast and the Founder and Global President of ramarketing), Neil Hunter (Life Science and Corporate Communications Director of Image Box), Gareth Roberts and Gareth Pickering (Campaigns and Marketing Manager and Director and Co-Founder at Orientation Marketing, respectively) answer the questions of Angus Stewart.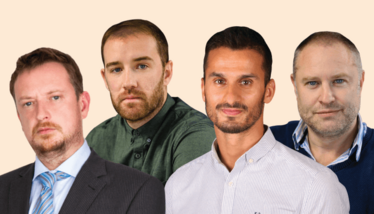 When it comes to the pharma industry, what marketing specialisms are required?
Sehgal: My experience is from the B2B supply chain side of the pharma sector and, from this perspective, companies need to be where their relevant stakeholders (prospects, clients, potential employees) are looking and spending time. Typically, most companies need a solid digital presence that is also supported by more traditional techniques.
Hunter: Companies need to work out who they want to communicate with, the form of this communication, and then the medium it will use. Most of our biotech clients want to communicate with a wide spectrum of stakeholders from industry, government, and the public. Traditionally, most of these communications have been one-way, but social media provides partial opportunities to engage in two-way conversations with a wider stakeholder group. I say "partial" because some of the pharma industry still needs to wake up to the fact that social media offers the opportunity for dialogue and an interchange of ideas…
The specialism really required is to understand all of the different media available, and to understand and appreciate the best communication format to engage with each group of stakeholders. Corporate and business social media, after taking off, really became over-popular. Many companies and communication agencies moved onto social media entirely and dropped all other media. I consider this a mistake. Social media has proven itself to be a useful weapon in the communicator's arsenal – but it's not the only one.
Pickering: As the post-COVID-19 world moves to more digital initiatives, the pharmaceutical marketer needs to be aware of as many ways as possible of getting the right content in front of the right audience. Some of the traditional digital marketing solutions (webinars, for instance) are experiencing fatigue, as many more companies look to them. It would be wise to consider specific lead generation programs or pay-per-lead initiatives. Exploring the wider options of an account-based marketing approach is also advisable. The companies looking at this will be well ahead of the curve.
Is it true that pharma and social media have a rocky history?
Sehgal: This is certainly less true for the B2B supply chain side of the pharma sector. Adoption of social media channels in this space has been much slower, mainly because most buyers would not have been typically looking for technical services to solve a drug development issue on social media. However, things have changed. Social media usage is common among all age groups, and younger, more digitally savvy buyers are now in charge of sourcing and purchasing decisions. As such, social media channels (especially LinkedIn) play a critical role in raising awareness and generating interest in a company's capabilities. The platforms are also used as social proof. For example, when a buyer is kicking the tyres and looking at various vendors, how a company comes across online can play a vital role. The buyer might be thinking: "I like the look of these guys – I could see us working with them."
Hunter: In the life science industry, big pharma is top of the food chain. As is traditional with those at the top, they end up disassociated from everyone else. Executives surrounded by internal and external "yes" people naturally got used to their bubbles, and were not aware of the reality of how they were actually perceived. There would have been some interesting meetings when social media was first introduced to big pharma. The two-way communication platforms – with the options for anonymity that they enable – would have produced some significant shocks! Adding in the public, patients, and other stakeholder groups, there is a significant recipe for problems for those who are unaware of how the organization is really perceived. In this situation, execs tend to retreat entirely and refuse to engage. In many organizations, I suspect it would have taken time for the players involved to reach an equilibrium.
Roberts: I guess there has always been a lack of social media activity in pharma, when compared with other industries. Big pharma has always had to tread with caution due to regulations, disclosure, and potential PR nightmares where organizations can lose control of the content and the message. But there is no doubt that social media platforms are used by people that are interested in purchasing products and services, and the two-way conversation that this often produces can be hugely beneficial for those organizations.
Should pharma still be plugging physical or digital media into their social media?
Sehgal: Given I am the host of a podcast called Molecule to Market, I'm probably a little biased!
I absolutely think there is a role for longer, more innovative platforms of content, even in a very technical sector like drug development. People like to know what is going on in their space – to know the latest trends, interesting personalities and so on. The squeeze on travel budgets (not to mention the pandemic) means people need to get their fix of industry insight in other ways. Perusing podcasts, videos, and longer-form content is an effective way to do this.
Although pure posting has a role, it's certainly not king. Every post should have a reason behind it – for example, to educate, inform, or promote.
Hunter: While a picture is worth a thousand words, video and audio input is worth even more. Complex messages can now be explained more clearly with longer-form social media. However, this should be used sparingly. The pandemic has meant that meetings, conferences, roundtables, and almost all business human interactions have been pushed onto screens. All professionals – whatever the industry or sector – are also humans, and we are all suffering from screen fatigue.
As a result, longer-form digital media should be used only where essential. Where messages can be communicated to the market via video, this needs to be done in short and simple bursts, rather than longer explanations.
Pickering: Yes, absolutely. The audience who follow and engage with you are very open to digital media and will watch, listen, read, and absorb anything you have. Keep it short, and be conscious that everyone has time pressures... but remember that in our industry, content really is king... So, yes, absolutely – plug away!
Are there times when it's better to simply not engage on social media?
Sehgal: There are certainly times when you should not engage. Some people use social media (especially Twitter) to vent and just articulate their opinions. When it's unfounded criticism or offensive, it's sometimes best to let sleeping dogs lie. Responding can fuel the fire.
Hunter: Despite all the options that social media offers, there are times when it is not worth engaging. Social media is an anonymous communication media, with minimal repercussions for unidentified transgressors.
Consider that only seven percent of communication is through the words we use; communication by text severs the other 93 percent, so misunderstandings happen on social media all too frequently. And that leads to public arguments that no-one ever wins. Disputes are best solved by taking the conversation away from the public forum and engaging one-on-one, whether it be an investor, partner, patient, or another stakeholder.
Roberts: I don't believe that saying nothing during a crisis is an option. Simply ignoring something and hoping it will go away just isn't viable. Most of the time, the objective should be to open a dialogue serving brand awareness and promoting dialogue with your followers and audience – if there may be a real concern about engaging with a user/post, tread with caution and do so professionally, with empathy. Often – during a crisis for example – saying something may create a degree of negative feedback, but saying nothing at all will likely lead to even more negativity, followed by additional PR problems further down the road.
Do you have thoughts of your own on how pharma can do better online? Perhaps you have a great case study to relay, a gleaming pearl of wisdom, or a hilarious anecdote. Whatever it is, please feel free to send it in via the strangely persistent 20th century medium of email: [email protected]
Receive content, products, events as well as relevant industry updates from The Medicine Maker and its sponsors.