Business & Regulation
Business Practice,
Biosimilars,
Standards & Regulation,
Trends & Forecasts
Ahead of the Curve
Sitting Down With... Ajaz Hussain,President, National Institute for Pharmaceutical Technology and Education, Minnesota, USA.
What drew you to pharma and medicine?
Growing up in India, I always wondered how medicines worked. My father was a professor of chemical engineering, and I think he helped spark my interest in pharmacokinetics and pharmaceutical engineering. I've always believed that teaching is my calling, so I think I automatically chose that as a career path. I began my teaching career at a small university in Ohio, and it was a great experience. But it was not a research university, so when an opportunity opened up to build a research program at the University of Cincinnati, I joined the faculty there.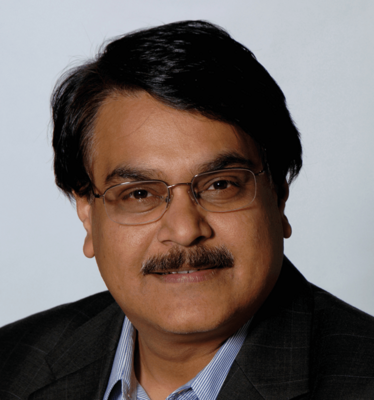 Why join the FDA?
Achieving academic tenure was a big deal, but once I achieved that I almost felt trapped – and I couldn't understand why. I kept thinking that my experience was too narrow. I had gone from a PhD program directly to teaching, and I hadn't experienced the regulatory or industry aspects of my field. At the same time, my research was focused on designing pharmaceutical products with optimal pharmacokinetic and pharmacodynamic profiles, and it had expanded to include the concept of computer-aided formulation design, using large neural networks and expert systems. The FDA expressed interest in my neural network and modeling work, and this presented a chance to widen my experience, so I decided to go for it.
At that time, the FDA was undergoing significant reorganization, and it turned out to be a fantastic chance for me to help the organization understand the importance of pharmaceutical science, and fill the gaps in regulatory review and inspection practices. During my ten years at the FDA, the global vocabulary has significantly changed, with concepts such as quality by design, PAT, and continuous manufacturing coming to the forefront. Today, I think we're on the verge of making the paradigm shift we had envisioned back in the late 1990s. Many people told me it was a terrible decision to leave an academic tenure position, but I needed to do it – and I'm glad I did.
What led to your move to industry?
In Europe and Japan, regulatory review applications have a component called the pharmaceutical development report. This aspect was missing in the FDA's review, which I found disconcerting; how can you review an application without knowing how they developed the product? My view was that if we don't review the development, we are creating problems; if we're setting specifications after the product has been developed, then the manufacturing process has not been designed for the "new regulatory" specifications! I took it upon myself to make changes and got more involved with the policy development side. When the Office of Therapeutic Proteins from the Center for Biologics was moved to the Center for Drugs, I helped the new organization form. At this time, people were starting to think very differently – people from biotech were thinking differently about complexity, and people working in small molecules were thinking differently in terms of manufacturing and controls. Biosimilars were also emerging, but there was no political support to allow the FDA to progress their biosimilar guidelines – everything seemed too complex and uncertain and people felt the timing wasn't right. It became the next challenge I wanted to take on, but I was hitting a brick wall at the FDA.
At that time, Sandoz had invested heavily in biosimilars, but the path to market was uncertain. Their FDA application was stuck for five years, and the biosimilar pathway was not moving. (Novartis had actually sued the FDA for the delay in the review process, which was a significant move.) Sandoz approached me for help, and though I'd never worked in a private corporation before, it didn't occur to me to think twice before jumping in. I thought to myself, "This is the task at hand, and I need to see what I can do..."
What brought you back to education?
After Sandoz I spent about five years at Philip Morris International, I then returned to the pharma sector and took on a challenge to work with an Indian company (while based in the US) on generics and biosimilars, which was an excellent chance to reconnect with my roots. Most companies in India were underestimating the complexity confronting the sector - and continue to do so. Next, I decided to start my own company and dedicated the next several years to empowering students and young professionals in India. The talent there is great, but there is a real need for professional development and the lack of attention can lead to issues, such as data integrity. I developed a program to strengthen the culture of pharmaceutical quality, based on my understanding of human behavior. About 9,000 people have attended this course in India. It was a life-changing experience. I think it's clear that we should avoid finger pointing in India while still discussing these difficult topics to find solutions, and that's what I've tried to do. I also joined the National Institute of Pharmaceutical Technology and Education (NIPTE) in 2014. So, I've essentially come full circle – from academia, through regulation and industry, and now I'm taking that hard-earned experience back to education.
What goals remain?
At this stage of my professional lifecycle, my interest is in improving systems; I am not interested in setting (short-term) goals. One thing I've learned over the course of my career is that setting goals can be a disappointment – I made achieving tenure my goal, and I achieved it, but it didn't make me happy. I don't think it's a good way to run your life. So, I've achieved my goal… now what? Instead, I think it's better to focus on improving the system you're working within. My focus is on human development; working to improve and empower people to make sure our industry keeps evolving. But how do you improve a system when you're working within it? That's a riddle I'm still working on...
Receive content, products, events as well as relevant industry updates from The Medicine Maker and its sponsors.