Business & Regulation
COVID-19,
Vaccines,
Supply Chain
Around the World
The challenges of transporting vaccines across the globe – and into countries with difficult terrain and weather conditions
Stephanie Sutton |
World Courier has been delivering COVID-19 vaccines to various countries since the start of the pandemic – and even before then was a key courier for medicinal products. But even at the best of times, pharmaceutical logistics can encounter challenges. As one example, World Courier cites the unique challenges of distributing vaccines in Norway during winter months, when average temperatures drop to -7 °C, making the country's rugged terrain even more difficult to navigate (1). Jens Mattuschka, Regional Vice President of the Nordics, Central and Eastern Europe, and Marius Undlien, Norway country manager, both at World Courier (a part of AmerisourceBergen), tell us more about the challenges of distributing vaccines during a pandemic.
In terms of the global distribution of COVID-19 vaccines, when did the scale of the challenge really hit home?
Mattuschka: We realized very early on. In March 2020, we knew we would have to move quickly to maintain the pharmaceutical supply chain. Within a couple of months, as pharmaceutical manufacturers raced to develop safe and effective therapies and vaccines, we began engaging with partners across the supply chain to identify how we could best support distribution efforts. To put this distribution effort into perspective, countries around the world have ordered more than 9 billion vaccine doses. This rollout requires timely deliveries to all corners of the world – from large cities in the US to rural, remote islands in Norway to regions throughout sub-Saharan Africa. The immense scale of this effort is compounded by the fact that some of the vaccines need to be stored at frozen or deep-frozen temperatures throughout transport.
As such, there's a tremendous amount of work and collaboration required among government agencies, pharmaceutical manufacturers, and supply chain partners. Given the scope, and the urgent need across the globe, the entire industry needs to work together for the transport, storage and distribution of these vaccines.
We're supporting vaccine distribution efforts at various points around the world, including South Africa, Bulgaria, Germany, Lithuania, Finland, Sweden, and Norway. We're also playing a vital role in transporting active pharmaceutical ingredients and semi-finished products across the world, as well as the manufacturing samples for safety testing prior to vaccine batches being released.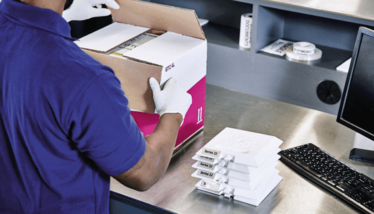 What are the general challenges associated with transporting vaccines or medicines, particularly those with sensitive storage requirements, in "normal" times?
Mattuschka: Even before the pandemic, we transported complex pharmaceutical products, such as cell and gene therapies and highly temperature sensitive products, across the world every day. The products need to be delivered on-time, and in the right condition, so it's critical to design and execute a logistics plan that reduces the risk of temperature excursions. This can be particularly challenging when shipping products over long distances, and to regions with high heat or extreme cold. In the planning phase, it's important to identify the appropriate packaging solution and ideal transport route based on the product's specific needs. The right packaging solution can help protect product integrity, even when unforeseen factors arise. For example, a shipment sent in our Cocoon packaging container maintained its specified temperature range of 15 to 25 °C throughout a two-week delivery from Austria to Baghdad, Iraq, despite being stored in a desert warehouse for nearly 10 days with limited external temperature control!
Let's talk about Norway in particular – what are the specific challenges when it comes to supplying vaccines around the country?
Mattuschka: Norway's geography presents unique challenges. The country's rugged coastline, which is the second longest in the world, is broken up by fjords – large, narrow inlets of sea in deep valleys. About two-thirds of the country is mountainous, with nearly 300 mountain peaks topping 2,000 meters. Tens of thousands of small, remote islands also sit off Norway's coast, only accessible by boat or air. As such, ferry crossings are part of the daily life for the population in the coastal areas. In Norway's northern region, settlements are widespread, with large distances between the small towns and villages. Fortunately, we have a strong short-haul flight network in that area, so we are able to reach the small municipalities within a day from Oslo.
The challenging geographic conditions are exacerbated in winter months, when the country transforms into a snow-clad landscape and the average temperature drops to -7 °C. The weather conditions make it much more difficult to reach areas that are only accessible by ferry or crossing a mountain pass. During our planning process, we prepared for the potential for closed mountain passes and isolated islands, and identified alternate routes to ensure we could still deliver the vaccines to those regions.
Undlien: In Norway, we are supporting the distribution of all COVID-19 vaccines that have received authorization from the Norwegian Institute of Public Health (NIPH). The vaccines have unique time- and temperature-specific requirements, ranging from refrigerated (2 to 8 degrees °C) to frozen (-20 degrees °C), and deep frozen (-70 degrees °C). As such, there's no one-size fits all approach – plans must be tailored to the needs of each product, with specific packaging solutions and temperature monitoring systems.
For example, to support transport at 2 to 8°C, we used a combination of Global Thermal Containers with phase change material and an active container, called PharmaCube. This is a custom-built container that performs like a mobile refrigerator. It is stored in a van and powered by the vehicle's battery.
How did you prepare and plan for vaccine distribution?
Undlien: As part of our contract with the NIPH, we have served as the country's distribution supplier in case of a pandemic since 2016. Each year, in collaboration with NIPH, we conduct a pandemic response training exercise that coincides with the annual distribution of seasonal flu vaccines, which we deliver to more than 400 sites across the country. During that two-week process – in which we are actually distributing the flu vaccine – we test our internal and external resources, capacity, packaging solutions, temperature monitoring capabilities, and overall distribution plan. The annual exercises help us to identify and eliminate gaps in our process and better position us to respond in a crisis.
Mattuschka: Months prior to the first COVID-19 vaccine authorization, we began working closely with the NIPH, manufacturer partners, and our suppliers to better understand the time- and temperature-sensitive requirements for each vaccine candidate. In collaboration with our partners, we built a supply chain strategy designed to protect the product integrity throughout transport, including when temperatures plummet in the winter. Our planning involved a number of components, including identifying the appropriate temperature-control packaging solutions and specific transport routes, as well as coordinating with the healthcare sites. In Norway, we're supporting 500 to 600 shipments each week, with deliveries to more than 350 sites across the country. Each shipment is equipped with smart-monitoring solutions, including sensors that track product temperature. To support our distribution efforts, we have also established a control tower in Lithuania. From there, a team of associates help to plan the shipments, set the orders, and then monitor the shipments, including the temperature, throughout the delivery.
The situation changes quickly during a pandemic – how can companies and governments make sure they are prepared?
Mattuschka: I think your question reinforces the importance of specialty logistics partners that have robust contingency plans in place that allow teams to mobilize quickly and, if needed, to take corrective measures. In some cases, teams may need to replenish a gel pack or simply replace a monitor with a low battery. In other situations, a storm may cause road closures or transportation issues that could cause shipment delays. In this case, a significant delay might affect hundreds of people waiting for a vaccine…
Undlien: I've said this often, but I'm proud of and extremely grateful for all of the work led by our teams on the ground to keep people across Norway safe! As just one example of how things can change and how we need to think on our feet; on Jan 20, 2021, one of the drivers was scheduled to deliver a shipment of vaccines to the islands of Traena and Lurøy. Generally, the ferry to the islands operates only once or twice per day, with the first ferry leaving at about 10 am. To avoid delays and provide timely access to the vaccines, it's crucial that our drivers take the first ferry. However, the first ferry was canceled that day and a severe storm threatened to cancel the second, which would have caused at least a 24-hour delay. Given the short shelf life of the products after thawing, it was imperative that these vaccines were delivered on time. The driver sourced different options before discovering a local shuttle boat in Sandnessjøen. After contacting the consignee to share the update plan, the driver chartered the local shuttle boat and set sail alongside the skipper at about lunchtime. They made the last delivery at about 2.46 pm, ultimately providing same-day delivery and ensuring residents had access to the vaccine.
Receive content, products, events as well as relevant industry updates from The Medicine Maker and its sponsors.
AmerisourceBergen, "Case study: COVID-19 vaccine distribution during the Norwegian winter," (2021). Available at https://bit.ly/3sBuXMh