Business & Regulation
Digital Technologies,
Drug Discovery,
COVID-19,
Technology and Equipment
Beyond Drug Development
AI opens up new opportunities in R&D – and also provides pharma companies with new ways to connect with patients for better outcomes
Combining cutting-edge computing power and AI algorithms can significantly accelerate drug discovery by giving scientists a vast chemical space to test hypotheses and identify more effective molecules. Roger Palframan, Head External Innovation and US Discovery at UCB, tells us how AI is making a difference to both the company and patients.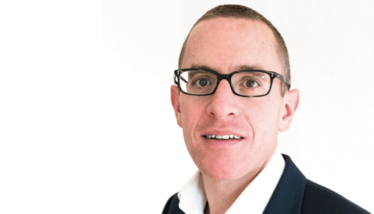 Meet Roger Palframan
My background is in life science, pharmacology, and immunology. I did my undergraduate studies at King's College London, and PhD at Imperial College London, before doing a postdoctoral research fellowship, under the Wellcome Trust, at Harvard Medical School. My move to industry was spurred by my desire to apply science to therapeutics discovery. I joined Celltech, which became part of UCB in 2004, and I've had a number of opportunities to gain experience since – leading groups in discovery research, working on significant clinical development programs, and feeding into strategy.
In 2015, I came to Boston to enable UCB to tap into the life sciences hub here and across the US. We've always had a presence in the US, but not in terms of research – despite collaborations with leading universities and biopharma. We started in an office at the Cambridge Innovation Center and we've now established our own research capabilities in the US – started by the acquisition of Beryllium Discovery and Element Genomics – and accelerated with the acquisition of Ra Pharmaceuticals in Cambridge in 2020.
Why is artificial intelligence so important for the pharma industry?
At UCB, we see artificial intelligence as one type of enabling advanced analytics tool that helps our people make better – and faster – decisions. It can benefit research scientists, clinical scientists, and other different parts of the business.
We tend to talk about AI in three different areas. First, we use it to understand the patient and their condition as deeply as possible; how does the disease impact the patient population and individual patients? It's important to understand the unmet need so we can really create value for patients. And that includes gaining a better understanding of pathophysiology. This takes us to the second area that is the search for better targets; we want to increase the probability that, by perturbing or modulating a certain target, we can improve the right clinical outcomes for the patient. And the third area is all about getting to the right therapeutic candidates faster, whether a small molecule, biologic, or gene therapy. We want approaches that can accelerate decision making, help us prioritize, and shorten our to-do list on the road to potential therapeutics!
When did UCB first become interested in AI?
I wouldn't say there was a specific time UCB pivoted towards AI. Over time, there has been a convergence of computing power and data availability that has significantly accelerated its adoption. Many of the AI algorithms are not new; rather, we needed a way to make the data ready at scale for analysis using these algorithms, as well as the necessary computing power to perform the analytics process. And it all had to be affordable. The convergence of these factors has been very important and has led to projects like the COVID Moonshot crowdsourcing initiative. We brought algorithms and approaches to the Moonshot that we had already developed in our computer-aided drug design group. Our approaches make use of the Microsoft Azure cloud, which allows us to perform tasks that would take months with UCB's computing capabilities in just a few days. The ability to harness enormous computing power has had a huge impact on what the industry can now do with AI.
The COVID Moonshot has been exciting for all concerned. They have the output from 2020 and are approaching the candidate stage. And I really hope we see some great results. For UCB, the COVID Moonshot has helped us see directly how rapid access to large-scale computing capabilities can really transform medicines discovery. UCB is not a leader in infectious disease R&D, but the same approach can help us speed up discovery stage programs – regardless of therapeutic area. And we have plans to deploy the technology on a number of interesting projects.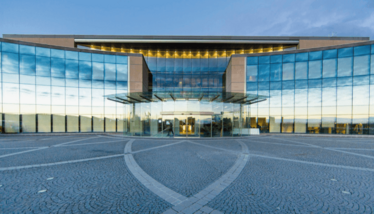 How did you get involved with Microsoft?
Like many companies, we had a long-standing relationship with Microsoft at the enterprise level. When we decided we wanted to work on the COVID Moonshot, we approached them through their "AI for Health" program to access the cloud platform. We've now expanded our collaboration with Microsoft to combine their computational services, cloud, and AI with our drug discovery and development capabilities. A lot of drug discovery activities require the analysis of high-dimensional data sets or multi-modal unstructured information; here, computing power is crucial. We're also going to be using a new Microsoft platform to deploy AI across the enterprise.
How have UCB scientists reacted to AI technology?
Many people in the company were already using AI before we increased our focus in this area; our data scientists and computational chemists were already using AI day to day, and we also use AI in other parts of the business, including non-scientific roles and support functions. But we really want to see AI in the hands of as many scientists as possible, and I think that's what the Microsoft collaboration can really enable us to do.
For our scientists, AI has had a huge impact in drug discovery. We have programs where a target was previously thought to be undruggable, but we have used computational design approaches to find a way forward by identifying molecules that can be combined to modulate the function of a particular protein. In fact, there are many exciting targets with really strong causal links to disease that have proved to be very difficult to address, particularly with small molecule drugs.
As another example (which isn't strictly AI, but probably would be seen as a type of AI today): our investigational humanized monoclonal IgG1 antibody bimekizumab was optimized to selectively and directly inhibit both IL-17A and IL-17F, two key cytokines driving inflammatory processes, by superimposing two binding specificities into a single binding site. This advance was made possible through proprietary computational antibody design – and we demonstrated that the result had superior clinical benefit to IL-17A-only antibodies. Such discovery capability is core to what we do at UCB.
We are also using AI to better understand disease, because it's very good at pattern recognition. We are collaborating with an academic partner to help us identify subpopulations in epilepsy. We've used AI to analyze over 100 million closed datasets alongside a smaller subset (around three million) of detailed electronic medical records. And we've identified 40 previously uncategorized subpopulations with epilepsy. We're considered a leader in the epilepsy field so it's important for us to understand these phenotypic clusters so that we can better help those patients get the care they need, either with existing therapeutics or with new therapeutics that we have yet to discover.
How do you think AI will shape the future of healthcare?
One of the biggest challenges in healthcare overall is allowing patients to access the right medicine as quickly and effortlessly as possible. Using AI and digital technologies to help patients is something we are very passionate about. We recently announced the launch of Nile AI – an independent digital health platform that improves the delivery of epilepsy care by shortening the path to optimal treatment. The platform consists of a patient app and healthcare provider portal. The portal shows the status of patients at a glance, and virtually informs and supports patients in between appointments, and, crucially, it also allows data-driven care-related decisions. We hope it will benefit both patients and healthcare providers.
Being a pharma company isn't just about developing therapeutics. It's important to be working on solutions that help the patient holistically.
COVID Moonshot
The COVID Moonshot is an open group of researchers – including biopharma, academia, technology companies, chemical vendors, and individuals – who are working under no IP constraints on new compounds and solutions to tackle COVID-19. The initiative has crowdsourced over 17,000 chemical designs for antivirals from chemists around the world. Volunteers can also help by sharing their computer power for molecular simulations.
The project is led by PostEra, which specializes in medicinal chemistry and machine learning. UCB has contributed employee time in the areas of medicinal chemistry, CADD, and IT to contribute drug design ideas and prioritize crowdsourced submissions (more than 13,000 so far).
Find out more at https://covid.postera.ai/covid
Receive content, products, events as well as relevant industry updates from The Medicine Maker and its sponsors.