Business & Regulation
Profession
Clarity, Chance, and Coffee
We speak to one of cell and gene therapy's great helmsmen about the future of the field, and why random encounters, spontaneous questions, and a sprinkle of chaos make offline events so special
Angus Stewart | | 10 min read | Interview
Sven Kili is a busy – and influential – man. In addition to being CEO of Geneva startup Antion Biosciences, he's also an Honorary Professor at University College London, a board member of the Centre for Commercialization of Regenerative Medicine, Chair of the BioIndustry Association's Cell and Gene Therapy Advisory Committee, Co-chair of the Finance and Business Development Committee at the International Society for Cell & Gene Therapy (ISCT), and the list goes on…
We sat down with Kili to discuss his perspective on the future of cell and gene therapy and the success of ISCT 2022.
Let's talk about ISCT 2022; how was the event?

My time serving as a meeting co-chair at ISCT 2022 was absolutely amazing – a reawakening! It was the second in person, three dimensional meeting that I had attended since the onset of the pandemic, and it was a real treat to return to catching up with real people – old friends, in fact – over real cups of coffee. Something as simple as being present in a room while a speaker was presenting, and then being able to interact with them in person was really great.
How did it contrast with the last two years of online conferencing?

There were several noticeable changes. The first was the way one asked questions. Very often in remote meetings, your questions are asked in a text box. Then, they could end up being interpreted – literally or figuratively – by a moderator, before they reach the speaker.
In addition, asking follow-up questions or requesting clarification becomes very onerous. Thus, all questions in virtual events tend to be short and open ended.
By contrast, offline events are far better suited for dialogue – for a back and forth that allows for additional clarifying questions. These can then be taken even further after the event, by approaching the given speaker for a longer discussion, perhaps over one of those real cups of coffee.
Beyond clarification, coffee, and handshakes, is there any magic to meeting in the flesh?

There is the magic of chance encounters. For example, you might run into an old friend in a corridor, and find yourself lured into tagging along at a session that turns out to be much better than you would have expected, covering topics and taking a format you might never have anticipated. Such novelty only happens offline. A little bit of chaos goes a long way.
More powerful forms of learning happen offline, too. This year I attended a session outside my comfort zone, on manufacturing. At the session, the speaker presented a comparison of a number of cell therapy manufacturing machines and compared their output. It opened up lines of thought in me that would have remained closed had I attended via laptop, perched on a distant dining room chair.
Did you stumble across any interesting topics this year?

First, there was a roundtable on off-target effects of gene editing. It's a hot topic in the field, so I and many others were very keen to join in and learn. Next, there was another roundtable on the developing needs of the cell and gene therapy workforce. That was also extremely interesting and gave me an opportunity to learn about what other people in other countries and institutions are doing to address the growing shortage. Some of the ideas were truly inspirational. Third, there was a talk on making cell and gene therapies available to patients in less-wealthy countries. This was interesting for me because in my previous life at GSK my colleagues and I did a lot of work trying to make sure that patients in low- and medium-income countries got access to therapies. Sadly it is still a challenge, albeit better understood, and thus the talk allowed us to have a really constructive, engaging discussion and share ideas and successes.
We are now considering not only how to mint more MScs and postdocs, but also how to engage schoolchildren in science and the cell and gene therapy field.
Beyond those three, I attended a roundtable and a talk on CAR T infrastructure. The roundtable focused on the potential for disseminating CAR T administration from a very limited number of key centers to many more smaller hospitals to treat a greater number of patients. The talk was on CAR T optimization, specifically improving the efficacy of allogeneic therapies.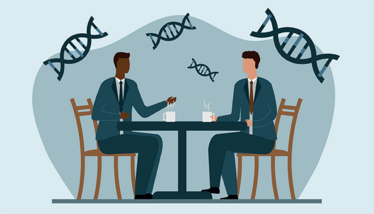 Do you think any of this year's ISCT conference conversations are going to shape the future of the field?

Without a doubt, yes. Though I can't claim to own a crystal ball, there are some areas in which the field is already starting to see effects linking back to the conversations on headcount and workforce planning that took place at our conference. Before the conference, we had already seen a number of articles in magazines and journals hitting on this topic, and even some podcast episodes being put together. Awareness of the challenges is now higher, and efforts to tackle them are growing more coordinated. We are now considering not only how to mint more MScs and postdocs, but also how to engage schoolchildren in science and the cell and gene therapy field. In fact in the UK, this very topic has reached the level of government engagement.
Another really important area where our conversations should have a massive effect is gene editing. Many people are realizing that editing – as powerful as the technology may be – has its limits. They're realizing, too, that within developing technologies lie alternatives to gene editing, especially for more complex engineering tasks.
We're also seeing ongoing dialogue on making advanced therapies available in less wealthy countries. The solution here is not something as simple as shipping cells directly off to the world's poorest regions. This is about starting at home, and thinking about how we manufacture these technologies at a lower cost, but with the same safety and the same efficacy. By improving the cost:benefit ratio, we can open the door to patients in lower- and medium-income countries. To pull that off, however, we need to keep these critical conversations going.
Without a doubt, we're seeing a shift in priorities towards employees' quality of life.
The last hot topic I'll mention is engagement with regulators. In the last year or so it has been very difficult to engage face-to-face with regulators, such as the EMA and the FDA – all thanks to a pandemic that not only closed off travel options but left many institutions, services, and corporations short-staffed. And so it was all the more special to have the opportunity to bring representatives from those regulatory bodies into ISCT 2022 for in-person discussions. Very recently, the FDA announced that from 2023 they will be moving back to "business as usual," and hiring more staff for assessments and reviews. I like to think that our discussions (and the concerns we relayed) at ISCT 2022 helped sow seeds that will have influenced that decision.
You mentioned the limits of gene editing – could you be more specific?

Multiplex cell engineering presents serious challenges. No matter how efficient the modality, once you move into multiplexing, things rapidly grow more complex. Let's say you are editing out four different receptors to silence them. Each edit requires two double-stranded breaks. That's four DNA breaks multiplied by four targets, giving a total of 16 breaks in the genome. Expecting them all to heal up spontaneously after disruption with congruent end-to-end joining and no translocations or other malformations would be unwise, because this is very seldom possible.
Furthermore, we should acknowledge that editing is not 100 percent effective. If you put 100 cells into the petri dish, you're not going to successfully edit all of them. You'll generally manage a rate of 90–96 percent, but in some cases you'll score as low as 30–40 percent. As you introduce more edits, fewer cells survive the process. To mitigate that, you need to edit in steps. So you do one edit, then another, then another… and at every step you have to select and expand the cells that have actually been edited. If you're doing that to T cells – repeatedly pushing them into battle-readiness – they'll be absolutely exhausted after just three or four edits. From there, they'll be of little to no use in the body.
And how about shifts in workforce–employer dynamics – can you elaborate on that too?

Without a doubt, we're seeing a shift in priorities towards employees' quality of life. Instead of paying prospective staff over the odds, a number of companies are now advertising a market rate salary but then offering additional incentives tied to quality of life, such as uncapped holiday time, gym memberships, regular health checkups, coaching and development, and so on.
Much of the point here is to generate mutual feelings and engagement and purpose between the company and the employee. In some ways, it does feel like a return to older models that prioritized bonds and loyalty over employees' ship-jumping self-interest and management's hire-and-fire flexibility. We're even seeing this play out in smaller companies that don't necessarily have the financial power to offer super high salaries.
These smaller companies can find themselves at a disadvantage in terms of staff loyalty, since they may lack the resources to train and develop their staff for a range of wider and more advanced roles. If you come in as a technician, you'll likely stay a technician. In a larger company, that won't necessarily be the case. And that's why state-sponsored organizations, such as the UK's Cell and Gene Catapult and Canada's CCRM, are absolutely critical; they can provide essential on-the-job training to people working outside big pharma.
Apprenticeship schemes are a great option, too. Either way, on-the-job training is absolutely critical in our environment. We need it to let people grow, develop, and expand their knowledge and horizons. As companies grow in size, they're able to offer more and more training, which then has a trickle down effect benefiting smaller companies that can continue to germinate and generate knowledge and skills. This tendency should encourage people to stay longer at their companies and develop more value. Ultimately, it's about making the working environment as appealing to the worker as possible.
Which regions or countries are of particular interest to advanced therapy developers right now?

It depends on the company developing the therapy, and it depends on the indication and where the patients are located. For beta thalassemia or sickle cell disease, Sub-Saharan Africa is the most interesting spot. But then for certain other indications, Southeast Asia or South America will be far more interesting.
At ISCT 2022, we were fortunate enough to have speakers from across the global south. We had someone from India, someone from South Africa, and someone from South America, all there to talk about their experiences. Sitting in our comparatively very rich countries, we have a tendency to group all the low- and middle-income countries together. But, of course, what works in Chile will not necessarily work in Nigeria or Thailand. Different countries require different solutions. Understanding those specific contexts and challenges in detail is key to helping cell and gene therapy go global. The "rest of the world" just needs some love and cell attention.
Receive content, products, events as well as relevant industry updates from The Medicine Maker and its sponsors.