Business & Regulation
COVID-19,
Clinical Trials,
Business Practice,
Drug Discovery
Cutting Through the Noise
Looking back on 12 months' of COVID-19 research
Stephanie Sutton | | Longer Read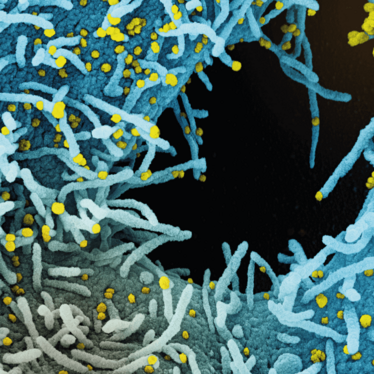 There's no sugarcoating it: COVID-19 has been a disaster. Almost 1.5 million global deaths, as of early December, 64.5 million cases, and economies and livelihoods in tatters. Beyond the direct toll, the disease has affected many other aspects of health; for example, preventing patients from accessing elective surgeries or treatments for other diseases and conditions.
Scientists have scrambled (and are still scrambling) to understand more about coronaviruses and COVID-19 – and if there is one good thing to come out of the pandemic, it's how it has inspired so much research and collaboration. The pharmaceutical industry – viewed by some as a slow, lumbering behemoth – has demonstrated incredible speed, flexibility, and determination. Vaccine development typically takes years, but, at the time of going to print, we are at the start of the first wave of approvals after just ten (admittedly long) months.
The WHO has compiled a database of global literature on COVID-19, which includes more than 30,000 papers. Such a vast amount of scientific research – in such a short time – is incredible, but it can be hard to keep track of what is happening and to identify the most important research taking place. The task is complicated by media companies who pick and choose which science to report on. And when they do report on science, it may be skewed or overhyped. All of this adds to some serious online noise. How do you find out what really matters in the race to understand and fight COVID-19?
The COVID-19 Curator is run by my colleague, Michael Schubert, Editor of The Pathologist – a sister publication to The Medicine Maker. Every week, the Texere Publishing editorial team sift through and share the latest research on COVID-19, leaving Michael, Rich Whitworth (Content Director of Texere Publishing) and I to review and select the most novel or high impact efforts. The output? The COVID-19 Curator – you can sign up for free: www.texerenewsletters.com/covid19newsletter
For this feature, I've gone back through 11 months of news and our 36-issue strong archive to bring you a helicopter view of our fight against COVID-19. In a nutshell: though we still have a long way to go, there are many reasons to feel positive as we move into 2021!
---
Part I: Charting Progress Over Time
January
Whole genome of 2019-nCoV sequenced
European Commission launches request for research proposals for COVID-19
February
WHO officially chooses the name "COVID-19"
NIH begins clinical trial of remdesivir
China reported to have more than 80 running or pending clinical trials for COVID-19 treatments (https://go.nature.com/3pBAy4Y)
European Commission issues statement on EU response: "According to the information provided by the national authorities, there is a strong overall level of preparednesswith countries having response measures in place to provide treatment for the cases in the EU and to mitigate any further transmission within and into the EU." (https://bit.ly/3kElkIw)
March
The WHO declared COVID-19 a pandemic
Gilead receives orphan drug designation for remdesivir in the US
Phase I study of Moderna's mRNA vaccine mRNA-1273 begins
Pfizer and BionTech announce co-development partnership for mRNA vaccines
FDA issues Emergency Use Authorization for hydroxychloroquine
FDA criticized for treating COVID-19 as a rare disease (https://bit.ly/2H8RluJ); Gilead withdraws orphan drug designation
By end of March, FDA had granted 20 EUAs for COVID-19 tests
April
Early results from different studies suggest hydroxychloroquine, lopinavir/ritonoavir, and umifenovir are all ineffective at treating COVID-19 (https://bit.ly/2Helkla)
European Commission calls for partners to join Exscalate4Cov project, which will use supercomputers to screen databases of active molecules
Gilead highlights promising results from phase III remdesivir trial
AstraZeneca and the University of Oxford announce agreement for vaccine ChAdOx1 nCoV-19 (AZD 1222)
May
FDA issues Emergency Use Authorization for remdesivir
Japan approves remdesivir
Operation Warp Speed announced in US
FDA grants fast track designation to Moderna's mRNA-1273
WHO and Costa Rica launch Technology Access Pool
FDA research team review all clinical and research findings to date and compile key immunological events that existing drugs could target (https://bit.ly/2IM8bjZ)
June
Eli Lilly launches trial of LY-CoV555 antibody isolated from blood of COVID-19 patient
Systematic review and meta-analysis of all available evidence highlights benefits of physical distancing, masks, and eye protection in community and healthcare settings (https://bit.ly/38RA3hk)
FDA revokes authorization for chloroquine and hydroxychloroquine
UK government authorizes dexamethasone
Gilead's Phase III remdesivir trial shows that hospitalized patients in the five-day remdesivir group are 65% more likely to show clinical improvement by day 11 than those receiving standard care.US secures 5000,000 treatment courses of remdesivir through Sept
Patients dosed in first South African clinical trial for ChAdOx1 vaccine
FDA issues guidance for COVID-19 vaccine development; says licensable vaccine should prevent disease or decrease severity in at least half of those vaccinated
July
Commentary emphasizes benefits of voluntary human infection models for COVID-19 – with strict controls in place – and offers practical considerations (https://bit.ly/2IO4A4n)
Remdesivir receives conditional marketing approval from EMA
Japan approves dexamethasone
EMA says it will review study results on dexamethasone
Pfizer and BioNTech select lead mRNA vaccine candidate – after studying four options
August
FDA issues EUA for convalescent plasma for hospitalized COVID-19 patients
Russia approves Sputnik V vaccine
Gilead submits NDA to FDA for remdesivir
Gavi, CEPI and WHO launch COVAX initiative
Corona Accelerated R&D in Europe consortium launched
September
EMA endorses use of dexamethasone
Regeneron's experimental drug REGN-COV2 added to UK's RECOVERY trial
Trial of Fujifilm's approved Avigan anti-influenza tablets meet primary endpoint
October
Sanofi and GSK commence phase I/II trial of adjuvanted recombinant protein vaccine
Russian Direct Investment Fund and Dr Reddy's receive approval for phase II/III trials of Sputnik V in India
Clinical trials for Eli Lilly's Ly-CoV555 treatment and J&J's JNJ-78436735 vaccine paused due to safety concerns
Remdesivir, hydroxychloroquine, lopinavir/ritonavir, and interferon found to have little or no effect on overall mortality, need for ventilation, and hospital stay duration in WHO Solidarity Trial
FDA approves remdesivir
Results from phase I/II trial of Sinopharm's BBIBP-CorV vaccine suggest it is safe and well tolerated
PLACID trial in India shows convalescent plasma ineffective in preventing progression to severe COVID-19 or all-cause mortality (https://bit.ly/3kzuhTL)
November
Regeneron told to modify trial of REGN-COV2 to exclude patients requiring ventilation or high-flow oxygen
FDA issues EUA for Eli Lilly's bamlanivimab
Pfizer and BionTech announce interim results from phase III study of BNT162b2 – claiming over 90% efficacy; later increased to 95% efficacy after further analysis
Moderna reports interim results from phase III study of mRNA-1273; efficacy is 94.5%
Interim data of Sputnik V suggests 92% efficacy; later increased to 95% efficacy
GSK and Medicago commence phase II/III study of CoVLP vaccine
Synairgen's inhaled formulation of Interferon-beta-1a, SNG001, passes small phase II study
AstraZeneca's Calquence (acalabrutinib) fails phase II trial
AstraZeneca and the University of Oxford announce interim results for vaccine; efficacy is up to 90%
Pfizer and BioNTech submit vaccine to regulators for approval
Moderna submits vaccine to regulators for approval
December
UK MHRA grants temporary authorization to Pfizer/BioNTech vaccine
FDA approves Pfizer BioNTech vaccine for emergency use
FDA staff endorse emergency use of Moderna's vaccine
---
Part II: Frontrunning Vaccines
Pfizer and BioNTech
Candidate: BNT162b2
Type: mRNA vaccine
Notes:
Requires two doses
Vaccine must be stored at around -70 °C
Companies expect to produce up to 50 million vaccine doses globally in 2020 and up to 1.3 billion doses in 2021
Companies originally investigated four vaccine candidates before selecting BNT162b2
Vaccine has demonstrated efficacy of 95 percent in a phase III study. The study enrolled over 43,000 participants. 170 confirmed cases of COVID-19 were evaluated; 162 cases in the placebo group versus 8 in the vaccine group. The vaccine was approved for use in the UK and the US in early December.
---
Moderna
Candidate: mRNA-1273
Type: mRNA vaccine
Notes:
Can be stored at 2-8 °C for 30 days
Shipping and long-term storage require temperatures of -20 °C
No dilution or special handling required at vaccination site
Developed in collaboration with NIH and BARDA
Primary efficacy analysis of the phase III COVE study of the vaccine involved 30,000 participants and 196 cases of COVID-19 – of which 30 cases were severe. Vaccine efficacy against COVID-19 was 94.1 percent and 100 percent against severe COVID-19. FDA approval is expected shortly.
---
AstraZeneca and the University of Oxford, UK
Candidate: ChAdOx1 nCoV-19 (AZD1222)
Type: adenovirus vector vaccine
Notes:
Expected to require storage around 2-8 °C
EMA has commenced rolling review of the vaccine
Trial was suspended in September but resumed quickly
This vaccine is expected to be cheaper and easier to distribute than the Pfizer or Moderna mRNA vaccines. However, questions have been asked about the vaccine's efficacy. A report from the trial seems to suggest overall efficacy of 70 percent, a lower efficacy of 62 percent, and a high of 90 percent. During the trial, some participants received 1.5 doses in error, which seems to correlate with the higher efficacy. Regulators were informed of the error and agreed that the trial could proceed.
Additional Key Contenders:
Janssen: JNJ-78436725 (also known as Ad26.COV2.S) is a single dose adenovirus vector vaccine based on the same technology (AdVac) used in Janssen's Ebola vaccine, and investigational HIV, RSV, and Zika vaccine candidates. A phase III trial is underway.
Novavax: NVXCoV2373 nanoparticle vaccine has commenced phase III and been granted FDA Fast Track designation
Sanofi and Translate Bio: mRNA vaccine induced high antibody levels in preclinical studies
Sanofi and GlaxoSmithKline: phase I/II trial of adjuvanted recombinant protein-based vaccine commenced in October
GSK and Medicago: phase II/III study commencing og CoVLP, which is composed of recombinant spike glycoprotein expressed as virus-like particles
Sinovac: inactivated vaccine undergoing phase I/II trials; recent death in trial not attributed to vaccine
Gamaleya Research Institute of Epidemiology and Microbiology: Sputnik 5 is already approved for distribution in Russia; Russia says vaccine has 92% efficacy
---
Part III: Key Research Findings
Our understanding of COVID-19 continues to evolve, but scientific ping-pong has been a key theme – with significant back and forth and contradictory findings in several areas.
Complicated kids
Early on, it was suggested that children are less vulnerable to the effects of COVID-19. However, scientists soon learnt that children may present with different symptoms, show characteristic imaging findings, and must beincluded in clinical trials for the disease. Researchers have also claimed that children actually carry a high viral load and can transmit the disease with great efficiency – which is why there have been calls for high-quality testing and tracing for schools. Asymptomatic SARS-CoV-2 may be particularly prevalent in children. It is generally accepted that children tend to get COVID-19 less often than adults and have less severe symptoms. However, children infected with SARS-CoV-2 can experience catastrophic inflammation – and it may be possible for them to sustain significant heart damage. Discussions around exactly how susceptible children are to COVID-19 continue to take place.
Further reading
X Cai et al., Front. Pediatr., (2020). DOI: 10.3389/fped.2020.00258
AM Foust at al., "Pediatric Imaging, 215 (2020). DOI: 10.2214/AJR.20.23267
TJ Hwang, AG Randalph, FT Bourgeois, JAMA Pediatr., 174 (2020). DOI:10.1001/jamapediatrics.2020.1888
T Heald-Sargent, WJ Muller, X Zheng, JAMA Pediatr., 174 (2020). DOI: 10.1001/jamapediatrics.2020.3651
P Fateh-Moghadam et al., [preprint] (2020). DOI: 10.1101/2020.07.16.20127357
M Ahmed et al., EClinicalMedicine, 26 (2020). DOI: 10.1016/j.eclinm.2020.100527
Longevity of immunity
Studies seem divided on the longevity of antibody-based immunity to COVID-19, with some new studies revealing that robust neutralizing antibodies persist for months. For example, a survey of almost 6,000 patients finds SARS-CoV-2 antibodies persist for at least five months, suggesting possibility of lasting immunity after infection. Other studies, however, have shown significant drops in population antibody positivity.
But the outlook is bright for T cell immunity – with researchers showing long-lasting SARS-CoV-2-specific T cell immunity in recovered SARS and COVID-19 patients, and uninfected individuals. It is possible for a recovered COVID-19 patient to be reinfected, but this area is not yet well understood.
Would herd immunity ever be possible? Research into transmission dynamics suggests that a herd immunity strategy for COVID-19 management requires extremely sensitive and responsive fine-tuning, rendering it impractical for real-world situations.
Further reading
P Figueiredo-Campos et al., European Journal of Immunology (2020). DOI: 10.1002/eji.202048970
A Wajnberg et al., Science (2020). DOI: 10.1126/science.abd7728
TJ Ripperger et al., Immunity (2020). DOI: 10.1016/j.immuni.2020.10.004
FJ Ibarrondo et al., NEJM, 383 (2020). DOI: 10.1056/NEJMc2025179
N Le Bert et al., Nature, 584 (2020). DOI: 10.1038/s41586-020-2550-z
TS Brett, P Rohani, PNAS (2020). DOI: 10.1073/pnas.2008087117
Risk factors
By linking routine health data to records of severely ill patients, researchers have sought to quantify clinical risk factors linked to death from COVID-19. A meta-analysis revealed pre-existing conditions that may increase risk of COVID-19 mortality, including chronic kidney disease, which triples risk, as well as cancer, diabetes, heart conditions, and hypertension, all of which show significant effects. Surprisingly, a study showed that asthma sufferers' risk of severe disease or death from COVID-19 is not increased compared with the general population.
Five biomarkers – IL-6, D-dimer, CRP, LDH, and ferritin – may predict which COVID-19 patients are at higher risk of severe disease. Elevated levels are associated with ICU admission, ventilation, and death. Tests have also been developed that offer insight into which patients are most likely to suffer severe disease or death from COVID-19. Airway cell immune analysis can identify patients at higher risk of severe disease, whereas red cell distribution width is highly correlated with mortality.
Further reading
University of Bristol, "COVID-19: Understanding which patients are at the greatest risk of harm," (2020). Available at bit.ly/2IAUEfb.
E Williamson et al., [preprint] (2020). DOI: 10.1101/2020.05.06.20092999
P Sentongo et al., PLOS One (2020). DOI: 10.1371/journal.pone.0238215
A Beurnier at al., European Respiratory Journal (2020). DOI: 10.1183/13993003.01875-2020
S Ayanian et al., Future Medicine (2020). DOI: 10.2217/bmm-2020-0309
J Hyun Park, H Kyu Lee, Front. Immunol., (2020). DOI: 10.3389/fimmu.2020.02145
BH Foy et al., JAMA Netw Open (2020). DOI: 10.1001/jamanetworkopen.2020.22058
The drugs don't work?
Hydroxychloroquine received early attention and emergency use authorization from the FDA – which was revoked in June. However, some scientists continued to believe that the potential of hydroxychloroquine was still worth exploring. In November, further studies emerged showing that hydroxychloroquine does not benefit adults hospitalized with COVID-19. In a statement, James P. Kiley, director, Division of Lung Diseases at the US National Heart, Lung, and Blood Institute, said, "We hope this clear result will help practitioners make informed treatment decisions and researchers continue their efforts pursuing other possible safe and effective treatments for patients suffering with this disease."
Although the case seems closed for hydroxychloroquine, what about remdesivir? Remdesivir also received significant attention early on – and approval in around 50 countries. Gilead has claimed that the trials have proceeded well, showing benefit in hospitalized COVID-19 patients compared with placebo and standard treatment, and reducing mortality by 70 percent in patients on low-flow oxygen. And yet the WHO's SOLIDARITY trial found that remdesivir, as well as several other treatment options, had little or no effect on overall mortality, need for ventilation, and hospital stay duration. Gilead has described the SOLIDARITY data as "inconsistent."
Further reading
WH Self et al., JAMA (2020). DOI: 10.1001/jama.2020.22240
Gilead, "Final Results of National Institute of Allergy and Infectious Diseases' ACTT-1 Trial Published in New England Journal of Medicine Expand Clinical Benefits of Veklury (remdesivir) for the Treatment of COVID-19," (2020). Available at: https://bit.ly/3pEokbF.
WHO, "Solidarity clinical trial for COVID-19 treatments," (2020). Available at https://bit.ly/36BG8LO.
Gilead, "Gilead Sciences Statement on the Solidarity Trial," (2020). Available at https://bit.ly/2ILkix8.
---
Part IV: Research Concerns
Insufficient trials
Early on in the pandemic, the EMA raised concerns about the number of stand-alone COVID-19 trials with few participants – and called for resources to be pooled into larger, multi-arm trials.
There have also been concerns about whether clinical trials for COVID-19 vaccines and treatments are suitably incorporating volunteers from diverse ethnic and age groups. Some researchers say that remdesivir studies have failed to provide equal representation (1); others have reported that older adults are in danger of being excluded from around 50 percent of COVID-19 treatment clinical trials and 100 percent of vaccine trials (2).
Moving too fast
Although the speed of action against COVID-19 is to be admired, questions have been posed: how could moving too fast prove harmful? For example, Douglas R. Green wrote an editorial in Science Advances, warning against speedy vaccine development at the expense of safety, highlighting evidence for potential ADE in SARS-CoV-2 (3).
Writing for the BMJ, Katrina Bramstedt raised concerns about substandard research (4): "No research team is exempt from the pressures and speed at which COVID-19 research is occurring. And this can increase the risk of honest error as well as misconduct. To date, 33 papers have been identified as unsuitable for public use and either retracted, withdrawn, or noted with concern."
In another BMJ article, Els Torreele explained how rapid vaccine development may lead to substandard first efforts that harm health, undermine public confidence in science, and squander financial resources that could otherwise be used to produce genuinely effective products (5). "By setting the performance bar far lower in COVID-19 vaccine development than what would otherwise be acceptable for a new vaccine, we are also unwittingly redefining the very concept of a vaccine – from a long-term effective preventive public health tool to what could amount to a population-wide suboptimal chronic treatment."
Sustaining research
According to Dima Kagen, Jacob Moran-Gilad, and Michael Fire, research volumes tend to skyrocket after a coronavirus outbreak, but then drop precipitously after containment (6). This lack of sustained research prevents us from understanding and responding rapidly to new outbreaks such as COVID-19. Independent of the outcome of the current outbreak, measures should be taken to encourage sustained research in the field.
Meanwhile, an analysis of COVID-19 publications has shown that basic microbiological research on SARS-CoV-2 is lacking (7). Though perhaps understandable during a pandemic, this relative lack of lab-based studies is unique in research of other coronaviruses.
Politics at play
An opinion piece has also proposed FDA reforms to improve Emergency Use Authorization and drug approval processes in light of recent problems and controversies surrounding hydroxychloroquine, which had emergency approval revoked only a few months after issue (8).
More controversy surrounded the FDA's approval of remdesivir, with scientists raising concerns that the drug may be ineffective and questioning why the FDA did not consult external experts before issuing the approval. Some have suggested the approval may have been politically motivated (9).
---
Intelligent Approaches
Wastewater surveillance. Researchers have reported that it is possible to detect SARS-CoV-2 in wastewater. Pilot surveillance projects and other research is taking place in a number of countries – and could be used to help track future outbreaks.
Cough detection. An artificial intelligence model developed at MIT was able to detect asymptomatic SARS-CoV-2 infection through recorded coughs. The differences were not decipherable to the human ear. The technology could become a convenient screening tool.
Pooled testing. Health researchers have made the case for pooled testing – which could help fix some countries' floundering test, trace, and isolation systems by increasing capacity and identifying asymptomatic cases. It's possible that mass screening could be 20 times cheaper than individual testing.
Artificial intelligence. AI platforms have been used to identify genes associated with the risk of developing severe COVID-19, but are also seeing extensive use in drug discovery thanks to its ability to extract patterns and evidence from biomedical data. Numerous research teams are also using AI to identify existing drugs that could be repurposed for COVID-19.
For regular updates on the latest COVID-19 research, sign up for our free newsletter: the COVID-19 Curator
Receive content, products, events as well as relevant industry updates from The Medicine Maker and its sponsors.
DB Chastain et al., NEJM, 383:e59 (2020). DOI: 10.1056/NEJMp2021971
The Medicine Maker, "Don't Exclude the Aged," (2020). Available at https://bit.ly/3mBPtKm
DR Green, Science Advances (2020). DOI: 10.1126/Sciadv.abc7428
KA Bramstedt, Journal of Medical Ethics, 46 (2020). DOI: 10.1136/medethics-2020-106494
E Torreele, TheBMJOpinion, "The rush to create a covid-19 vaccine may do more harm than good," (2020. Available at https://bit.ly/33DE4lM
D Kagan, J Moran-Gilad, M Fire, Giga in Science, 9 (2020). DOI: 10.1093/gigascience/giaa085
A Doanvo et al., Patterns (2020). DOI: 10.1016/j.patter.2020.100123
K Thomson, H Nachlis, JAMA, 324 (2020). DOI: 10.1001/jama.2020.16253
Science, "The 'very, very bad look' of remdesivir, the first FDA-approved COVID-19 drug," (2020). Available at bit.ly/33DEM2q