Business & Regulation
Business Practice
Drug Pricing Lawsuits Ramp Up
More pharma stakeholders are launching lawsuits over the US government's Inflation Reduction Act. President Biden's response? "Bring it on."
Stephanie Sutton | | 5 min read | News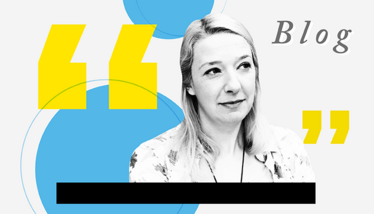 Following on from lawsuits launched by MSD, Bristol Myers Squibb, and the US Chamber of Commerce, the National Infusion Center Association (NICA), the Global Colon Cancer Association (GCCA) and the Pharmaceutical Research and Manufacturers of America (PhRMA) have filed a complaint asserting that the Inflation Reduction Act's price setting provisions are "unconstitutional."
A statement from PhRMA says, "The statute includes no requirement for checks and balances through public feedback and cuts off administrative and judicial review, violating the Constitution's separation of power and due process clauses. Additionally, the statute includes an extreme excise 'tax' to force manufacturer compliance with the government mandated price that is disproportionate to the purported offense making it an excessive fine prohibited by the Eighth Amendment. Taken together, these claims clearly demonstrate the price setting provisions should be declared unconstitutional."
Democrats in Congress claim the law is on their side and President Biden has said:
"The Pharma lobby is upset that I'm forcing them to bring prices down. And to that I say: Bring it on."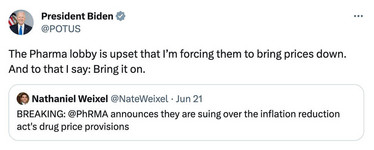 What concerns do pharma stakeholders have with the Inflation Reduction Act?

Opponents of the Act claim it violates the First and Fifth Amendments. Although the Act includes provisions for drug pricing negotiation, complainants say it is not a true negotiation process. In addition, there are concerns that it will negatively affect innovation and the development of new treatments.
Here's a roundup of comments on the matter:
Bristol Myers Squibb: "Since the IRA's inception, we have expressed serious concerns about the impact this program will have on research and development and future innovation that can help patients prevail over serious disease. It has already changed the way we look at our development programs in oncology and beyond, whether it's a decision to advance a new medicine or pursue additional indications for an existing one. This program is bad for innovation – and, in turn, the millions of patients who are counting on the pharmaceutical industry to develop new treatments and cures that save lives and improve health and wellbeing."
Merck Sharp & Dohme: "The IRA requires the Centers for Medicare and Medicaid Services to begin setting prices on small molecule medicines at 9 years and large molecule medicines at 13 years. This deters advancing treatments proven effective in later stages of cancer into earlier stages of disease, where the prospect of durable remission is most real. This is tantamount to grabbing defeat out of the jaws of victory, just when science might offer the prospect of a cure."
PhRMA President and CEO, Stephen J Ubl: "The price setting scheme in the Inflation Reduction Act is bad policy that threatens continued research and development and patients' access to medicines. It also violates the U.S. Constitution because it includes barriers to transparency and accountability, hands the executive branch unfettered discretion to set the price of medicines in Medicare and relies on an absurd enforcement mechanism to force compliance. We hope the court recognizes the serious concerns raised and declares the price setting provisions unconstitutional."
Global Colon Cancer Association Executive Director Andrew Spiegel: "The rate of colorectal cancer in Americans under 55 has nearly doubled since the 1990s, and scientists don't really know why… We need more and better treatments, and we need them now. The price setting provisions in the IRA thwart the progress we have made and lead to less hope for patients battling this disease. To make matters worse, the IRA is implementing a process where patient voices and concerns have no real seat at the table. Our patients deserve better."
US Chamber of Commerce: "The price-setting regime set forth in the statute is not a true negotiation process; it is a price-control scheme. Worse, it is a price-control scheme that is marred by core legal defects and a lack of basic safeguards, and it will have devastating consequences for patients who are depending on new life-saving drugs."
And what are supporters of the Act saying?

The aim of the price negotiation process is to bring down drug prices. When initial guidance for the drug negotiation program was released earlier this year, HHS Secretary Xavier Becerra said, "For far too long, millions of Americans have had to choose between their prescription drugs and other monthly expenses. Through the Medicare Drug Price Negotiation Program, we will make sure seniors get a fair price on Medicare's costliest prescription drugs, promote competition in the market, and ensure Medicare is strong for beneficiaries today and into the future."
Many US politicians have hit back over the lawsuits and seem determined to push on. Senator Peter Welch, for example, tweeted: "It might be a tough pill for Big Pharma to swallow, but Democrats are going to keep negotiating to lower drug prices for seniors. And we're just getting started."
Emily Gee, senior vice president for Inclusive Growth at the Center for American Progress, added: "For decades, Big Pharma has exploited its monopoly power to rip off hardworking Americans by charging prices in the United States that no other country in the world will agree to pay for the exact same drugs. President Joe Biden's targeted law to lower drug prices puts an end to the most egregious excesses in the pharmaceutical industry; incentivizes drugmakers to actually invest in innovative therapies; and will lower drug prices for millions of seniors with cancer and diabetes, among other common conditions."
An article from Bloomberg explains why the lawsuits may be facing a difficult battle. Constitutional challenges to law rarely succeed.
What do readers of The Medicine Maker have to say? I'd be really interested to hear your views. If you don't support the Inflation Reduction Act, what alternatives are there to balance innovation and patient needs? Get in touch: [email protected]
Receive content, products, events as well as relevant industry updates from The Medicine Maker and its sponsors.