Business & Regulation
COVID-19,
Business Practice,
Vaccines
Enter the Weird World of Anti-Vaxxers
Why, oh why, is there so much nonsense and misinformation about COVID-19 vaccines?
Stephanie Sutton | | 3 min read
I recently noticed that Pfizer was trending on Twitter. Was there a big announcement from the company? A new merger or acquisition? Big research news? I clicked to learn more.
And I ended up in the terrifying world of anti-vaxxers. In this world, people (including doctors and US senators) passionately believe that COVID-19 vaccines offer no protection – that these vaccines kill more people than COVID-19; that Pfizer is intentionally poisoning people; that the vaccines are weapons.
In one case, a clip of Albert Bourla describing the vaccines as "weapons" was being shared. He is clearly talking about the vaccines being weapons to combat the virus. But some people took him more literally, with some Twitter users responding to the tweet by calling Bourla scum and demanding that he be charged with crimes against humanity.
Many intelligent people can easily write this off as social media nonsense, but others – particularly younger and more vulnerable people – can be and are sucked into the baseless propaganda. Some anti-vaxxers on social media post what they claim to be excerpts from scientific papers and leaked documents to reiterate their points, but a Google search of these quotes directs to sites that clearly have an anti-vaccination agenda – and certainly no scientific papers. Twitter users also post graphs to get their point across, for example, showing that death rates are higher amongst those vaccinated. Often, there is no link to the source data – or the data is misinterpreted or incomplete.
Maybe there are a few skeletons in Pfizer's closet (and indeed, in most big pharma closets); few would argue that the pharmaceutical industry is perfect. But if Pfizer's COVID-19 vaccine was resulting in mass deaths, we'd know about it.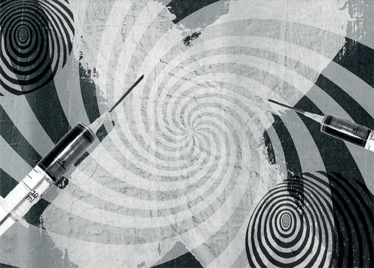 In a small number of people (the numbers vary but it is thought to be around 4-6 people in every million vaccinated), AstraZeneca's COVID-19 vaccine caused immune thrombotic thrombocytopenia. Deaths were well reported in reputable, major media outlets. Scientific papers also examined the adverse event in detail. And action was taken swiftly, with some countries restricting use of the vaccine to certain age groups. Some news outlets even called the rapid move to restrict the vaccine over cautious.
In fact, the AstraZeneca vaccine has never been approved by the FDA; however, the agency did approve Janssen's single-shot COVID-19 vaccine, which suffered from similar issues (with thrombosis with thrombocytopenia syndrome occurring in around 4 cases per one million doses). Because of the potential of clots, the FDA has restricted use of the vaccine.
The point is – safety data is not being hidden; quite the opposite. Moreover, it's not like there aren't lots of intelligent people watching… The FDA does not approve and forget – and nor does the rest of the world.

It is more than frustrating that Pfizer – and other pharma companies – receive such negativity. But outside the weird world of anti-vaxxers, I'm delighted we can celebrate clear successes – Pfizer's work in the fight against COVID-19 almost certainly secured its spot as the Best Big Pharma in The Medicine Maker Company of the Year Awards 2022. And even those companies who didn't pivot to COVID-19 can pat themselves on the back for simply hanging on in there!
Receive content, products, events as well as relevant industry updates from The Medicine Maker and its sponsors.