Business & Regulation
Standards & Regulation,
Technology and Equipment,
Analytical Science,
Dosage Forms
Fast, Non-destructive Solid-State Testing
How Raman spectroscopy- based technologies enable the pharma industry to streamline analytical workflows

This article is part of our special focus on "traditional" pharma: The Small Molecule Manufacturer (read more here). You can find more articles from The Small Manufacturer here.
---
Lee Dowden, Product Manager for Agilent's TRS100, worked in various analytical roles in the pharma industry – including product release testing, method development, stability testing, cleaning validation, and instrument validation – before entering the equipment industry. We catch up with him to find out how transmission Raman spectroscopy (TRS) works.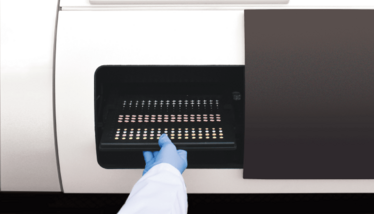 How is TRS used?
Laboratory techniques for the analysis of solid dosage forms have traditionally relied upon extraction of the API followed by chromatographic separation – either high-performance liquid chromatography or gas chromatography. Although advances have been made in these techniques, they have not fundamentally changed and tend to rely on time-consuming solvent extraction, which also creates a significant amount of waste. Spectroscopic solutions, such as near infrared spectroscopy, can help overcome some of the issues associated with chromatography, but still have limitations. TRS was developed to overcome key pain points and technological concerns.
TRS is a variant of traditional Raman spectroscopy that is particularly well suited to analyzing bulk content, including tablets and powder samples. It can be used for both formulation development and finished product testing. TRS only became commercially available around 10 years ago, with the launch of Cobalt Light System's TRS100 instrument. Cobalt was founded in 2008 as a spin-out from the UK Science and Technology Facilities Council (STFC), and developed technologies from the research and innovations of Prof. Pavel Matousek, a senior fellow at STFC, into commercial products for non-invasive analysis. The TRS100 was the first product to be launched by the company. Cobalt is now part of Agilent's Molecular Spectroscopy division.
TRS is a fast (typical analysis time of 10–60 seconds), non-destructive analytical test, with no sample preparation or solvent use, and is used in pharma QC labs for a variety of applications, including polymorph determination, analyzing crystalline content in amorphous dispersions, excipient compatibility assessments for formulation development, content uniformity testing, and at-line, in-process testing.
The TRS100 automates the qualitative and quantitative analysis of large samples (>100 at a time) of pharmaceutical dosage forms with fast measurement times. It can reduce content uniformity, assay, and ID tests from hours, or even overnight, to minutes per batch, cutting costs significantly and speeding up the quality control workflow.
How does TRS work?
The system works by using Raman spectroscopy in transmission mode, where monochromatic light (a laser), interacts with molecular vibrations, phonons, or other excitations within a molecule, resulting in a shift of energy of the laser photons. This shift in energy gives a specific Raman shift pattern for the molecule(s). In TRS, the bulk of the sample contributes to the signal (compared with the surface in traditional backscatter Raman), which means more of the sample is used in the analysis.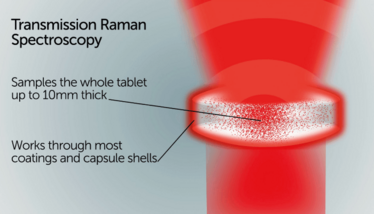 What are the challenges of designing and building an efficient TRS system?
In the pharma industry, instrument developers must always consider usability, serviceability, and reliability. The ideal is to have a user-friendly instrument that someone can use with very little training – and rely upon every day, with minimal upkeep. You also need to ensure the system is flexible enough to use with many different pharmaceutical dosage forms – tablets and capsules come in many different shapes and sizes, for example. A system also needs to incorporate plastic bags, vials, cuvettes and well plates for use with powders, creams, pastes and suspensions.
One aspect that is often overlooked with instrument development is software. Not all users realize how much time goes into developing efficient and user-friendly software. It is very challenging for software developers to ensure that the programs they create are fully compliant with regulations and genuinely intuitive to use with simple routine workflows – while also ensuring there is full functionality for the advanced user.
With all this in mind, the team behind the TRS100 had to work hard to create a walk-up analyzer with both hardware and software explicitly developed for pharmaceutical users.
What is your advice in terms of care and maintenance to ensure a long system life?
When a lot of care is put into developing a system, it should not need significant care or maintenance. With the TRS100, routine instrument tests are performed automatically to ensure that the system is working correctly. However, periodic cleaning of the dust collection tray should be performed and an annual preventative maintenance visit by a trained engineer is recommended.
What industry trends will shape the development of future systems?
Increased demand for testing during the drug manufacturing process (both batch and continuous manufacturing) means that rapid analytical techniques play a crucial part in the process control strategy and real-time release. Finished drug product analysis should not just rely on the quality control laboratory and should be a necessity on-line or at-line in the manufacturing facility.
As more drug products based on complex formulation strategies emerge, the use of techniques for characterizing the API form (polymorph, amorphous, crystalline) will become increasingly important.
Another Raman technology helping pharma manufacturers with increased demand for testing is spatially offset Raman spectroscopy (SORS). Agilent recently launched the Vaya Raman raw material identity verification system, which uses SORS technology to analyze materials inside sealed opaque containers. Vaya verifies raw material ID through transparent and non-transparent packaging, testing more materials for the same cost by reducing the need for sampling.
Receive content, products, events as well as relevant industry updates from The Medicine Maker and its sponsors.