Business & Regulation
Business Practice,
Contract Development Services,
Contract Manufacturing Services,
Facilities,
Quality & Compliance,
Small Molecules,
Standards & Regulation
GDUFA 2020
GDUFA fees for 2020 have been decided – and include a significant drop in the fees for finished dosage facilities.
Stephanie Sutton | | Quick Read
Generic Drug User Fee rates for fiscal year 2020 (beginning October 1, 2019) have been published by the FDA (1). The fees specify what companies must pay for Abbreviated New Drug Applications (ANDA), Drug Master File (DFM) submissions, annual active ANDA holdings, and API and finished dosage form facilities. Compared with the previous year, the fees for Finished Dosage Form (FDF) facilities have dropped by around 6 to 7.4 percent.
GDUFA fees help fund the FDA review process, including research activities for investigating new methodologies and tools for the development of generic drugs. In fiscal year 2018, the FDA's Office of Generic Drugs awarded 13 new research contracts and 11 grants for research projects on generics, including complex active ingredients, formulations and dosage forms; complex routes of delivery; complex drug-device combination projects; and tools and methodologies for bioequivalence and substitutability evaluation. GDUFA has also helped fund the development of 136 new product specific guidelines as a roadmap for generic drug development (2).
When the user fees were first introduced, they were structured in a way that unintentionally created a large fee burden on contract manufacturers. Since then, the Pharma & Biopharma Outsourcing Association (PBOA) has been advocating to ensure the GDUFA program – and other FDA programs – are fair to the contract manufacturing sector. You can read more about PBOA and its effect on GDUFA fees in a previous cover feature of The Medicine Maker, "Standing Up for the Invisible Manufacturers," featuring Gil Roth, President at PBOA.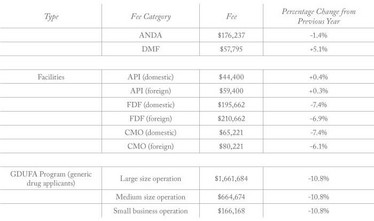 Receive content, products, events as well as relevant industry updates from The Medicine Maker and its sponsors.
Department of Health and Human Services, "Generic Drug User Fee Rates for Fiscal Year 2020," (2019). Available at bit.ly/2GzXCw6. Last accessed July 29, 2019.
FDA, "Office of Generic Drugs FY 2018 GDUFA Science and Research Report," (2019). Available at bit.ly/2OllrOj. Last accessed July 29, 2019.