Business & Regulation
Digital Technologies,
Business Practice
Preparing for the Worst Case
How to ensure your reaction to recalls can be driven by data
Dave Edwards | | 8 min read | Practical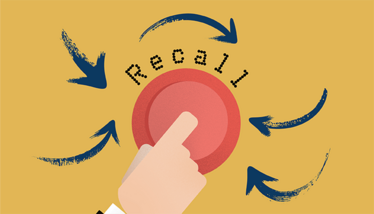 Recalls are one of those topics in the pharma industry that always grab a lot of media attention. Those of us who are (or have been) involved in manufacturing can feel a great deal of empathy when companies experience a recall; handling a recall is difficult and comes with high costs both in terms of money and reputation. And then there's the impact on patients. Imagine using eye drops that were suddenly named in a product recall. How concerned would you feel?
All that said, when I hear about a recall, I am also grateful. Sometimes regulations in the pharma industry get a bad rap, but where would we be without regulatory bodies overseeing quality and safety? Generally speaking, those who work in the pharmaceutical industry want to provide safe, life-changing products. But even with the best of intentions, mistakes can still happen. For this reason, it's always important to look at your product and to understand where the risks lie and mitigate those risks to every extent possible.
Reasons for a recall

A side effect of scientific innovation is that we cannot always know there is a serious problem with a new product until it is used in the real world. For example, the sample size for testing required for approval may not be large enough to have detected a particular issue. However, these types of recalls are relatively rare.
More commonly, recalls are triggered by problems with equipment, processes, or people. In these cases, better oversight and improved testing may have been able to identify the problems before a batch was released.
One major recall in the US – and a significant global talking point – was the 2022 baby formula recall. The cause? Contamination in a factory. When reading up on this topic, it seems that there were early warning signs – signs that the manufacturer perhaps underestimated. The problem was serious enough to shut down the entire supply chain, which had a huge impact on parents.
Other recent recalls in the US include three sets of eye drops for unrelated reasons: one was linked with infections; another had capping issues; and the third was triggered by non-sterility. Over the years, I've spotted many recalls caused by labelling issues (improperly attached labels or labels that are missing ingredients are fairly common), manufacturing defects, and contaminants.
Lean manufacturing approaches can be used to identify the root cause of contamination. Often, contamination rises when certain materials used in the factory are not well understood, such as cleaning materials, or through issues with removing contaminants. Sometimes, the problem comes down to the operator; perhaps they are not fully qualified or trained to do the job or, worse, they just didn't complete the job they were asked to do, and it went undetected. Humans can be difficult to control, which is why many companies seek to remove or augment the human element from processes as much as possible by introducing automation and digital systems.
Be prepared

It never ceases to amaze me that so many pharmaceutical companies are still using paper-based processes in their facilities. Often, these companies aren't shy about investing in new technology and may have the latest automation systems and robots for material handling, but still opt for paper-based approaches for tasks such as batch records. Most companies don't realize the value of other options when it comes to digitizing their batch record. For example, paper-based systems seem inexpensive but the human element that goes into managing that paper is very expensive. Additionally, the cost associated with human error is much higher in a paper-based operation.
There is additional value when production data is recorded electronically. There is real-time visibility into the production process and companies would have access to the data, which can be highly valuable for process improvement. Think of the modelling you can do with batch records or how the data could be used to identify commonalities that were linked to negative manufacturing outcomes. Access to this type of information can also assist during recalls – and help bring problems to the surface before they become a recall. For example, double checks are a key element of GMP and you need to make sure you are well covered in this area. Here, digital tools can help. Technology can validate that the person doing the work has actually been properly trained, and the digital platform can also do the checking as information is entered into the system to ensure the data is within tolerance. Problems can be flagged immediately, and batches can also be monitored remotely. With paper-based systems, it's very easy for operators to make mistakes that can be missed. I've worked in environments before where the most critical tests are managed with a clipboard and an operator writing the test results down every hour.
Even when things are going well in manufacturing, it's always worth taking the time to step back honestly and evaluate where the biggest risks lie for mistakes. Never take day-to-day success for granted! Emergency preparedness is crucial. Once you get going with your assessment, you'll likely gather momentum quickly as you make changes and improvements to mitigate risk, It's a good feeling to know you are getting ahead of the business – and it can make you more confident when it comes to the safety and efficacy of the products you provide.
Look across the entire manufacturing production cycle. Look at your suppliers and the suppliers with the most risk. Look at the ingredients you use. And look inside your own four walls at your processes and people. How well is GMP adhered to? Because we all know that there is a bit of latitude in how closely companies adhere to GMP. Do your employees go above and beyond? Are they incentivized to do so? Where can technology augment the human worker and help them be more successful?
Managing recalls

When you are going through a recall, information is key. You need to quickly understand the root cause for the recall and what batches are affected. Without much visibility, companies often cast a wide net and can end up recalling far more products than they actually need to.
If you're using paper systems, you'll have a lot of information to manually sift through and connect as you try to get the big picture. Here's an (extreme) example: After realizing that problems are occurring in the marketplace, you discover that the issue most likely stems from an ingredient. There was X amount of said ingredient, which would have lasted around two months, but to be on the safe side you want to add two months either side to that and recall batches made in the last six months. This is going to cost significantly more money than if you had a digital system in place that could provide more accurate information to narrow down the recall.
A digital system can connect the dots through the entire production cycle, helping to identify the root cause of the problem more quickly and what you need to do to fix it. The data can also be very useful to share with key stakeholders, who need to make decisions on how to move forward.
When I worked in operations, I would say that the best and biggest compliment I could receive was simply the fact no one was talking about us! If no one is talking about us, we are doing our jobs well. There are tens of thousands of products being made out there, but recalls are a fact of life in the pharma industry. We must strive to reduce these as much as we can. When we talk about digital tools and increasing automation in the workplace, many people assume it means eliminating jobs. But that's not the point. The point is to improve product quality and free people up for more meaningful work. Does anyone really enjoy looking over someone else's shoulder because your job is to double check everything they write down? Does anyone really like manual paperwork?
The pharmaceutical industry is a high-value, successful industry that should only exist at the cutting edge. Are your batch record processes at the cutting edge? Because trust me – you don't ever want to experience a recall.
Cherish Your Workers

Investing in the humans that are critically important to making your products is crucial. As well as ensuring they have the right training, you need your employees to understand the importance of the products they make – and how mistakes can negatively impact lives.
In today's manufacturing world, it can be a struggle to find great people. In the US, unemployment rates are generally low and there is a labor shortage; competition for employees is fierce, so you want to ensure you look after your employees and that they enjoy their jobs.
Spend extra time with the humans that are making your products and build a culture around them. Support them. Operators can't necessarily think through every single problem and mistake that might occur, but if your employees are motivated, it increases the chance that they will do the best they can at their jobs. Also, if something is not going well, they are more likely to raise their hand, flag the problem, and be motivated to solve it.
You can have all the checks and balances in place, but if you don't have good workers, and if you don't invest in those workers, you are more likely to encounter problems.
Reducing recalls starts with having a good culture in place.
Receive content, products, events as well as relevant industry updates from The Medicine Maker and its sponsors.