Business & Regulation
Business Practice,
Technology and Equipment
HyperReality Check
Mike Rea of IDEA Pharma speaks frankly on the mud fights, echo chambers, and risks at play in the virtual forums of social media in 2021
Angus Stewart | | Interview
"A point of view can be a dangerous luxury when substituted for insight and understanding."
- Marshall McLuhan
Mike Rea is more than just the CEO of a leading positioning consultancy. He's the podcaster (and YouTuber) behind the show IDEA Collider, a critical thinker unafraid of speaking his mind (you'll see), and a Tweeter-par-excellence under the handle @ideapharma. Oh, and he runs a record label: Medical Records!
As Mike tells us in this excellent exchange, sometimes being right isn't enough. Sometimes you have to know what you don't know.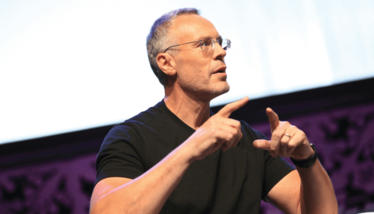 Do you think social media can help improve pharma's reputation amongst the general public?
Yes, but with a caveat.
If we wish to improve our reputation via social media, then we should do real, concrete things that improve our reputation. Goodwill on social media will then follow. Too often, I think we see the challenge as a species of ad campaign. We believe our reputation is undeserved, and that education will "fix" it. In fact, we might have exactly the reputation we deserve…
I'd love to see pharma genuinely see social media as a way to listen, as well as to talk – to engage beyond the traditional. If we see diversity and inclusion as issues to be addressed, it's reasonable to see social media as a place to do that. However, if pharma lazily resorts to investor-targeted communication, to bland campaigns dreamed up in NYC, or mimicry of entertainment brands, we risk missing the mark. If pharma doesn't engage, there are all kinds of other groups who will do it on our "behalf." Journalists, patients, and others will be talking about our companies and our products, and we won't be in control of it.
Why do some companies fail to embrace social media?
If your company is motivated to seal shut all openings for error, you'll have legal constraints to communication – there is no "perfect" in that kind of world because there is no good and "safe" communication.
Good, authentic communication needs some vulnerability. It's always safer to say nothing, but that's not a great approach. Those who want to stand for something need to develop a more agile communications policy – to recognize that the world is not the one the senior executives grew up in, and that it is both an opportunity and a risk. If you treat communication solely as a risk, you'll mitigate that risk to the point of disengagement.
Vaccine misinformation is rife on social media. What do you make of what you have seen?
Lots of people get things wrong. But let's be clear – "lots of people" includes almost all of the "experts" who have wanted to seem "expert" throughout. In such a rapidly unfolding situation, it would have been more honest to accept the limits of our certainty. Going over that line has led to figures being proven wrong in a timeframe of mere weeks. Some of these people did admit their errors, but others doubled down.
It is alright to be skeptical, but skepticism exists on a spectrum that hinges on many factors, including your educational background, personal circumstances, and more. We see too much communication that assumes particular motives or lack of education, ignoring the reasons behind individuals' decisions. There are always gaps that exist between the truth and what people will believe, and into those gaps can flood misinformation or disinformation. Some people genuinely want to push falsehoods as truth, and those people often use the same tools and approach as the real experts: credentials, scientific-sounding language, a mass audience…
If we want to counter misinformation and disinformation, it would be helpful to recognize our own role. I'd actually suggest that some of our politicians are the worst offenders, when it comes to dangerous claims, for example, regarding the lack of efficacy of the AstraZeneca vaccine. Public figures who ought to be trustworthy but are too busy pursuing short-term politics have created huge hesitancy that we still see affecting uptake of a truly excellent vaccine. Would it be reasonable to say that Macron did more damage than all of the hydroxychloroquine advocates or 5G/microchip crazies? I think so…
The correct response is to stick to the fundamentals: the discipline of science, and the discipline of the communication of science. As soon as we get into arguments from authority or credentialism, we have lost. As soon as we get into mud fights, we have lost.
We need to stop using "the science" as our validation, because there is no such thing – it is messy and it is never "true." This is something any discipline recognizes.
We also need to accept the limits of our role. Our job is not to tell or to prescribe – politicians and physicians and people have agency. We need to respect their agency and work with it. We have delivered remarkable tools, but we ought not to overstep our role in responding. That classic xkcd web-cartoon "someone is wrong on the Internet" persists as a trope because this is a never-ending challenge. Let's stick to the method we've evolved for proving the value of our medicines, and accept the methods we have evolved for dealing with arguments against them.
How do you think the industry should capitalize on the increased attention around vaccines right now?
I think we need to be cautious. Though we've done something remarkable, only one of the companies has done it without profit. Imagine telling the story differently: "A company who had a vaccine become one of its biggest revenue generators in 2019 saw an opportunity to launch the biggest drug the industry has ever seen, and since then it has increased its prices within a year while also market-shaping towards annualized boosters."
If we try to overcook our own heroism in this tale, there are a lot of things that could take us down a peg or two. Instead we could look to be telling the stories of slow, steady innovation: "mRNA platforms built over a decade, whose value became clear in a crisis. Manufacturing and distribution platforms that were unsung heroes until now. The story of how the UK re-established itself as an ecosystem for learning…"
What lesson would you like our readers to walk away with?
The simplest lesson: as soon as you think your corner of the Internet is "right" and that everyone else needs to be taught something, there is a risk. Communication is about being heard and understood, not just talking at people – and that's something pharma still needs to learn.
Receive content, products, events as well as relevant industry updates from The Medicine Maker and its sponsors.