Business & Regulation
Profession
No One Left Behind
Sitting Down With… Eric Dube, CEO of Travere Therapeutics
Stephanie Sutton | | 10 min read | Interview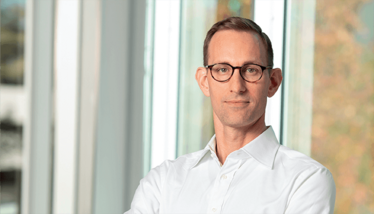 Did you always want to be a leader?

I actually feel like an accidental leader within the life sciences industry! I originally planned to become a physician, but when I got a job in high school working in a physician's office, I realized that the sight of blood was not for me. I had to think of other careers. I really wanted to focus on helping those who were suffering and may not necessarily feel that they have a voice. When I came out as gay at the age of 18, it was the height of the AIDS epidemic and there wasn't a lot of innovation in this space. I decided not to go into medicine, but to go into behavioral health – it was very important to me to have a good view of how to advocate for your health, your identity, your needs, while recognizing the strength of the community.
I worked in academia for a while before moving into the pharma industry. Initially, I didn't think I would stay long because I sensed there wasn't a tremendous amount of collaboration between the industry and government, or the industry and patient communities – both of which I think are important. As a behavioral scientist, my default view is to think about patients as humans with families – and how we can serve them with the work we do. This view tends to stand out in pharma and biotech as rare.
What made you stick with industry?

When I was 30, I was diagnosed with a rare cancer. Thankfully, I had great insurance and great care. It was caught early and the physician told me that I was fortunate because there was no proven therapy if it had advanced. I needed observation for a decade. My experience consolidated my decision to stick with this industry; in many cases, patients have no options and are told to wait and see how long it takes to get to dialysis or they are put on a transplant list. I want to do something to change this.
Why did you want to work with smaller companies?

I spent almost 20 years in big pharma. I loved what I did but, in a large company, it can be very difficult to make courageous decisions. When my father passed away at the age of 60, I decided I wanted to do something where I could have a bigger impact. I took a job at a smaller company and moved from the east coast to California. Here, a great deal of the innovation is at a very early stage of development, so I wasn't sure how I would fit in given my previous focus on the commercial side.
How did it feel to step up as a CEO?

The opportunity with Travere was unique and suited my experiences. But I confess – it was nerve wracking! No matter what incredible experiences and training you have, it's very different when you move to the role of CEO – particularly at a small company. I asked myself many questions. Was I ready? Was I the right person? I had to constantly tell myself, "I can do this!" And remind myself that there was a talented team and a very supportive board. I joined the company in early 2019 but then the pandemic arrived. In a way, it was a great leveler; even CEOs who had been in the role for 20 years did not have a playbook for that!
Numerous lists – including The Medicine Maker Power List – have labeled you as a top leader or a leader to watch. How does that make you feel?

These jobs come with a lot of pressure. To be listed as someone who is seen as a great leader or inspirational… Wow! At the same time, it's important to note that great leaders are only able to do what they do because of the talented and passionate people around them. Within our organization, we have many people who have direct experience with rare diseases – and they joined the company because they want to make a difference. I am a rare cancer survivor. We have a rare patient on our executive team and a rare caregiver. I feel very privileged to be part of this organization and to be able to shine a light on the great work that we do.
What's in the company's pipeline?

Within rare kidney disease, we are hoping for FDA approval of sparsentan in February 2023, and EMA approval in the second half of this year. We have been collaborating with government, academia, and regulators to find a faster pathway to develop medicines for rare kidney disease because this area has had some of the lowest clinical trial activity over the last 50 years. Another compound in our pipeline is pegtibatinase, which we are looking to take into phase III. Pegtibatinase is being investigated as a potential disease-modifying therapy for classical homocystinuria – a rare genetic metabolic disease.
I'm very proud of the work that we've done to advance our pipeline in rare diseases, particularly in rare kidney disease, where there has been little innovation for decades. I also think it's important to reflect on aspects that are not tied to the development of a medicine. In rare disease, there are so many barriers in helping families to connect to a diagnosis as early as possible. And so, we are doing a lot of work to advance and modernize newborn screening – and we offer free genetic testing to help diagnose the cause of newborn cholestasis at no cost to qualifying patients. This program has provided thousands of families with answers and enabled them to seek care – typically for conditions outside of Travere's therapeutic focus.
How else is Travere being innovative?

Well, I'd say we have tried to reset the expectation for how biotechs work. So much of what the industry does is proprietary and competitive – but one way we will bring innovation to a suffering community is to collaborate rather than compete. I really would love to see more people in CEO seats genuinely thinking about ways in which we could work together more. For example, within six or so months of joining Travere, we had an investigational therapy in phase III that failed, forcing us to shelve the program. A Travere team member working on that clinical program at the time told us that we could not give up; she suggested that we donate the dataset. So, rather than lock the data and experience away in a filing cabinet, we donated the dataset to academia and to another company that had been a competitor. In this way, we might be able to increase the probability of success for another therapy for this rare disease. I wish there were more examples like this in the industry.
You also have a strong focus on mental health…

That's right. Our focus on the rare disease community has driven us to work in important areas such as health equity, disparities, and telehealth. And something we have heard loud and clear across the rare disease community is the importance of mental health. As a behavioral scientist, I'm also biased towards mental health, so it's a big part of what we do at Travere. We collaborate with the National Alliance for Caregiving, which focuses on the health and wellbeing of caregivers of rare disease patients. We also model mental health and wellbeing at Travere. We provide employees a monthly "wellness day," which is a day off to focus on things that fill your cup, whether it's spending time with your family, taking care of doctors' appointments, or whatever else you need to do so that you can bring your best self to work and help the patients we serve.
You are passionate about the LGBTQ+ community. Is this a topic that people skirt around in the pharma industry?

Yes it is. As I said, I came out as a teenager. I wanted to live my life authentically. It was very strange moving to large pharma where I felt as if I had to get back in the closet. I was never told that I had to hide, but there were some clear messages and signals that indicated I should alter who I was or how I lead.
Things have improved tremendously over my career to date, but some people are still not comfortable in this industry about coming out. And that's one of the reasons I talk about this topic a lot. I was excited last year to partner with another CEO to start a branch of OUTbio in the San Diego area, which focuses on LGBTQ+ allies within the industry to make sure that we have a safe space to build a network. Oftentimes, it felt like I was the only one in a company of thousands of people. In a smaller company – you may well be the only one, but there is still a community or network that can support you. Even though things have improved, when I speak with people and hear their stories I know that there is still a lot more to be done.
What is the best advice you have ever received?

In my first few years at large pharma, I would often be told that I was doing great when I received feedback on my performance. But I was also told that I wasn't tough enough or that I was too soft. This didn't resonate with me well as a gay man because I felt like I was acting true to myself. Fortunately, there was one leader who I could have an open conversation with and she gave me some great advice. I had to make a conscious choice: Am I going to adhere to what people expect? Or am I going to advocate for what I believe in? She told me to be the leader that I wanted to be. This advice changed how I thought about myself as a leader and I have never regretted it.
I am proud to say that, yes, I am going to care about people. And in recent years, I think views on leadership have changed and the traditional style or phenotype of leader has been challenged as we think about how people want to work post COVID-19 and what younger generations want. In fact, many of the traits I was told were weaknesses in leaders are now seen as strengths as we emerge from the pandemic.
And how do you lead?

I aim to foster a sense of belonging in the company, and I also believe that everyone should be able to show up and be the type of employee or leader that is most natural for them. I was certainly the benefactor of this advice and I want to make sure that I can do the same for the next generation of leaders.
One of the pieces of advice that I consistently give to our employees is this: "Be kind to yourself, and be kind to one another." Biopharma is not an easy industry. We are faced with constant challenges, failures, and setbacks on a regular basis as part of the scientific process. We have to make sure that we are kind to ourselves and do not let the negativity get us down. I also tell people that we have to be persistent; families are counting on us and we have to pick ourselves up and find a way forward, regardless of whatever challenges or barriers we face.
If you could wave a magic wand and change one thing in the industry what would it be?

I would ensure that patients who need a given innovation have access to it. In this industry, we work so hard to bring breakthrough medicines to patients, but many can't get access because they don't have a diagnosis, the doctor doesn't offer the medicine, or the patient simply can't afford it. In short, I would ensure that no patient is left behind.
Receive content, products, events as well as relevant industry updates from The Medicine Maker and its sponsors.