Business & Regulation
Business Practice
Speaking the Language of Pharmaceutical Success
Sitting Down With… Ludovic Helfgott, Executive Vice President, Head of Rare Disease at Novo Nordisk
Maryam Mahdi | | Interview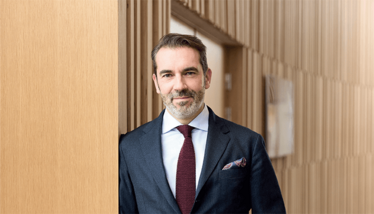 What sparked your interest in pharma?

I come from a long and well-established line of doctors, pharmacists, and veterinarians. Simply put, healthcare has always been a part of my world. But I chose a slightly different path. Rather than pursue a patient-facing career, I chose to commit myself to a degree in health economics. I was intrigued by public health and how it could change societies and even history on a fundamental level.

Although I trained to be an economist, I strongly believed that my professional life would be within the pharmaceutical fold. In my view, pharma was the sector where important decisions were made. But my entry into the industry wasn't linear. I worked as a civil servant for several years – helping to optimize the cost of medicines for payers before joining a pharmaceutical company in 2005. Though my career path wasn't straightforward, I ultimately found my way into the industry I had set my mind on.
How did your background in economics help?

It helped me put myself in other people's shoes. When you understand that everyone affected by a particular decision-making process needs a seat at the table, you have a better grasp of their mindset and you can begin to create more pertinent public health strategies. I had the ability to speak the same "language" as the stakeholders I interacted with. There were no ambiguities between us, so when it came time for us to make important decisions, we were able to do so quickly.

I also believe that my past experiences helped me understand that the patient ultimately wants a holistic solution. Although the drug itself is essential to treatment, so too are the devices, diagnostics, digital applications, and real-world data that support their use. Health economics allows those who engage with it to recognize the importance of these solutions and their ability to enhance or worsen the patient experience.

With the lessons I have learned, I hope that I can work to create solutions and interventions most relevant to patients – particularly those living with rare diseases.
How did you first get involved with the rare disease space?

In 2017, Lars Fruergaard Jørgensen, CEO at Novo Nordisk, asked me to join the company – taking their rare disease portfolio and transforming it into a long-term sustainable business unit. It may come as a surprise to some that the company has over 40 years of experience in this space; after all, the company is renowned for its diabetes arm and rightly so! It has helped change the lives of people living with diabetes through its product offering and its ability to push treatment boundaries through the exploration of new therapeutic interventions.

But with such a long and rich history in improving health outcomes for people living with rare diseases, it was time for the business segment to find the recognition it deserved. When I finally joined the company in 2019, I made it my mission to achieve this.
How did you tackle such a big mission?

The high-level response: I'm responsible for the rare disease business unit – integrating R&D, commercial and lifecycle management, and product supply. By bringing these elements of the company together, we can enhance the value chain and continue to help patients receive the benefits of our medicines and therapeutics.

In more detail, I developed a three-phase plan. The first phase has already been completed. This three-year strategy saw my team and I work on tactics for the relaunch of our R&D efforts, the acceleration of timelines, and the creation of sales and commercialization programs. We're now entering the second phase of the journey, where our products are finally being launched. It's exciting to see how rapidly we have found ourselves in this position. But the final part of the plan may arguably be the most exciting. We have traditionally developed solutions for haemophilia and endocrine disorders, but we expanded our research and offerings to cover more rare and ultra rare diseases. I am thrilled by the possibility of reaching more of the patients who have been left behind when it comes to pharmaceutical innovation.
What do you keep in the forefront of your mind as you lead this venture?

I've been fortunate enough to hold a variety of positions in my career. I've worked at an operational level, consulted businesses, and held C-level positions. These opportunities have allowed me to engage with people from varied backgrounds and with unique perspectives – from the strategic all the way through to the scientific.

As we work to raise the profile of the diverse and urgent unmet medical needs of those living with a rare disease, I believe that it's essential to create space for all to share their points of view. In doing so, we can identify the best approaches that will help us achieve our shared goals of better treatments, and for more patients.

Equally important is the chance to share my knowledge with others and support their professional development. I was lucky enough to find excellent mentors at every stage of my career. Every meeting I had with them left me feeling enriched. They were able to impart their knowledge and share their experiences in a way that added value to my career. As my team and I continue to implement our plan, I can only hope that I am able to encourage and support those working in the rare disease sector in the same way my mentors did for me. Their successes will ultimately help impact the lives of people with rare and ultra rare diseases!
Receive content, products, events as well as relevant industry updates from The Medicine Maker and its sponsors.