Business & Regulation
Profession,
Business Practice,
Advanced Medicine
Stay True to Yourself!
Sitting Down With… Evelina Vågesjö, Chief Executive Officer at Ilya Pharma, Uppsala, Sweden
Maryam Mahdi | | Interview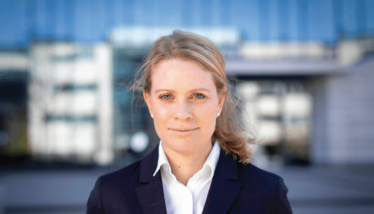 If you hadn't pursued a career in pharma, what would you be doing today?
Though I've always had an interest in science, I would have pursued a career in finance. I have two degrees in the subject, after all! However, the pharmaceutical industry appeals to me because it combines many of my interests. There are so many avenues to be explored. Take small molecules and biologics for example; they've been around for a long time, but still play crucial roles in the treatment landscape. Advanced therapies are also emerging as solutions to the residual unmet needs that haven't yet been addressed by the traditional established therapeutic approaches. In my view, being a part of the growing and highly diverse industry of cell and gene therapies is extremely rewarding.
What's more, I get to explore my passion for strategy and finance by working closely with stakeholders and investors and finding optimal ways that impact our ability to bring new medicines to patients. So, choosing a career in pharma was ultimately the right decision for me – there's no shortage of excitement or inspiration in this sector!
What inspired the launch of Ilya Pharma?
As a PhD student, I was tasked with developing molecular tools to steer and record the behaviour of immune cells and subtypes in vivo. In one project results showed that macrophages attain perivascular positions in injured tissue – helping to regulate blood flow and accelerate healing. It was at this time that our team also achieved great therapeutic findings using a gene therapy approach. We found that a chemokine, CXCL12, was able to elicit wound-healing effects in the skin and could have implications for disease areas where problematic and non-healing wounds cause a significant burden to patients.
The success we had was a key motivator for starting the business. We wanted to make this exciting discovery into a scalable platform and drug products that could be translated into real, tangible treatment option for patients. The desire to achieve these goals was the beginning of our journey in industry. We spun out of the University Uppsala and The Swedish University of Agriculture 2016.
Since setting up the company, we have shown a wealth of clinical data to support the fact that the lead candidate accelerates healing and reduces scaring and fibrosis in the skin and also in the intestine. It was certainly an interesting experience transitioning from academia to industry and one that continues to evolve.
What were the initial challenges you faced?
One of the biggest challenges we were confronted with was the different people and mindsets we encountered in our early days. Everyone has their own opinion on the way a business should run. At the time, it was challenging for me to navigate through them and make decisions that felt authentic to me and my goals for the company. Thankfully, with time, I've learned that, though others' perspectives can be useful also for your business, it's always important to stay true to oneself.
In many situations, my management team and I are best positioned to make the strategic decisions as needed in the development. We are the ones working most closely with the data we produce and therefore have insights that external stakeholders and advisors may not have.
That said, I've had some wonderful speaking-partners who have helped me in both academic and industry settings. Some of our senior investors and advisors, especially, Ingemar Kihlström, our current Chairman of the Board, have been bold enough to work with developing the pipeline and company long-term – sharing their experience and advice and always putting the company first. So, I suppose finding the people with the right experience and a vested interest in your success is one of the most important lessons any business person can learn.
Are there any other lessons you've learned from your time in industry?
I now understand the importance of constantly evaluating the science and data behind not only Ilya's projects, but those of other companies across the industry. There's so much good information publicly available that should be taken advantage of. From broadening our understanding of areas of unmet need to identifying what products within our own pipeline can feasibly be produced at scale, I've found that this data can be a great source of inspiration for clinical positioning and benchmarking. It's helping to expand our horizons when it comes to developing relevant treatment types for patients, which is always advantageous!
What will the next five years bring for the advanced therapy sector?
I predict that therapies also using parts of the microbiome for their mechanism of action will take center stage in the coming years. There are many companies in this emerging sector who are currently developing robust pipelines of therapies. With the strength of the current product offerings, it's certain that we will see more approvals as pharmaceuticals in the coming years.
Regulators like the FDA are also building their teams and understanding of the area, which will make all the difference in getting these products to market. As these regulatory teams continue to develop their expertise with the number of projects emerging, we should expect microbiome and other live therapeutics to become as regulated as pharmaceuticals similar to more straightforward cell and gene therapies. The more clearly defined the legislation and guidance, the better for all involved in the development and manufacture of this product type.
What are your goals for the rest of the year?
We're excited to start phase II trials for ILP100-Topical for post surgical- and non-healing wounds in obese and diabetic patients. It's an exciting step forward for us because, if successful, it will bring us closer to addressing an important area of unmet need. We have several other products in our pipeline including ILP100-Oral for which we also want to start clinical trials in different enteropathies.
Other than that, I am just excited to grow and scale the company with our projects and to see how the industry will continue to evolve – particularly the cell and gene and microbiome therapeutics sectors. Only time will tell how well, and to what extent, areas of unmet need will be served by these emerging advanced treatments. For now, we can only hold our collective breath in anticipation and enjoy the scientific discoveries and milestones in the field.
Receive content, products, events as well as relevant industry updates from The Medicine Maker and its sponsors.