Business & Regulation
COVID-19,
Drug Discovery,
Small Molecules,
Business Practice
The Big Moments
Our pick of the top three defining moments of 2021
The Rise of Omicron 
The tail end of 2021 was marked by a surge in cases of the Omicron variant. On November 26, the WHO classified the strain as a variant of concern (1), but data from South Africa showed that patients only displayed mild symptoms (2). Nevertheless, travel restrictions and bans were enforced worldwide to prevent viral transmission. By the end of the month, many countries had announced their intentions to initiate booster campaigns. The UK was one of them, with its government offering additional vaccine shots to all adults as the country grappled with increased case numbers (3).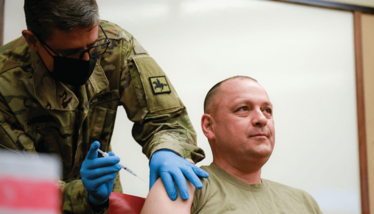 Let's Get Boosted
Ensuring long-term protection against SAR-CoV-2 has been a primary aim since the early days of the pandemic, but conversations about the importance of boosters in maintaining immunity intensified during 2021. By late February, Pfizer and BioNTech had launched a study to assess the potential of a three-dose-vaccine regimen in providing robust protection against variants of concern (4). Their work later showed that booster doses could successfully extend protection, pushing leaders worldwide to consider initiating programs for additional shots within their borders.
As some countries announced their intention to roll out booster COVID-19 shots for their populations, the WHO's Director-General, Tedros Adhanom Ghebreyesus, issued a plea requesting that governments focus their attention on vaccinating the unvaccinated rather than those with some protection against the disease.

"I understand the concern of all governments to protect their people from the Delta variant. But we cannot accept countries that have already used most of the global supply of vaccines using even more of it," said Adhanom Ghebreyesus in an August 2021 UN address (5).
Despite the concern about vaccine equity, international booster programs began in September to help combat the spread of both the Delta and Omicron variants. The WHO later recommended vaccine doses for immunocompromised patients regardless of vaccine status, as well as recipients of Sinopharm or Sinovac vaccines over the age of 60 (6).
Public Health Inequity Rages On
The international community has (for the most part) agreed that international access to COVID-19 vaccines is essential for curbing infection rates; however, ensuring equitable access has proven to be a sticking point for governments and healthcare organizations worldwide. Though the year began with a positive start, with many countries committing to sending vaccines to developing economies through initiatives like COVAX (7), the global community fell short of its targets.
At September's UN General Assembly conference, South African President Cyril Ramaphosa said, "It is […] a great concern that the global community has not sustained the principles of solidarity and cooperation in securing equitable access to COVID-19 vaccines. It is an indictment on humanity that more than 82 percent of the world's vaccine doses have been acquired by wealthy countries, while less than 1 percent has gone to low-income countries (8)."
The statement came only a few short weeks after COVAX announced that, because of restrictions, manufacturing challenges, and regulatory approval timelines, it would lower its vaccine supply forecast for 2021 from 2 billion doses to 1.425 billion (9).
Throughout the year, conversations about IP sharing persisted with many drug developers urged to share their vaccine blueprints with others under a TRIPS waiver (10). Though many refused to engage with the data sharing process, some organizations took matters into their own hands to help improve vaccine access – with some big pharma companies pledging to improve manufacturing infrastructure in low- and middle-income countries.
Some big pharma companies have pledged support specifically to Africa. Moderna, for example, is working towards the development of an mRNA vaccine manufacturing facility in the region – with five countries including South Africa and Rwanda suggested as potential locations. The company intends to create a site with the capacity to produce up to 500 million doses per year (11). Pfizer and BioNTech also signed a deal with South Africa-based biotech, The Biovac Institute, to produce its vaccine for African Union member states. The manufacturing operation is expected to begin this year.
Credit: Wyoming National Guard
Receive content, products, events as well as relevant industry updates from The Medicine Maker and its sponsors.