Business & Regulation
Business Practice
Working Together to Unlock Innovation
How incumbent pharma can learn and benefit from disruptive entrepreneurs
Chris Lord | | 10 min read
The pharmaceutical industry has an innovation problem. Along my journey of filing more than 1,000 life sciences patents – and bringing some of those innovations profitably to market – I've discovered a few key ways that pharma can innovate.
First, a little background. I actually became a pharma innovator by accident, but I've always been interested in entrepreneurship and shaking things up with new approaches. In my second company, I had the UK's first alternative to nicotine replacement therapy (NRT) patches at the time: an e-cigarette. It was the first stop on my journey to try and get the world's one billion smokers (including me) to give up tobacco-filled cigarettes. Smoking-related illnesses were (and still are) a huge, solvable health problem, but, at the time, NRT patches were proving ineffective, with around 70 percent of smokers returning to cigarettes 90 days after temporarily quitting. My business partner and I set out to change that.
Though we expected to become technology entrepreneurs, we didn't foresee becoming pharma ones. The journey has been eye-opening. I've since created and sold two life sciences companies and also recently co-founded Prevayl, which embeds clinical-grade sensors into the fabric of sports clothing to help improve health outcomes.
Know your end game

For me, a great innovator sees the end game first. In the case of my vaping device and e-liquid businesses, it was a world without cigarettes. In another entrepreneur's case, such as Elon Musk, it might be transitioning successfully to sustainable energy or finding a way for humans to become a multi-planetary species. The point is that any good disruptor has a vision for what should change – and then tries to make it happen, no matter how difficult (or even impossible) it initially seems.
An incumbent can trust an entrepreneur to constantly develop bold new ideas, while the innovator can trust big market leaders to give their vision funding, scale, and even longevity.
In pharma, as with many other sectors, incumbents are not always looking to an end game where a problem is solved; instead, they are typically protecting the bottom line – and seeing which existing products can be grown either via new audiences or new markets (or even new diseases). It's often about keeping shareholders happy and avoiding the risk of betting on something new.
An entrepreneur on the other hand, looks to achieve something world-changing and is happy to take risks to improve a product to achieve the vision.
When it comes to health innovation, there are so many challenges to solve. What about a world with 80 percent fewer cardio hospitalizations? That's the sort of end game goal I'd like to see from medical innovation. And medical innovation doesn't just mean innovating solely in new drugs or treatments, but innovating in how we find a solution.
But here's the important point: disruptive entrepreneurs and incumbents can learn from one other. An incumbent can trust an entrepreneur to constantly develop bold new ideas, while the innovator can trust big market leaders to give their vision funding, scale, and even longevity.
Different mindsets

In a sector like life sciences, where specialists are crucial, it sounds counterintuitive to recommend more generalist thinkers.
Educational systems encourage us to focus on specialization from a relatively early age. For example, individual research scientists who become real experts in their particular field can still find it difficult to take a more holistic view of a given problem or challenge. For me, all too frequently this leads to a lack of joined-up thinking.
An entrepreneurial mindset, on the other hand, favors a more cross-discipline approach. While innovators do not necessarily have to master everything, they usually have a broad range of knowledge and know people with the expertise required should they not have it themselves – or, at the very least, have networks in place to help find someone who does.
Such a broad-based way of dealing with problems also gives entrepreneurs an awareness of the pieces they need to complete their "jigsaw puzzle." For example, someone without entrepreneurial flair may not be particularly cognisant of the value of social media for awareness-raising and sales generation purposes when launching a new product. On the other hand, an entrepreneur will undoubtedly understand the power of such networks – and they will know that they need to hire an expert if they do not possess the right skills. Because successful entrepreneurs are 100 percent committed to achieving their vision, they tend to be honest with self appraisal and quick to identify and fill the gaps in their own knowledge and skills – the puzzle pieces that must be provided by others.
Imagine a world, however, where stopping humans being ill in the first place becomes more profitable.
Ultimately though, I believe the most vital components of an entrepreneurial attitude consist of a willingness (and ability) to question everything and the determination to find answers. In our pursuit of answers, we must zoom out to see the bigger picture (but also zoom in on the details). In a pharmaceutical context, zooming out means exploring the root cause of disease; for example, we could examine the role of nutrition or sanitation in the creation and maintenance of a healthy immune system and how this impacts overall human health.
The elephant in the room? Healthy people pose a threat to public companies that make profits from sick people. Imagine a world, however, where stopping humans being ill in the first place becomes more profitable. In this win-win scenario, prioritizing the treatment of poor health causes – rather than symptoms of disease – would result in healthier people, less stress on healthcare systems, and more sustainable profits for pharma companies. With increased longevity and ageing populations (according to the WHO, by 2030, 1 in 6 people in the world will be aged 60 years or over), this sort of prevention-instead-of-cure approach will be increasingly vital.
To some established companies, this shift in approach may sound threatening and radical, but it's gathering interest in certain entrepreneurial corners, which could lead to major disruptive innovations in healthcare. With the right product and market fit, you can find healthy profits from healthy people. More portable, wearable, ingestible, and implantable inventions are coming into the market to monitor health and fitness information, engage patients and their communities of caregivers, and deliver self-regulated therapies autonomously. And there are digital therapeutics to help deliver personalized preventive interventions; for example AI-powered apps using patient data, behavioral science, and gamification to drive adoption of healthy behaviors.
Having zoomed out, let's zoom in. In innovation, understanding the minutiae can be just as important as the bigger picture. I have personally rescued test results for a pharmaceutical e-liquid by spotting that clarity tests were being negatively influenced by the poor, overused, and badly scratched state of the inspector's safety glasses! The innovator zooms both in and out – oscillating between the two to find the answer. A public company CEO does not. To offer a simple analogy: there is a big difference between the person who invents the wheel and the person who keeps the wheel rotating.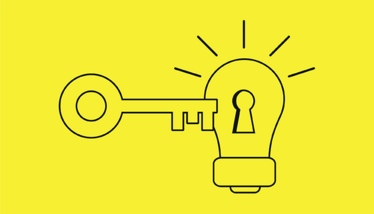 Avoiding the "madness of crowds"

Having sold businesses to large incumbents and having spent time in those public companies, I've witnessed first hand how groupthink can – and does – harm innovation.
CEOs see themselves as good, decent, and successful people because, more or less, they often are. And that means they want to hire people like themselves, which almost always results in reduced diversity. It also creates an echo chamber that reinforces the choice or option chosen by the CEO.
Contrast this with a highly diverse startup, where everyone is working backwards from a vision and openly discussing the best way to get there.
Fear also plays a huge role in holding innovation back in public companies. People try to avoid having a negative impact on their own career – so they may not openly disagree with the boss or propose something contradictory or risky. If employees do pluck up the courage to recommend something innovative, leaders want assurances that any risks will pay off, which stifles creativity. Almost every decision made in a public company is made only after considering and implementing an "ass-covering" option – perhaps a consumer survey or a published report to fall back on. The all-important bottom line and quarterly shareholder demands generate a risk- and innovation-averse culture from the top down.
Contrast this with a highly diverse startup, where everyone is working backwards from a vision and openly discussing the best way to get there. This culture is usually lively and, in my experience, even uncomfortable, but there is typically a reliance on understanding the evidence rather than simply following a leader's charisma.
I've been working with my business partner, David Newns, for almost two decades, and I can say we've been on numerous horrendous startup-style roller coasters. But we have never argued. We have often disagreed and had contrary viewpoints, but we have never responded to a disagreement by digging in heels. Our responses to each other have always been open to the other's contradictory view. We'd ask each other, "Why not? What haven't I seen? How are you seeing it?" It's not about being nice to each other; we just know we must put our egos aside, respect the other's perspective, and insist on finding the right outcome or right answer. In a typical corporate "meeting," where everyone is focused on out-doing their counterpart, the right answer often becomes less important than personal outcomes.
Creativity can come from anywhere, so embedding innovation into company culture at every level is mission-critical. My business partner, David, strongly recommends that public company CEOs should hire entrepreneurs to make the value of creativity pervasive. I agree. Supporting these mavericks – and allowing them to take (managed) risks – can help bridge the innovation gap between disruptive startups and incumbents.
Share the financial burden

As a startup, paying for drug development is tough. If I'd known in advance that, on my mission to get smokers to give up cigarettes, I'd first have to pivot my technology startup into a medical device company and then into a pharmaceutical company, I may have quit before I began. It was a big mountain to climb – tens of thousands of pages for our submission to the UK's Medicines and Healthcare products Regulatory Agency, medical device testing, extensive lab facilities, a small army of specialists… I found myself at the helm of a huge multi-disciplinary undertaking.
As with any new medical product, we needed to commission a clinical trial and this, even with only 24 people, was set to cost – in 2012 money – close to $900,000. Like any strapped-for-cash startup, we tried to fund R&D organically via sales from a related business, but the cash flow required was unsustainable. Though the numbers involved might seem almost trivial to a large incumbent, they are extremely high for a two-year-old startup. So, rather than big pharma companies snapping up startups after the risky R&D has been done and the product is close to market-ready, could they come in earlier and help get the innovation to market faster?
I believe that entrepreneurs and big pharma CEOs can each offer the other something valuable. For me, entrepreneurs succeed or fail on solving problems worth solving, whereas big pharma companies succeed broadly by protecting their downside. By investing in startup R&D budgets rather than just buying the company and by bringing entrepreneurs into their own businesses to foster a culture of creativity, CEOs have the power to shape a world more capable of innovation – perhaps even a world that strives to create wellness rather than cure sickness.
Receive content, products, events as well as relevant industry updates from The Medicine Maker and its sponsors.