Discovery & Development
Translational Science
A Center for Space Medicine
With Jeffrey P. Sutton, Director of the Center for Space Medicine, Kristin Fabre, Chief Scientist for the Translational Research Institute for Space Health, and Jimmy Wu, Senior Biomedical Engineer for the Translational Research Institute for Space Health, all at Baylor College of Medicine
Stephanie Sutton | | Interview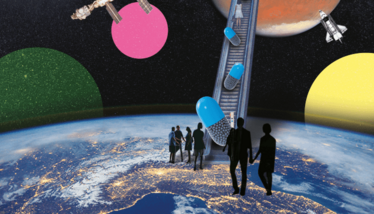 What's the story behind the Baylor College of Medicine Center for Space Medicine? We find out in this quick interview...
Baylor College of Medicine established the Center for Space Medicine in 2008, becoming the first medical school or university to codify space medicine at the level of an academic center or department. The center materialized when leadership of the National Space Biomedical Research Institute, working in partnership with NASA and the college, proposed an academic home for faculty, staff and trainees working collaboratively in space biomedical research, education, and aerospace medicine. The focus has been on innovation and translating space advances to benefit health on Earth. In research, the center has been a pioneer in cutting-edge exploration medicine capabilities and in new translational research strategies to mitigate biomedical risks associated with long-duration space missions (NASA-supported Translational Research Institute for Space Health [TRISH]). The center is also part of the FAA Center of Excellence for Commercial Space Transportation. Among the various education programs within the center is a unique Space Medicine Pathway for medical students.
How have the conversations about space medicine changed in recent years?
Virtual and augmented reality have enhanced our ability for training and simulation, and are some of the first steps toward medical autonomy. Furthermore, both human tissue-engineered models and complex en silico avatars are leading the way to personal medical care and treatment. These new capabilities are a few cutting-edge examples that demonstrate how space health research is quickly evolving into a robust research discipline.
What are the unique considerations when it comes to medicines in space?
Some of the unique considerations for space exploration include radiation, such as galactic cosmic radiation, limited storage which limits the amount of medical supplies that can be taken, and the fact that re-supply will be impossible. Because of radiation exposure and limited inventory, we have to understand the stability of medications for what would be a three-year mission to Mars and back. Also, since we don't know all the possible medical events that could happen on a Mars mission, selection and management of the medication inventory has to be considered.
Astronauts also face specific health threats, including extended exposure to radiation, immune function, like inflammation, changes in the microbiome that could impact immune function, behavioural health, and adequate nutrition. We also are continuously looking for technologies and research that will prepare us for unknown medical events.
How are you addressing these challenges?
The Center for Space Medicine and TRISH are both interested in technologies that produce medications locally, whether from base feedstock that can be storage stable and fabricated on demand, or through biological processes, such as growing food that is modified to produce the desired medication. We want to have platform technologies that are cross-cutting and capable of performing multiple applications and tasks to support a mission to Mars.
We do not focus on developing new medications because of both the long regulatory approval pathway and the anatomical and physiological changes of space flight might affect PK/PD rates, which would further lengthen the validation process.
We work in a fast-paced field, full of innovation and inspiration, and are always looking for the best and brightest to participate in building the right tools and methods to get us to Mars and back safely! You can learn more about TRISH at www.bcm.edu/spacehealth and be part of the space health community online at trish.force.com
How can space medicine also benefit humans on Earth?
Technologies we develop for space exploration should be easy-to-use, compact, robust, and portable, making it ideal for hard-to-reach communities, military or even increasing accessibility for the general population.
Receive content, products, events as well as relevant industry updates from The Medicine Maker and its sponsors.