Discovery & Development
Clinical Trials,
Business Practice,
Profession
A LEAP of Faith
Two friends, two countries; one disease, one network to fight it
Angus Stewart | | 6 min read | Interview
This article is part of our DNDi: Medicine Makers Without Borders series. Read the entire feature on our website or tune in to the accompanying podcast for more.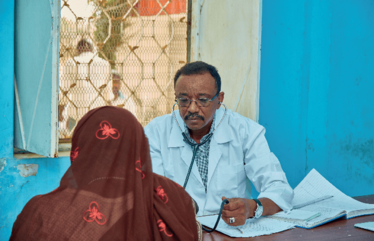 In the penultimate episode of DNDi: Medicine Makers Without Borders we looked at LEAP, the Leishmaniasis East Africa Platform. Our guests were two LEAP members who first met as colleagues and later became firm friends: Ahmed Musa (Professor of Immunology and Infectious Diseases, Institute of Endemic diseases, University of Khartoum, Sudan) and Simon Bolo (Head of Leishmaniasis Access, DNDi). This fascinating discussion covered many of the serious hurdles faced by medical professionals working in the region.
Tell us about LEAP…

SB: It is a clinical research network of leishmaniasis experts in Eastern African countries. It was founded in Sudan in 2003 and has 60 members from 20 different institutions.
AM: The P in LEAP stands for "platform," and it is a platform because it allows us to reach the neediest people who are afflicted by leishmaniasis. Perhaps just as importantly, it also serves as a platform for building strong South–South cooperation. Besides the mandate to combat leishmaniasis, we want to create publicity and build a model for fighting diseases that do not recognize political boundaries.
Speaking of networks, you two have a history…

SB: That's right. I met Professor Musa in 2005, when I joined DNDi. Part of my job then involved working with local partners on financial management of our clinical trials in the region. At that time Ahmed was a Co-PI for the clinical studies that we were conducting in Sudan, and since then he has been my teacher and friend.
He's the one who taught me more about leishmaniasis. We've managed to develop a very good relationship – now he knows my family, and I know his family. This has really been very helpful, especially in networking and in specifically delivering the objectives of alleviating suffering for leishmaniasis patients.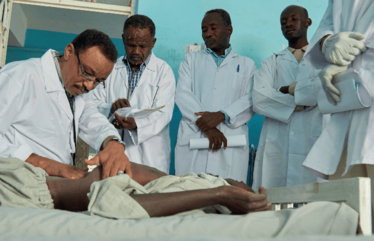 Ahmed was a co-PI for the clinical studies that we were conducting in Sudan, and since then he has been my teacher and friend.
What harm is leishmaniasis doing in East Africa?

AM: It often afflicts areas that are remote or not easily accessible, and where health facilities are often unavailable or inadequate. The people most likely to be infected are generally poor, and live in villages far from roads and healthcare centers. These patients often die before ever receiving treatment. Some may be able to attend certain remote facilities, but traveling this distance is not easy. In many cases, it is simply too late. Even if the patient does reach the facility, they may still succumb to the illness due to the absence of antileishmanial drugs. Many choose to simply stay at home until they die.
There are knock-on social and economic effects too: decline of school attendance, loss of crops and livestock, and increasing poverty.
What work has been completed with LEAP?

SB: As LEAP we've conducted ten clinical trials, and we've been able to recommend a first-line treatment for visceral leishmaniasis in the Eastern African region: sodium stibogluconate, in combination with paromomycin.
Another of our clinical studies – completed just last year – proposes the first oral treatment for visceral leishmaniasis in the region. This one brings in a drug called miltefosine in combination with paromomycin, and is going to be a game changer. Beyond reducing the hospital stay for patients, it will also remove the toxicity associated with sodium stibogluconate, one of the current drugs.
On top of that, we've improved the infrastructure for conducting clinical trials in the region. We started with Ethiopia, where we built our first leishmaniasis research and training center in a place called Gondar, and then another in the south of the country. In Sudan, we built two facilities in Doka and Umelkher, and we've also been able to build clinical trial capacities for healthcare workers.
AM: Simon mentioned the work we have done to build clinical trial infrastructure, and to that I'll add that we built these centers in the heart of endemic areas to facilitate recruitment and quickly arrive at the outcome through cost-effective clinical trials.
In addition, our presence in the endemic areas has positively influenced the villages regarding education, health awareness, and understanding of the basics of research ethics. Our mission is not only to deal with leishmaniasis, but to treat patients with malaria, scabies, leprosy, and other diseases that are co-endemic in the area.
At the level of government and regulation, we are now harmonizing the treatment guidelines. We're working on this because we have conducted clinical trials to help develop and provide combination therapy for a full set of East African countries. That means that we have to harmonize the treatment guidelines, and also harmonize the regulations in Eastern Africa – because there are differences in the regulations, approvals, and so on.
What challenges do you face in your work?

SB: The operational challenges for conducting clinical trials in endemic areas are serious. These include research capacity, different regulatory and cultural environments, and high staff turnover. We also face serious logistical problems in terms of moving drugs into the Eastern African region. We have customs barriers, high taxes, and of course there are the problems of geography and climate that impact the disease. We also face slow recruitment for our clinical trials because some of our patients are nomadic. And, most importantly, we have the post-registration issues around policy change. These are sometimes very slow in terms of adoption by either the World Health Organization or the various countries involved.
AM: Majority-illiteracy in endemic areas is another problem that we face. At first, it negatively affected our patients' acceptance of clinical trials and research. Since then, we have been explaining and building their understanding of our research and drug development, and that has helped.
The other serious problem with endemic areas is their extreme distance from major centers of population and infrastructure, like Khartoum in Sudan. Transferring patients can take days, and the internet is a nightmare. Once, when I was unable to write emails or even make calls, I would make regular trips from the hospital I was working at to a nearby hill to speak with colleagues in Kenya and Geneva. One evening on that hill, I was bitten by a snake – all to secure a half-decent internet connection!
Simon mentioned staff turnover, and it is indeed another nightmare. Brain drain is the problem. Few of our medical doctors are interested in research and treatment for leishmaniasis. We commit to mentoring them and sending them abroad for specialized training, but upon being sent they tend to stay! This is how we lose so many of our doctors to Europe, the Gulf states, and so on. To return and retain them in Eastern Africa, we need to give them decent salaries and we need to prepare solid infrastructure for basic biology and conducting clinical medical research at good standards.
Listen to the full conversation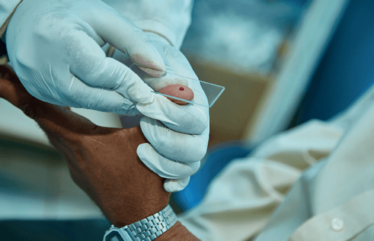 Receive content, products, events as well as relevant industry updates from The Medicine Maker and its sponsors.