Discovery & Development
Digital Technologies
A Pain-Free Reality
Enter the world of immersive therapeutics – where VR is being explored as an alternative to traditional medicines for pain
Stephanie Sutton | | Interview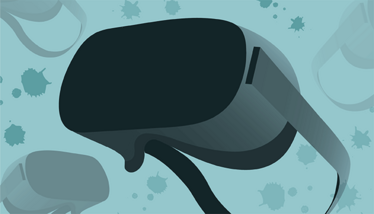 Can virtual reality be used to control pain? Yes – and it's already FDA approved. EaseVRx, a prescription-only virtual reality (VR) system used to help with pain reduction in patients with chronic lower back pain, was approved by the FDA in November 2021.
According to the founders of AppliedVR, there is a pain epidemic in the US – with one in three Americans suffering from chronic pain and around $800 billion being spent each year to address the problem. There are many therapeutic options for controlling pain from various medications to implants and surgery, but these approaches aren't successful for all patients and some options can lead to other problems – the US opioid crisis being an extreme example.
Is immersive technology truly a new category of medicine?
AppliedVR focuses on "immersive therapeutics" – particularly using VR. The company's concept relies on flooding a patient's neural system with alternative signals to help them focus on something other than pain, while also helping them to develop skills to cope with it. Since its inception, the company has been building evidence – by working with pain experts, psychologists, and neuroscientists – to show that their VR modality works. The AppliedVR platform includes a curriculum of content, delivered via VR of course, that teaches patients how to manage pain. Is immersive technology truly a new category of medicine? We connected with AppliedVR co-founder and president Josh Sackman to find out.
What research has been conducted to prove the benefits of the VR approach?

There's actually more than 20 years' worth of academic research on using VR for behavior change, but when we launched in 2015, VR was known largely as a gaming and entertainment platform. We've now received two NIDA-funded studies looking at the opioid-sparing impact of therapeutic VR in chronic low back pain and post-operative pain, and ultimately received FDA approval of EaseVRx based on our 2020 pivotal randomized controlled trial. All in all, we've had to do a lot of foundational research to establish the credibility leading up to this point.

We published our first feasibility study in 2016, in collaboration with Cedars Sinai. This initial feasibility work tested patient and clinician reactions to the use of a VR device. The responses were promising, so Cedars and many other academic centers started exploring the use of VR in a number of clinical settings, including Children's Hospital Los Angeles for phlebotomy and IV insertion; Cedars Sinai for inpatient pain management and childbirth; and George Washington University for emergency medicine – as just some examples.
The extant VR literature suggests that enhanced learning and positive neuroplastic changes are key mechanisms of actions for VR treatments.
We envisioned a future where every home and office have a VR headset for chronic disease and wellness management. We started working on feasibility studies to demonstrate outpatient use in patients with pain, initially for a single session, then for several weeks of use, and ultimately in our pivotal trial to validate the safety and effectiveness of our chronic pain product in an 8-week trial, with three-month and six-month follow-ups (publication pending).

I hope that our commitment to research as well as the regulatory pathway have really established the credibility needed to establish a new modality of pain care with immersive therapeutics.
What does EaseVRx treatment look like?

EaseVRx delivers pain management training based on cognitive behavioral skills and other behavioral methods. It delivers VR content while incorporating biopsychosocial pain education, diaphragmatic breathing training, mindfulness exercises, relaxation-response exercises, and executive functioning games. The software includes an eight-week, VR-based program that helps people reduce symptom severity and the impact of their pain. The immersive environment and content of the program provides immediate relief while allowing users to actively engage in skill-building exercises to cultivate enhanced control over pain. Users are motivated to shape their central nervous system by repeatedly interacting with the virtual environment via their breath and attention.
By following the treatment program for two months, patients should see clinically meaningful and lasting reductions in pain intensity and pain interference.
What sets your approach apart from traditional cognitive behavior therapy?

EaseVRx shares many of the effective therapeutic principles of cognitive behavior therapy applications in chronic pain. For example, both treatments focus on developing skills to cope with unhelpful thought patterns and feelings of helplessness, which are common with chronic pain, and help empower people to have better control over their pain.

However, our approach is to build skills within an immersive, highly engaging virtual environment. Our data from multiple studies show that our immersive treatments for chronic pain yield effect sizes that exceed those reported for other studies involving multi-session behavioral medicine treatments for chronic pain. The extant VR literature suggests that enhanced learning and positive neuroplastic changes are key mechanisms of actions for VR treatments; and our future research will directly study the treatment mechanisms of EaseVRx.

In addition, on-demand access to treatment is a clear advantage over other therapies, such as cognitive behavioral therapy, which rely on a scheduled appointment and a live instructor.
Can you talk about the data you needed to gain FDA approval?

The FDA evaluated the safety and effectiveness in a randomized, double-blinded clinical study of 188 participants with chronic lower back pain, who were assigned to one of two eight-week VR programs: the EaseVRx immersive 3D program or a control 2D program that did not use skills-based CBT methods of treatment. After enrolment, participants were followed for a period of 8.5 months in total – from baseline to end of treatment. We also followed up on months one, two, three and six post-treatment.

At the end of treatment, participants in the EaseVRx group, on average, reported clinically meaningful improvements, including a 42 percent reduction in pain intensity, a 49 percent reduction in activity interference, a 52 percent reduction in sleep interference, a 56 percent reduction in mood interference, and a 57 percent reduction in stress interference.

At the six-month follow-up, all participants in the EaseVRx group continued to report a 30 percent or greater improvement in pain intensity and pain interference. In contrast, the control group reported a reduction in each pain measure below 30 percent.
What's the most rewarding feedback you've received from patients?

We are truly grateful for the numerous patients who have shared their stories and the impact that our immersive therapeutics have had on their lives. Here are just two that I welcome readers to look into.
A video featuring Bob Jester, who ended up paralyzed below the waist and in excruciating pain after an accident.
Madora Pennington frequently shares her thoughts on the treatments she has tried for her Ehlers-Danlos Syndrome and life after disability. In this video, she explains how VR disengaged her brain from the pain perception cycle at a much deeper level.
You've gained FDA approval – an exciting milestone. What's next for AppliedVR?

First, we'll be making EaseVRx available in the US on a limited basis through select providers toward the middle of 2022.
Pharmaceutical and medical device companies have taken a large interest in the digital therapeutics space.
Overall, we are focused on making prescription immersive therapeutics accessible to all. And that means building out the infrastructure required to distribute this next-generation modality at scale. Ultimately, our vision is to have a VR headset in every home in the US and beyond! And to essentially create a VR pharmacy that dispenses both our own and third-party VR prescriptions.

As the next big step toward our vision, we are starting to work with both commercial and public payers to establish the reimbursement pathways. As part of that, we are launching the largest health economics and outcomes research study of its kind in immersive therapeutics. We are also working to expand our label beyond chronic lower back pain.
What interest have traditional pharma companies shown in the field?

Pharmaceutical and medical device companies have taken a large interest in the digital therapeutics space. Managing complex chronic diseases often requires a multi-modal approach to treatment; medications alone are rarely enough. Digital therapeutics are unique in that they are effective while low risk and do not interfere with pharmacological interventions. A few examples in this space are the partnership between Otsuka and Click Therapeutics for major depressive disorder, Sumitomo Dainippon and BehaVR for anxiety disorder, and Sanofi and Happify for multiple sclerosis. We expect to see many more partnerships between immersive therapeutics and pharma/device companies in the future.
Receive content, products, events as well as relevant industry updates from The Medicine Maker and its sponsors.