Discovery & Development
Drug Delivery,
Vaccines
Cupping Combats COVID-19?
How a technique with roots in alternative medicine practice improves vaccine delivery
Angus Stewart | | Quick Read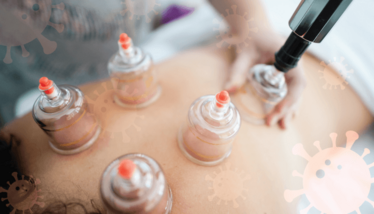 Though the origins of cupping are unclear – and, for some, controversial – a paper published by researchers at Rutgers University, New Jersey, USA, draws comparison between the ancient technique and a method for increasing uptake of DNA-based medicines, including vaccines for COVID-19 to patients.
In the traditional practice of cupping, one or several heated glass cups are placed on the skin, creating negative pressure and increasing blood flow. (Adherents of traditional Chinese medicine believe this facilitates the flow of "qi" – the term assigned to vital energy that is fundamental to the discipline but unproven by scientific inquiry.)
In the study at Rutgers, a smaller, handheld device operating on a similar mechanical principle was used on rats. Following a conventional vaccine injection, the 6 ml orifice was applied at the point of injection for 30 seconds, inflicting no pain and leaving no mark. It is thought that the force of suction against the skin then increases the uptake of vaccine particles by the dermis cells; certainly, when used on the Rutgers rats, the suction devices multiplied the subsequent immune response by roughly 100 times.
Study leader, Hao Lin, who has tried the method on himself, highlighted suction-based in vivo cutaneous DNA transfection as a highly-scalable platform for both laboratory and clinical applications for nucleic-acid-based therapeutics and vaccines. He also noted that minimal training was necessary for practitioners of the technique.
"We have demonstrated an alternative, safe, and effective transfection platform that yields high levels of transgene expression," Lin said in a statement. "Because of the inherent advantages of DNA, not least of which is avoiding cold-chain requirements of other vaccines, this technology facilitates vaccination programs in remote regions of the world where resources are limited."
Receive content, products, events as well as relevant industry updates from The Medicine Maker and its sponsors.