Discovery & Development
Drug Discovery,
Formulation,
Business Practice
Cancer Treatments for Kids
Inspired by clear needs in pediatric oncology, Day One Biopharmaceuticals is committed to creating purposeful treatments for children with life-threatening diseases.
Jamie Irvine | | 5 min read | Interview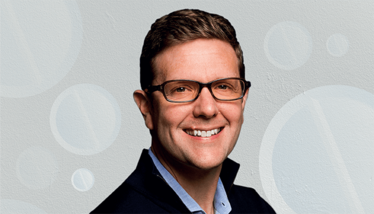 Jeremy Bender, CEO of Day One Biopharmaceuticals, has had a distinguished career in the industry, previously working with Gilead Sciences, Tizona Therapeutics, and Allos Therapeutics (not to mention his time as a DJ for Stanford's KZSU). Now, he is spearheading Day One's mission to do more for children with cancer.
To date, only six drugs have been approved in the US specifically for first-for-use cancer treatment for children before adults. And gaining access to these treatments can take time. We speak with Bender to find out how Day One is working to advance the pediatric oncology field.
Why are you passionate about pediatric oncology?

Two aspects of developing new medicines for children living with cancer motivate me. The first is the opportunity to positively impact children's lives and the lives of their families, friends, and communities surrounding them. Having any impact, however small, I find deeply rewarding. The second is the opportunity to set a new path for the industry, and show that it is possible to build a sustainable business that serves the needs of all cancer patients regardless of age.
What's the story behind Day One?

Our company name was inspired by "The Day One Talk" – the life-altering conversation that takes place between children, their families, and their oncologist at the outset of their diagnosis and treatment plan. Most targeted therapeutic companies focus on adults and only think about pediatric development second, if at all. We're looking to invert that and put the focus on pediatric indications as early as possible in the drug development process, so that more children can have treatment options designed specifically for them.
What are the major scientific challenges in your endeavor?

Historically, drug discovery for children living with cancer has been undervalued by the industry. One major explanation for this is the significant difference in potential market size when compared with adult cancers; childhood cancers make up less than one percent of malignancies diagnosed annually in the US.
There are also numerous challenges in running clinical trials for rare pediatric diseases, including the small patient population. Our lead candidate, tovorafenib, is being investigated for pediatric low-grade glioma (pLGG). Although the most common brain tumor in children, it still only affects 5.4–5.6 children per 100,000. The relatively small patient population means that trial enrolment can take longer and can be expensive.
Tumor biology can also be distinct between pediatric and adult patients. Though certain pediatric and adult tumors have common genetic alterations that allow for the development of targeted agents in both groups of patients, often the targets are different such that specific drug discovery programs are required to develop new medicines for children.
What cancers are a priority for Day One – and why?

We identified our priority targets based on the etiology of children's cancers, as tumors in kids often have specific mutations that may readily benefit from precision therapies. Our lead candidate, tovorafenib, is an investigational, oral, brain-penetrant, highly-selective type II pan-RAF kinase inhibitor that is being studied to treat frontline and relapsed pLGG, as well as RAF-altered solid tumors. In pLGG, approximately 85 percent of BRAF-altered tumors harbor a KIAA1549-BRAF gene fusion, and approximately 15 percent are driven by BRAF V600E mutation.
Our second candidate, pimasertib, is a small molecule inhibitor of mitogen‐activated protein kinases 1 and 2 (MEK) within the mitogen‑activated protein kinase (MAPK) signaling pathway. We are evaluating it in MAPK-altered solid tumors.
How are you approaching the challenges of pediatric drug development?

We have focused our efforts on building strong ties to the cancer community, establishing a broad network of academic, industry, clinical and scientific experts as well as patients, caregivers and foundations who are all collectively working hand-in-hand to solve common challenges and advance the pediatric oncology field. We also have a team of trained pediatric oncologists and nurses who have been in the clinic and understand the needs of patients and their families.
Furthermore, working closely with regulators is especially important. To that end, tovorafenib has been granted Breakthrough Therapy Designation by the FDA for the treatment of patients with pLGG harboring an activating RAF alteration, who require systemic therapy and who have either progressed following prior treatment or who have no satisfactory alternative treatment options. The FDA has also granted Rare Pediatric Disease Designation to tovorafenib for the treatment of low-grade gliomas harboring an activating RAF alteration that disproportionately affects children. The drug has also received Orphan Drug Designation from both the FDA and EMA for the treatment of malignant glioma.
What progress have you made so far?

We've reported two readouts from our FIREFLY-1 trial, through which we're evaluating tovorafenib (DAY101) in recurrent or progressive pLGG. The topline results showed an overall response rate of 64 percent and a clinical benefit rate of 91 percent in the 69 heavily-pretreated patients who were evaluable for response (according to a response assessment for neuro-oncology-high grade glioma criteria). Safety data, based on 77 treated patients in the trial indicated monotherapy tovorafenib to be generally well-tolerated. The most common side effects reported related to tovorafenib were change in hair color (75 percent), increased creatine phosphokinase (64 percent), anemia (46 percent), fatigue (42 percent), and maculopapular rash (42 percent).
Looking ahead, we're excited to share more data from FIREFLY-1 at a future medical meeting. If the data is supportive, we expect to submit a NDA to the FDA in the first half of 2023. We're also currently enrolling patients in FIRELIGHT-2, evaluating tovorafenib as a monotherapy and as a combination with the company's investigational MEK inhibitor, pimasertib, in adults and adolescents with recurrent, progressive, or refractory solid tumors harboring MAPK pathway aberrations.
What changes would you make in the pharmaceutical industry to boost the number of approved pediatric medicines?

There is a lot of room for improvement, and I strongly believe that increased investment and funding are important to prioritize pediatrics. We also need regulatory pathways that encourage drug development in children and continued financial and organizational support of the infrastructure at academic centers and children's hospitals. Finally, more engagement with the advocacy community is crucial for the future of all drug development.
Receive content, products, events as well as relevant industry updates from The Medicine Maker and its sponsors.