Discovery & Development
Drug Delivery
Dosing For Compliance
Are current dosage forms really as easy and convenient for patients as pharma manufacturers say they are? Thinking more about real-world usage can help us design more practical drugs that patients are more willing to take.
Sven Stegemann |
Healthcare professionals typically make a diagnosis and then match the patient's condition to a prescription drug that has been subject to controlled, randomized clinical trials. But in the "chaotic world of medical practice" – to use the words of Sharfstein and Kesselheim (1) – the therapeutic outcomes observed in clinical trials are not always transferable to the real world. Indeed, some medicines – although designed to be effective – simply aren't practical for real-life patients; for example, the dosage form may not have been fully considered. What if the tablet or capsule is too large to swallow or the patient simply has too many separate medicines to deal with?
Those of us involved in developing medicines must start to focus not only on the disease and clinical parameters, but also on real-world aspects, such as how each patient experiences his or her disease, lives with the symptoms, and sometimes balances them against other ailments. Those who have cared for an elderly relative will be able to relate to how challenging it can be for them – and for us – to keep up with a complex daily medication schedule. Often, the regimen may include several different drugs, all in different dosage forms. Each pill will have its own shape, color, size and packaging designed to help us to tell them apart, but actually this diversity can add to the complexity. Further, the medicines may need to be taken before or after meals, split rather than swallowed whole, or administered in the morning or at night. And frustratingly, some medicines packaged in medicine vials or blister packs can be difficult to open. While these medicines are "effective" by clinical trial standards, they are not always sufficiently tailored to meet patient needs, which may affect other important factors, such as patient compliance.
I have never heard a patient mention that the five-year stability of their product was something they themselves were looking for.
I doubt many readers of this magazine are doctors who prescribe medicines – rather, we are developers, academic scientists, regulators or suppliers within the pharma industry. But in many ways, we have just as great a part to play in healthcare and cannot simply accept the above issues as inherent problems. We are the ones who must actively look for solutions to help the patients who take our medicines every day.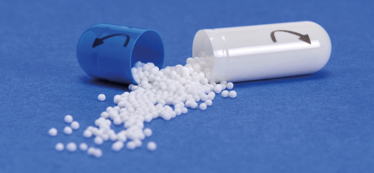 Customizing capsules
The good news is that significant progress has already been made in the advancement of many dosage forms. However, for this article, I would like to focus on capsules. Capsules are easy to swallow, tasteless and odorless. They are suitable for a wide range of ingredients and are also an excellent method of protecting a drug. Over the years, capsule technology has advanced greatly and I believe that it is an area where innovations are being made that specifically addresses the physicochemical characteristics of certain compounds, resulting in more patient-centric designs. For example, the introduction of easy-to-open capsules might lead to a renaissance of multiparticulate sprinkle formulations for pediatric and geriatric applications.
Capsules can be used by all ages – including pediatric and geriatric patient populations. In their most basic form, capsules are a simple two-piece shell that enables convenient delivery of multiple drugs. Moreover, it is possible to combine different drug formulations that consist of a solid and a liquid phase – in the same capsule. The capsule can be filled as a lipophilic suspension or pellets, and then sealed by band or spray sealing technology. In instances where the two phases are incompatible, technology is now available that allows you to create a capsule within a capsule, where the solid is separated from the liquid phase. These types of innovations are highly suitable for combination or dual-release products. Other clever technologies are available too – it's just a matter of looking and thinking beyond simple shells (see 'Capsule Evolution' for a timeline of innovation).
From an aesthetic but also recognition and identification point of view, capsules provide a high level of customization too. Thousands of colors are available and it is also possible to print directly onto the capsule, such as printing the dose, drug or name of the pharmaceutical manufacturer. These features provide strong visual cues that help to prevent medication errors and confusion in patients with polypharmacy.
Once a patient population's true needs have been identified and you have an understanding of the drug product from their viewpoint, technology is key to developing the right solution. Most likely, it will be a combination of technologies that come together in one dosage form. For example, consider an elderly woman who has multi-morbidity and functional impairments. She could very well benefit from a fixed-dose combination capsule that combines the three or four individual drugs she takes in one capsule, significantly reducing her morning dose. She would further benefit if that one capsule was clearly marked by color and printed with a pictogram showing it as her "morning dose." Going a step further, it could also be beneficial if the drug was delivered as a multiparticulate formulation within an easy-to-open sprinkle capsule, which means that she could sprinkle the contents of the medication onto soft food. The capsule becomes the packaging rather than the delivery system, completely overcoming any swallowing difficulties. And the drug is well protected from environmental factors during storage and easy to transport too.
Multiparticulate formulations could also benefit other age groups, especially children. In many cases, liquid medications are the only option for children 6 months to 12 years of age. Developing a medicine for children requires a wide range of dosage strengths to cover all age-respective weight groups, clear differentiation on dosage strength to avoid medication errors, as well as administration in a beverage or soft food to mask a medicine's bitter taste. Multiparticulate technology can enable a formulation to have targeted release profiles at different dose strengths, which can be differentiated by colors and imprints. No matter if the child is 2 or 10 years old, the medicine can be mixed and consumed with a favorite food – such as ice cream.
What do patients want?
When I speak with drug formulators, I often hear claims that they always develop products according to patient needs. But unsurprisingly, I have never heard a patient mention that the five-year stability of their product was something they themselves were looking for to improve their health… or that the once-daily large tablet that must be crushed in a mortar before administration was the type of innovation they were hoping for when they asked for simpler dosing…
In 2014, we searched the literature to assess the strength of scientific studies investigating medicines for their patient-centricity and appropriateness (2). The results were disappointing – and confirmed our concern that patients continue to be left out of the dosage form design and development process. That said, there are marketing studies investigating patients' preference for dosage forms that provide evidence that patients believe the appearance of capsules, including the colors and imprints, as well as the sprinkle option, are important aspects when it comes to their preference for and acceptability of a medicine.
Some action needs to be taken on this point. I'm involved in an academic partnership with the Graz University of Technology in Austria that includes a Foundation Professorship dedicated to better understanding patient perspectives in drug therapy, with the ultimate aim of enhancing drug safety and effectiveness. Hopefully, this kind of partnership will help to produce even better dosage forms in the future. In drug development, it can be all too easy to overlook the patient's real-life situation and to focus only on clinical efficacy, but as people live longer and therapies become more complex, desired therapeutic outcomes can only be achieved when patient needs and challenges are addressed. Studies investigating poor adherence clearly show that substandard medicine design is a contributing factor (3). We must do more with our capsules and other dosage forms to ensure patient compliance; after all – irrespective of excellent R&D during development – if a patient does not take the medicine, the API has zero efficacy.
Capsule Evolution
1860s: Launch of traditional hard capsule made of gelatin and two cylindrical parts with spherical end that is "slipped over" for closing.
1967: "Dimples" introduced in cap to mechanically fix cap on body part during transport and handling of empty bulk capsules.
1968: "Closing rings" introduced to lock cap and body tightly together after filling and closing of capsules.
1978: Introduction of body with conical open-end that improves product quality by reducing splicing on high-speed filling machines.
1986: Special capsule designed for liquid- and semi-solid formulations to provide tight closure of cap and body after closing by mechanical means.
1993: Introduction of capsule specifically designed for clinical trials (as alternative to cumbersome "double dummy" blinding technology).
1995: Capsule design optimized through debut of spherical cap end that provides higher strength and resistance in closing stations.
1997: Hydroxypropylmethyl cellulose (HPMC) capsule manufactured with gelling system for oral and inhalation products.
2007: HPMC capsule made using thermo-gelation (launched as an alternative to gelatin).
2008: Introduction of capsule-in-capsule concept to physically separate two or more products, liquids and/or solids or enhance stability to sensitive compounds.
2011: HPMC capsule further extended with launch of acid-resistant capsules for dietary products, which delay the in vitro and in vivo dissolution for up to two hours.
2012: HPMC capsule developed to meet the technological and bioperformance requirements of inhalation capsule products.
2014: Publication of two-year Quality-by-Design (QbD) project investigating the variability of empty hard capsules, showing consistency and reproducibility of capsules within specified limits.
2014: Sprinkle capsule introduced for accurate and easy dosing of multiparticulates for various patient populations.
2014: Launch of Six Sigma approach to quality control of empty capsules that supports the transition to continuous manufacturing, with real-time release for pharmaceutical capsule products.
2015 and beyond: Ongoing development programs, including capsules that provide enteric properties, allowing for advanced oral drug delivery options for proteins and peptides.
Receive content, products, events as well as relevant industry updates from The Medicine Maker and its sponsors.
J. M. Sharfstein and A. S. Kesselheim, "The Safety of Prescription Drugs," JAMA 314(3), 233-234 (2015).
R. Messina, R. Becker and S. Stegemann, "Results from a preliminary review of scientific evidence for appropriateness of preparations, dosage forms and other product design elements for older adult patients," Int. J. Pharma., 478(2), 822-828 (2014).
A.G.K. Beckman, M.G. Parker and M. Thorslund, "Can elderly people take their medicine?," Patient Education and Counseling 59, 186–191(2005).