Discovery & Development
Drug Delivery,
Dosage Forms,
Technology and Equipment
First Contact
Can eye medicine really be delivered via a contact lens?
Angus Stewart | | 5 min read | Interview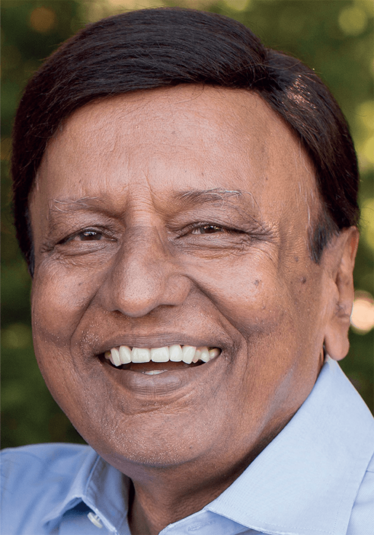 Drug delivery comes in many forms, from the tried and tested to the truly novel. One company angling for the latter is MediPrint Ophthalmics of San Diego, which has designed a process to digitally print a glaucoma medicine onto a contact lens that then delivers that medicine continuously into the eye for seven days and nights, even while the wearer is sleeping.
The company was founded in 2001 by Praful Doshi under the name Leo Lens Technology. Two decades later, after securing FDA approval for digitally printed colored contact lenses, the company has seen not only a change of name (now MediPrint Ophthalmics), but also promising phase IIa trial results and success with Series A funding. Is a new era coming into view? We spoke to Doshi to find out more.
What is the origin story of your contact lens technology?

Our medicated contact lenses are derived from cosmetic contact lenses designed to change the wearer's eye color. Those lenses are produced through a specialized printing process that applies colors to the surface of the lens – usually natural eye colors.
After we secured FDA approval for our cosmetic products, I realized that, in a similar fashion, we could use our proprietary digital printing technology to apply ink infused with a drug for eye disease to the surface of a contact lens. I took this as my new calling – in no small part because I had seen too many friends and family in India go blind from eye diseases that could have been prevented.
What makes the lenses special?

MediPrint lenses allow patients to continue to wear their lenses for vision correction while automatically and passively receiving treatment for their eye diseases. This sustained, continuous release of ophthalmic drugs via contact lenses is a novel, non-invasive, preservative-free, and cost-effective means to treat various eye diseases and conditions. Another unique property of the lens is its continuous release of a lubricating agent designed to make it comfortable for the wearer.
The process we have developed is a turnkey print and curing process for soft contact lenses designed to easily integrate with and match the pace of high-speed contact lens manufacturing lines.
After completing several preclinical studies, including PK in rabbits, we successfully completed our first in-human clinical trial (1). The study showed a favorable safety and tolerability profile and an efficacy signal was noted, signifying drug delivery to the eye for the full seven days in which the patients wore the lenses. To optimize efficacy, we have planned a dose escalation study this summer.
Are there issues concerning duration and variation of dosage? Say, for example, if a patient falls asleep while wearing the lens…

In the case of the MediPrint lens for glaucoma, our lens is designed to ensure 24/7 intraocular pressure control for 7 days, while the patient is both awake and sleeping. The drug elution profile for each eye disease or condition can be carefully calibrated based on the desired profile of the drug release.
What makes delivery via contact lens preferable to eye drops?

Eye drops are plagued by low compliance and poor adherence to treatment regimens, a mere five percent bioavailability of the drug, and red eyes and discomfort caused by preservative side effects (2,3,4,5,6).
Currently, over 40 million people in the US alone wear soft contact lenses. This 40 million will undoubtedly suffer from various ocular diseases and conditions during their lifetime. Contact lenses are incompatible with traditional eye drop treatments, so these lens wearers could be forced to abandon their preference for contact lenses upon diagnosis with an eye disease that requires therapy via eye drops. Our lenses would negate that problem.
What technical challenges have these lenses faced along the way – in science and in business?

As one might expect, determining the right dosage for the drug being printed on the contact lens and the corresponding elution profile is challenging. The unique chemistry that was developed for the MediPrint process took years to optimize and adapt to a true platform approach suitable for multiple different drugs.
On the business front, our challenge has been to dissuade people of their preconceived notions on why contact lens drug delivery will not work! We are solving the problems that have trounced others – namely, how to ensure compatibility with high-speed contact lens manufacturing lines, how to mitigate the regulatory approval risk, and how to control the release profile for maximum efficacy in a non-invasive therapy. Additionally, with our 505(b)(2) path for FDA approval, we enjoy reduced risk, cost, and time for FDA approval significantly. The recent approval of Johnson & Johnson's contact lens to treat allergies will hopefully show the world – and interested investors – that this technology is the next generation eye disease treatment.
How will you address access and affordability for patients?

We have had initial conversations with market access and reimbursement consultants. Based on these discussions, we remain confident that, with our pricing strategy (which matches that of prescription drops), payers will be open to a reimbursed code as long as we demonstrate the safety and efficacy benefits.
What are the next steps?

Clinical studies are the next major steps. We have a phase IIb dose optimization study planned for our lead glaucoma asset. We also intend to file an IND for our dry eye asset soon, as well as conduct human proof-of-concept studies for our end-of-day comfort lens, in 2022. We have a robust pipeline and we are eager to get more products to the clinic!
Receive content, products, events as well as relevant industry updates from The Medicine Maker and its sponsors.