Discovery & Development
Drug Discovery,
Formulation
Llamas Versus Dengue
Why one company is focusing on camelid-derived antibodies to tackle dengue
Stephanie Sutton | | 3 min read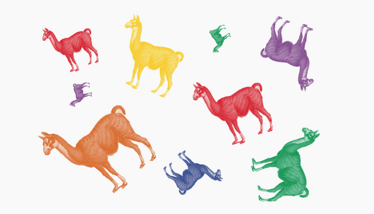 Earlier this year in The Medicine Maker, Neelika Malavige from the Drugs for Neglected Diseases initiative wrote about dengue – one of the most rapidly increasing mosquito borne infections in the world. With a distinct lack of treatment options, one company working on a new dengue therapeutic is ExeVir – the recent winner of a research grant from Flanders Innovation & Entrepreneurship (VLAIO). The grant will be used to identify highly potent heavy chain (VHH) antibody fragments against dengue that can be developed into VHH-based antibody constructs.
Dengue drug development is challenging in part due to the virus's four different serotypes. Fiona du Monceau, Chief Operating Officer at ExeVir, explains, "Generally, a first infection by one of the dengue serotypes causes either no or mild symptoms, followed by immunity against the infective serotype. However, due to neutralizing antibodies against this serotype that poorly recognize the other serotypes of dengue virus, a subsequent infection by a different serotype can cause severe, even life-threatening disease due to a phenomenon called antibody dependent enhancement (ADE) that leads to enhanced infections. Therefore, it is important to have a balanced response against all four serotypes."
Currently, no specific treatment is available and there are only two vaccines – both of which have limitations. According to du Monceau, "One can lead to ADE in sero-naive individuals upon subsequent infection by dengue viruses and the other is contraindicated in specific populations."
New approaches are needed – and not only for travelers and those currently living in endemic regions; global warming is allowing dengue to spread to new territories, including western Europe and the US. In fact, around half of the global population now lives in areas suitable for dengue transmission.
ExeVir's approach to a new dengue therapeutic makes use of VHH antibody fragments from camelids. Camelid-derived antibodies aren't unusual and are being researched for several areas, including rare diseases and oncology. ExeVir's VHH platform uses multi-specific antibodies with a potential half-life of six months, enabling prophylactic and therapeutic approaches to combat infectious diseases.
"These fragments are much smaller than human antibodies (12–15 kDa) with the potential to access unique and occluded epitopes that are often well conserved and more difficult to access by conventional monoclonal antibodies," says du Monceau. "They are modular in design giving flexibility to target epitopes on different sites, reducing viral escape, and, because of their smaller size, they have the potential for enhanced tissue penetration, with a lower dose and greater ease and cost-effective manufacturing."
In addition, there is increased manufacturing flexibility, with potential to use CHO or yeast platforms, such as Pichia. "The ability to produce VHH in Pichia will decrease manufacturing costs and hence increase affordability," says du Monceau.
ExeVir's innovative approach involves immunizing llamas to generate VHH libraries and so, depending on the infectious disease target, an optimal immunization agent must first be identified or designed. Furthermore, optimized immunization protocols are required to maximize the immune potential of the llama, as well as to identify VHH clones with the desired characteristics and efficacy.
And the work isn't finished there. "Humanization and sequence optimization of the llama-derived VHH is needed to minimize the risk of developing anti-drug antibody formation, based on the current scientific knowledge of which MHCII epitopes to avoid," says du Monceau. "But these manageable challenges do not outweigh the advantages that are inherent to the potential of VHHs – namely, their ability to reach highly conserved epitopes that are often hidden for conventional antibodies and the modular flexibility and ease of combining these VHHs into multi-specific antibody constructs to optimize potency and breadth."
ExeVir has also been investigating the viability of its technology for SARS-CoV-2 in individuals with an impaired immune system. du Monceau adds, "Our drug candidate XVR011 lost neutralization potency against Omicron BA.2 and subvariants, but it remains ready for phase II – subject to the appearance of susceptible SARS-CoV-2 variants. More importantly ExeVir has very promising 'second generation' molecules ready to advance into clinical development targeting both the S1 and the more conserved S2 region of the SARS-CoV-2 spike protein, and neutralizing all variants of concern to date."
Receive content, products, events as well as relevant industry updates from The Medicine Maker and its sponsors.