Discovery & Development
Biosimilars,
Business Practice,
Analytical Science,
Trends & Forecasts
I'm a (Biosimilars) Believer!
It's been a long winding journey, but biosimilars are finally starting to shake up the biopharma market. Their true potential remains untapped, however – hindered by market access and myths around safety. Here, four biosimilar gurus discuss successes and tackle the issues head on.
Stephanie Sutton |
What do you consider to be the biggest success stories for biosimilars in recent years?
Hoss Dowlat: I think the biggest success stories are the first wave of oncology monoclonal antibody approvals, trastuzumab (US and EU), bevacizumab (US) and rituximab (EU) and with extrapolation of all indications. These are long awaited and were developed by biosimilar leaders ahead of immunomodulatory products, such as infliximab and etanercept, but it proved very difficult to satisfy regulatory clinical requirements earlier.
Carsten Brockmeyer: I agree with Hoss – and would, in particular, highlight the successful launch of the first European oncology biosimilar medicine, rituximab, which captured a 50 percent market share in Germany within 8 months.
Fiona Greer: Although there are inconsistencies among different nations, the EU overall has made great progress when it comes to the uptake of biosimilars. Over the past 10 years, we have seen the evolution of a science-based regulatory framework that has led to over 30 marketing authorizations in the EU and has driven development of biosimilar regulatory guidelines internationally. At the beginning of the "revolution," biosimilar versions of complex biomolecules, such as monoclonal antibodies, were considered impossible, but such molecules have now been approved. The prospect of biosimilars in oncology is particularly exciting, and the WHO is already working to prequalify biosimilars for cancer.
Rick Lozano: It's been a little different in the US – there are only a small number of approved biosimilars in the market and while there is no single "success story" that sticks out to date, there are elements of each that have been successful. For example, we are starting to see the first biosimilar in the US, Zarxio, gain market share as it has now found the appropriate channel strategy. We're also seeing each product learn from one another. I believe that when more biosimilars are approved for oncology as opposed to supportive care, there will be even more interest and adoption of affordable biologics, leading to more successful launches and greater insights.
It's important to remember that about a decade ago we saw the same challenges that biosimilars are facing today with the generics market, and, in that time, generics have been able to establish a good foothold on the market. Though we consider biosimilars to be a unique and distinct class compared to generics, the good news is that we see a similar trajectory with biosimilars as policy and reimbursement continue to advance.
And what about low points for the industry?
HD: There have been some biosimilar development programs that have not gone as hoped, particularly for insulin. Today there is only one biosimilar insulin on the EU market and there have been a number of setbacks and failures for recombinant human insulins, immediate rHu-insulin, medium rHu-insulin and biphasic rHu-insulin. Many companies have also tried to develop a biosimilar PEG filgrastim, but this has not gone well. The regulatory barriers have exceeded expectations causing delays, while further development is leading to new filings of data with both FDA and EMA.
FG: It's certainly not been smooth sailing. There have been a couple of high-profile instances where GMP-related issues at some manufacturing sites have delayed approval for biosimilars until supplementary information is provided to the authorities. Instances like this can put the biosimilars industry in a negative light.
RL: Biosimilars have had many challenges coming to the US market, including struggles with channel, payer and pricing strategies. Though we've worked extensively with our manufacturer partners on all three, right now, we are finding that there is a need to focus on responsible pricing. Biosimilar manufacturers need to be careful when devising their pricing strategy, as collectively it is what upholds the market.
The manufacturing process for a branded biologic and a biosimilar will be different – what does this mean for the final product? And, ultimately, does it really matter?
HD: The manufacturing process for a branded biologic and a biosimilar can be very different; for example, different expression systems may be used in the fermentation process. In Samsung's biosimilar etarnecept, the expression system used for the originator molecule was replaced by a more modern approach using CHO cells – without any effect on safety, efficacy or immunogenicity. Voltropin (biosimilar somatropin) used a yeast expression system rather than bacteria, with no negative impact on similarity (Voltropin was ultimately withdrawn from the EU market, but this was for commercial reasons, rather than safety conerns).
In most cases, the same expression system is used to make justifying similarity easier. As the biological process is complex with many upstream and downstream processes, involving many reagents and materials and a range of equipment and conditions, the end product will never be exactly the same – but it will be... similar! Based on my experience with many biosimilars from different sponsors, I've found that manufacturing and testing is often more tightly controlled for biosimilars – because they are so closely scrutinized by regulators – sometimes leading to narrower limits than the originator. The nonclinical and clinical results are the same, so I don't think it matters.
CB: Biosimilar medicines are 21st century biopharmaceuticals. The development of a biosimilar medicine provides an opportunity to introduce manufacturing innovations and state-of-the-art technologies. The reference products, in contrast, often tend to be locked in older process technologies. Significant advances have been made in biomanufacturing over the last two decades, resulting in the reduction or avoidance of non-desired materials, such as animal or human derived proteins, latex, silicone oil, or heavy metals, in biosimilar medicines. Safer, more user friendly drug delivery devices have also been made possible by technological advances.
Ultimately, the same chemistry, manufacturing, and control standards apply for biosimilar medicines and reference products. Approved biosimilar medicines in the EU and the US have demonstrated similarity to the reference product in terms of quality, biological activity, safety and efficacy, and thus provide a safe and efficient, state-of-the-art medicine to patients.
FG: What is not widely appreciated is the fact that because biologicals are "manufactured" in living systems, even different batches of the original product, itself, will not be identical. The originator, under specific regulatory oversight, may also modify their manufacturing process over the lifetime of the product, which may introduce slight variations in the range of product attributes. So, it doesn't matter if the biosimilar process is different, providing that the final product is demonstrated to have no meaningful differences to the originator.
RL: There are still large gaps in clinician understanding of, and confidence in, the manufacturing and approval process for biosimilars. The nomenclature – "similar" – perpetuates the myth that biosimilars are not as safe or effective as biologics. However, comparative studies leveraging research from innovator products are an accepted method of FDA approval. Additionally, FDA-approved biosimilars have proven to have the same mechanism of action as the innovator product. In fact, more than 10 years of biosimilars patient-use in the EU has shown no difference in health outcomes between patients who use a biosimilar and those who take the original branded biologic medicine.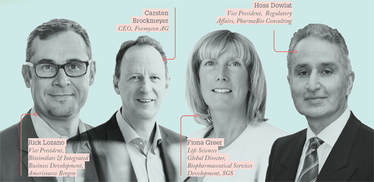 The Gurus of Biosimilars
How have techniques and technologies for the manufacture, development, and analysis of biosimilars advanced in recent years?
HD: Some of the biggest advances have been seen in the analytical field – sensitivities have improved significantly and increasingly sophisticated systems continue to emerge. As Carsten mentioned earlier on, biosimilars are often able to benefit from new technologies. I see a lot of biosimilars using more modern processes compared with the originator.
CB: I agree that analytics have progressed significantly; the ability to analyze and characterize large glycosylated proteins has greatly improved. For example, significant advances have been made in high-throughput methods for glycan analytics, capillary-based protein analytics, and reporter gene
cell assays.
Cycle-time reduction in process development has also been achieved by increased use of high-throughput platforms, including miniaturization, automation, and parallelization, in combination with single use upstream and downstream technologies. Some of these developments have improved our ability to screen large numbers of cell pools and clones, and speed up timelines.
FG: Over the last 20 years, advanced technologies have been developed for structural characterization of biological molecules. Indeed, the challenges of demonstrating biosimilarity have driven this development in part, with emerging novel technologies and improvements in older "classical methods". There is also a greater appreciation of methods that can link structure with biological activity or predict how the molecule might interact within the biological system; for example, HDX-MS. Essentially, regulators are looking for multiple orthogonal assessments to build a total profile of the molecule. In the US, the FDA has introduced the concept of "fingerprint-like" analyses.
There is no safety issue with biosimilars. In fact, my experience is that a biosimilar is often purer than the originator medicine
Biosimilars have been available for years and yet articles are still being written in 2018 that question their safety. What do you think are the biggest myths in the field?
FG: The biggest myth is that they are less "pure, safe or efficacious" than the originator. Education that biosimilars are subjected to rigorous regulatory oversight, including clinical assessment, is needed to overcome these prejudices.
HD: There is no safety issue with biosimilars. In fact, my experience is that a biosimilar is often purer than the originator medicine and, more practically, more consistent batch-to-batch because the biosimilar manufacturer can benefit from recent technological advances, or new scientific understanding.
Regulatory scrutiny of biosimilars has been intense because they are a new class of product, but many have now accepted that there is nothing controversial about biosimilars. The FDA has established the practice of approving all first entry new biosimilars by presenting the case for safety and efficacy and extrapolation of indications to an external advisory committee and holding an associated public hearing, for an extra level of scrutiny and evaluation.
CB: Biosimilar medicines approved in the EU or the US have the same quality, safety and efficacy as the reference products – this has been proven by more than 12 years of real world experience in Europe, with more than 700 million patient days experience under the control of the stringent pharmacovigilance systems. Patients can also be safely switched from the reference product to the biosimilar medicine, as many studies have shown. Providing educational information about biosimilar medicines to patients, physicians, and pharmacists is high on the agenda of many public and private organizations, and will increase understanding and acceptance of biosimilar medicines.
RL: We have a community oncology group purchasing organization – ION Solutions (an AmerisourceBergen company) – and we've had conversations with more than 5,000 community oncologists across the US. Certainly, biosimilar manufacturers need to educate more around safety, but I would also add that they need to look at other areas too. For example, biosimilars companies should match patient support services offered by the innovator, such as patient support programs.
Community oncologists do not move for price; rather, they look for support from their group purchasing organization contracts to ensure they are able to stay viable in today's competitive and often unpredictable market. Clinical education about biosimilars may facilitate informed decision making, promote acceptance of biosimilars into clinical practice, increase accessibility, and expedite associated health and economic benefits.
What other big hurdles do you think face the field?
HD: There are huge data demands in terms of quality when it comes to developing a biosimilar; the FDA, for example, has precise requirements for analysis using statistical models – and this can be an insurmountable barrier for smaller biosimilar players. Also, both the FDA and EMA have requirements for phase III studies with at least one year of safety data. Major companies rely on their financial strength to conduct more studies and to generate more data than the minimum EMA or FDA requirements; partly, this is for exploratory reasons but also to fulfil what they perceive as the expectations of the medical community. However, the additional work escalates the cost of development and prevents some smaller companies from ever getting involved.
CB: There is no one hurdle facing the industry – there are several elements that can be addressed to further increase the uptake of biosimilar medicines. Right now, it is a bit like the early days of the generic industry when healthcare providers and patients were used to brand name drugs and were reluctant to use new generics. There is often rapid uptake today in some markets for newly launched biosimilar medicines, but not all biosimilars are equally successful. Awareness and education initiatives will help, and so will benefit-sharing models, incentives schemes, and, last but not least, improvement of tendering mechanisms.
FG: A major challenge for biosimilar companies is to make the biosimilar economically viable. The main "advantage" for biosimilar developers is that the regulatory process is "shortened" because a phase II clinical trial is not typically required. However, these regulatory pathways also require extensive, head-to-head comparability against the originator product. At the outset, obtaining batches of originator molecules is not easy and is very expensive as multiple batches are required for the biosimilarity exercise. That said, there are considerable financial incentives in that biological products tend to generate blockbuster revenues. If biosimilars can be marketed at a cheaper cost, they will attract considerable sales.
RL: I think we have everything in place to have a strong market for biosimilars, but the incentives that are crucial for the success of biosimilars, including rebates in the US, remain reserved for branded biologics. There is a tremendous need to find solutions that bring down healthcare costs. However, without sufficient biosimilar competition, uptake has been slow, and as a result, providers continue to choose biologics.
If you had the power to make one big change in the biosimilars industry, what would it be?
HD: Reduce the burden of testing by regulatory agencies – it would make it much easier for companies to develop biosimilars. I think we should carefully rationalize and justify all regulatory requirements.
Harmonizing the FDA requirements with the EMA could also be beneficial. I find that the EMA sometimes has a lower regulatory burden, based on their significant experience with assessing and approving biosimilars.
CB: Carrying on from Hoss' comment, I would add that experience gained during the last 12 years in Europe has provided confidence in the ability to analyze and characterize small and large proteins. The need for large clinical studies will likely decrease in the coming years for a number of biosimilar medicines. Whether this will also include monoclonal antibodies will largely depend on the future progress in functional assays and pharmacodynamic markers.
For me, the big change I would make is to increase competition between biosimilar medicines and off-patent branded drugs by providing a level playing field with fair and equal conditions for all players.
FG: I certainly agree with the previous comments, but would also highlight the importance in educating the market as to the benefits of biosimilars. The biosimilars industry must step up efforts to market themselves as an industry group to stakeholders with the same dedication as originators – and this group must educate clinicians and patients about biosimilars to counter the "negative" image. Many individual companies, and some industry organizations, do this already, but if forces and resources were combined, the message would have greater reach.
RL: For significant cost savings to happen, we need to dramatically expand patient access and bring more biosimilars to market. I would change one of two things. The first option is to either shorten the length of biologic patents or change the laws to shorten the length of the exclusivity period. We see products in the immunology space that have several hundred patents on one product with four or five indications, and companies can hang on to these patents for a significant amount of time. The second option is to allow biosimilars to come to market without the 180-day notice period to innovators in the US, which would help eliminate a patent dance and time (and money) spent on litigation.
A Vendor's View
With Nigel Darby, Advisor, GE Healthcare Life Sciences
On market competition
There are over 100 projects to deliver biosimilars for the top ten biopharmaceuticals that have gone off-patent or will be going off-patent in the next few years. Participants range from small regional start-ups, all the way through to major pharmaceutical manufacturers. Perhaps surprisingly, some companies with strong portfolios of original molecules, such as Amgen, have also chosen to develop biosimilars programs. Biosimilar manufacturing is highly competitive, with the most popular originator molecules potentially spawning over 20 biosimilar projects each. This intense level of competition creates significant uncertainty in manufacturing capacity demand and the dimensioning of facilities to achieve it.
With so many biosimilars competing for the same market, it's obvious that the first products launched will have a significant advantage. Given the level of competition around certain molecules and therapeutic indications, it's impossible to believe that all these projects can be commercially successful. For example, in terms of the latter, I'm guessing there may be twenty different biologics targeting psoriasis by 2020 compared with perhaps just three ten years ago…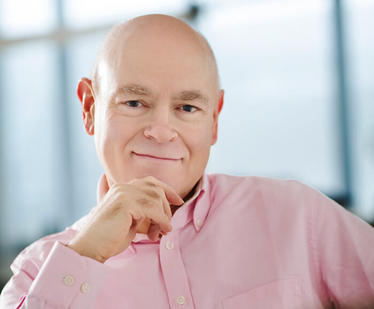 On making biosimilars
Biosimilars need to be as "similar" as possible to the original drug in molecular, therapeutic and safety characteristics. This is a challenge with something as complex as a biological molecule, so careful control and characterization of the production process is key – and tools that allow comparison of originator and biosimilar molecules are of major importance. Achieving acceptable similarity to some of the "subtleties" of originator molecules, such as glycosylation profiles, can be particularly challenging, requiring a significant focus on cell culture and media development.
To gain a competitive advantage, cost-effective manufacturing of biosimilars is important. In particular, there needs to be a strong focus on maximizing manufacturing plant utilization and productivity, as these are major drivers of manufacturing costs.
On manufacturing strategies
Many biosimilars are intended to be manufactured in emerging markets, which may not have appropriate manufacturing infrastructure available or the necessary expertise at all levels (managers, scientists, process developers, manufacturing operators) to develop biopharmaceuticals. Even basic requirements that are normally taken for granted, such as stable power and water supplies, may be a challenge in certain countries (that said, many manufacturers in markets such as China have the stated goal of selling their products to Western markets, making them sensitive and perhaps conservative in terms of satisfying Western regulators).
Companies wanting to get into the biosimilars market need to carefully consider their manufacturing strategy – and perhaps look to using flexible technologies, such as single-use systems and modular systems, that can get manufacturing operations up and running quickly, with reduced capital investment. Overall, costs shift towards variable costs (in other words, costs only incurred when the drug is manufactured) compared with traditional infrastructure, where fixed and capital costs predominate and are incurred irrespective of whether manufacturing is taking place.
Single-use technologies are also very appropriate for the required levels of product output of a biosimilar. For example, predominantly single-use modular facilities can deliver amounts of monoclonal antibody in the 20-1000 kg range, which is appropriate for serving individual countries or regions and fragmented markets. If a drug proves to be particularly successful, increasing supply can be achieved by building further manufacturing lines – this is a comparatively cheap and quick process with modular type facilities based on single-use technology. If there is significant commercial uncertainty (the case for many biosimilars), it often makes sense to launch the product from the smallest, lowest capital cost facility possible, and then scale out, if the molecule is successful.
Logistically, modular facilities are readily deployable in emerging markets in a rapid and cost-effective manner, whilst at the same time achieving high quality standards. The bulk of the construction and fitting out can be carried out remotely and be assembled quickly on top of a foundation with basic services at the final location in a period of a few months.
Nigel's Dream Biosimilars Facility
It would be a multi-product facility, given the commercial uncertainty that may surround an individual product, as well as the fact that the ability to drive multiple products through a facility is a key requirement for economically efficient manufacturing. The facility would need to be the right size – appropriate for the likely market demands and risks, but future proofed so that capacity can be rapidly expanded if drug demand is sufficient.
There would be maximum flexibility in terms of the types of products that could be handled and production would need to be easily reconfigured. I would like an open architecture "ballroom" type facility that enables flexibility in deploying equipment.
The costs for low added-value activities, such as cleaning and maintenance, would be minimized, and uptime for manufacturing maximized. Also, technology would be adapted to intensify all parts of the process, reducing both upstream and downstream cycle times to increase batch throughput.
Although single-use and modular manufacturing methods have many benefits, there is still an active debate as to the 'right way' to manufacture biosimilars.
On single use versus stainless steel
Although single-use and modular manufacturing methods have many benefits, there is still an active debate as to the "right way" to manufacture biosimilars, with many arguments suggesting that large, well-utilized fixed infrastructure can also deliver favourable economics. The key is high facility utilization, targeting big products for a global market, especially if it increases use of existing infrastructure. This is the strategy adopted by companies such as Celltrion and Samsung, and it is worth noting that the Remsima biosimilar is manufactured in a more traditional type facility. The choice between "big traditional" and "single use" (modular) depends on the market, risk appetite and commercial expectations.
On the future
Biosimilars have been around in Europe for many years and are already a significant part of the market. The first biosimilar on the US market, Zarxio, was introduced a couple of years ago and has been steadily gaining market share. But I think the big question is how successful monoclonal antibody biosimilars will be. Uptake of Remsima, a biosimilar of Remicade, has been strong in Europe, driven by aggressive pricing. The development of the mAb biosimilars market in the US is expected to be slower; though, given its novelty, it is hard to assess. Will payors and patients drive uptake in the absence of the strong government influence that has been so important in Europe? And exactly how much discount (compared with the originator) will be required?
Receive content, products, events as well as relevant industry updates from The Medicine Maker and its sponsors.