Discovery & Development
Drug Delivery,
Drug Discovery
International Rescue
The International Vaccine Institute is on a mission to protect communities against diseases of poverty.
Rob Coker | | 3 min read | Interview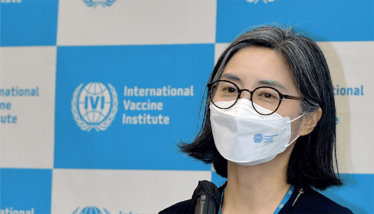 Vaccines. The word alone can fuel furious – often misguided – debate. Furthermore, numerous international organizations are also the subject of scrutiny and speculation on social media and elsewhere from those concerned about globalization. Imagine the challenges facing Youngmi Cho, Head of Global Affairs and Communications at the International Vaccine Institute, as she coordinates her mission of ensuring vaccine supply to those who need it — wherever they are in the world.
What is the role of the IVI in the world and what is your role within the institution?

The International Vaccine Institute is an international non-profit organization with a mission to discover, develop, and deliver safe, effective, and affordable vaccines for global public health. And that means we are involved at nearly every stage of the vaccine value chain, from pre-clinical laboratory research to clinical trials, technology transfer, disease burden and effectiveness studies, regulatory support, and more. IVI primarily focuses on diseases, such as cholera, typhoid, shigella, chikungunya, and other NTDs that disproportionately affect low- and middle-income countries.
IVI's ultimate goal is to ensure that communities vulnerable to infectious diseases have access to vaccines, leading to healthier and more fulfilling lives. This goal requires a vast network of partners in governments, vaccine development and manufacturing, academia, foundations, and other non-profit organizations. My role is to manage IVI's relationships with its 39 member countries and the World Health Organization (WHO), including five funding state parties, and to perform outreach for new membership and partnership with non-member countries. My team is actively engaged in implementing IVI's international expansion strategy with the opening of regional and national offices. IVI currently has a European regional office in Stockholm, and a national office in Vienna, as well as collaborating centers in three partner organizations based in Ghana, Ethiopia, and Madagascar. Fellowships and global communication strategies with media relations, advocacy and campaigns, and social media to connect with audiences worldwide are also used to champion the development and use of vaccines.
How does IVI and its affiliates help improve global knowledge of vaccine development?

IVI operates the Global Training Hub for Biomanufacturing program, an initiative of the Korean Ministry of Health and Welfare with support from the WHO to boost vaccine manufacturing capacity in LMICs. The 2023 Introductory Course for Biologics Development and Manufacturing will take place in June in the Republic of Korea, and will include didactic sessions on basic and essential theories, including immunology, clinical development, vaccine development, regulatory affairs, epidemiology, and health economy.
IVI also hosts an annual International Vaccinology Course, which is a five-day training program held at IVI headquarters in Seoul around September each year, providing a comprehensive overview of vaccinology, with a focus on practicality.
With which other global organizations do you collaborate?

IVI works within an international ecosystem of global health stakeholders. For instance, funding organizations such as CEPI and the Gates Foundation enable IVI's research and development (everything from proof-of-concept vaccine prototypes to tech transfers, clinical trials, and licensure); regulatory agencies and the WHO approve new vaccines for national or global use; UNICEF buys and supplies vaccines in low- and middle-income countries (LMICs); and IVI's economic studies and vaccine investment cases enable Gavi, the Vaccine Alliance, to add new vaccines to routine immunization programs and purchase vaccines for use in LMICs.
What's IVI's most remarkable achievement to date?

IVI developed the world's first low-cost oral cholera vaccine (OCV) and transferred the technology to four vaccine manufacturers. Three of these products achieved WHO prequalification and currently make up 90 percent of the WHO's global OCV stockpile, deployed for use in epidemic and endemic settings. Today, two additional technology transfers are in progress with partners in India and South Africa — the latter signaling the first instance of end-to-end manufacturing of a vaccine on the African continent.
Amid the current global shortage of OCV with an unprecedented number of cholera outbreaks in 2022, IVI's ultimate goal is to ensure adequate supply of vaccine by providing support to the current and new manufacturers to maintain or increase global OCV supply.
Receive content, products, events as well as relevant industry updates from The Medicine Maker and its sponsors.