Discovery & Development
Drug Discovery
Fresh Hope for ADC Development
Historic challenges in ADC development have not thwarted the hopes of some players
Rob Coker | | 6 min read | Interview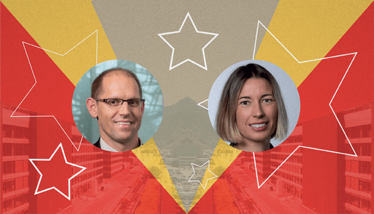 The potential benefits of antibody-drug conjugates (ADCs) to cancer patients have been hyped by the pharma industry for many years, but breakthroughs have been slow. Now, with approvals occurring faster and more frequently, we could be witnessing a burgeoning trend.
Lonza operates HPAPI suites in Visp, Switzerland and Nansha, China, that can manufacture cancer-killing payload-linkers at scale. Here, Giovanna Libralon, Senior Director, Commercial Development – Small Molecules, and Iwan Bertholjotti, Senior Director, Commercial Development and Strategic Marketing – Bioconjugates, share their thoughts on the present and future of ADC development.
The industry has been debating the promise of ADCs for many years; are we finally on the cusp of a significant trend in this field?

Giovanna: It is true that it has taken time for the pharmaceutical industry and regulatory authorities to understand the potential of ADCs. The first ADC was approved in 2000, but it took until 2011 for the next one to get clearance, with further approvals in 2013 and 2017. However, the numbers have quickly accelerated in the last four years. From 2018 to 2021, seven ADCs were approved by the FDA, suggesting a rapid acceleration in both understanding and use cases. This is reflected in the high activity in development pipelines too, on top of the dozen anticancer ADCs already in the market.
Iwan: I would say that we are no longer on the cusp of a trend but have passed the stage where the only way is up. The innovators bringing these drug products to the clinic are no longer just big pharma companies – although they do still dominate the current approval list for ADCs. Many are now being developed by small biotech companies. From preclinical evaluation to commercial launch, these businesses are almost entirely reliant on outsourcing partners to produce material.
Why is oncology such a key area for ADC development?

Iwan: Many cancer therapies on the market cause damage to healthy tissue outside of the therapeutic area. This off-target activity results in adverse side effects, adding difficulty and discomfort to a patient's condition. The precise nature of the ADC – enabled by the antibody as well as the HPAPI – decreases these side effects and improves the therapeutic effect in comparison with standard care, which is exactly what drives the demand for anticancer ADCs.
Giovanna: The selectivity of ADCs – enabled by the antibody that delivers the payload to cancer cells expressing the target antigen – allows the development and application of payloads that cannot be administered systemically because of their high toxicity. The combination of this high selectivity, driven by the antibody, and the extreme potency of the small molecule drug explains why ADCs are a fast-growing cancer therapy.
How has the development and manufacture of ADCs improved in recent years? What do you think have been the key milestones?

Iwan: On the biologics front, the commercial manufacture of monoclonal antibodies has become more streamlined as advancements in technology and regulatory understanding evolve. Different conjugation technologies and payloads passed the important cliff to get market approval representing a proof of concept. In addition, novel conjugation technologies, such as site-specific conjugations, have also emerged. Different payloads will always further diversify the application of bioconjugates/ADCs. At Lonza, we've seen a huge variety in modalities, including polymer, peptide, oligonucleotide, chelators for radiolabelling, and the connection of different microbial derived serotypes for vaccines, alongside other established high potent payloads.
Giovanna: Although every component of the ADC is essential to its therapeutic activity, the payload is the one that kills cancer cells. These payloads are almost always small molecule HPAPIs. Carefully selecting the right one is incredibly critical as it needs to have the desired clinical outcome, but not be so toxic that the side effect is unmanageable. And now we're seeing a rise in the ADC pipeline with a strong diversification of payloads with new mechanisms of action in the preclinical phase.
What are the biggest challenges with payload-linker manufacturing?

Giovanna: The biggest challenge is ensuring robust containment and handling procedures, given the high potency. Establishing these facilities is neither easy nor cheap, which is why many pharma companies opt to partner with a contract manufacturer. A good HPAPI suite should enable handling compounds with occupational exposure levels down to 1 ng/m3. Payload-linker manufacturing requires complex processes in place to limit potential exposure and define a robust cross-contamination program to ensure safety.
And what about on the antibody and bioconjugation side?

Iwan: Producing antibodies at a commercial scale requires very complex biological processes, strategic supply chain management, and deep theoretical and working knowledge of the antibody. Building and investing in facilities specialized in the manufacturing process can be resource-intensive; thus, choosing the right development partner is critical to the success of that antibody therapy.
For bioconjugation, specific knowledge is required to handle highly potent drugs in a bioburden-controlled environment. A specialized workforce and assets are a prerequisite to successful drug delivery with the right quality and quantity as planned without registration hiccups.
How are facilities keeping up with the challenges? What types of assets should be included in an HPAPI suite?

Giovanna: The payloads are complex molecules that require a variety of equipment, including chromatography and lyophilization equipment for product purification and isolation. Additionally, good in-house expertise is required to design and construct facilities for handling extremely potent compounds.
It's also important to have a strong cross-contamination prevention program. This should include proven analytical methodologies, strong risk assessment, and a significant application of verification testing throughout plant design and manufacturing execution. In a nutshell, it should be an extremely airtight process backed up by science.
But the most important element is the staff. Facility design is only as good as the training that lab engineers and technicians receive. Training is crucial for introducing new processes or new members, but fostering a culture of flawless execution is imperative. Even with the right equipment and best procedures, success relates to the workforce in a specific plant. A strong team on the ground eases operations and promotes efficient and safe manufacturing – and, ultimately, contributes to lower costs for highly potent compounds.
Iwan: I'd like to add that another helpful element of ADC production is the ability to manufacture all components of the ADC – the antibody, the HPAPI payload, and linker – under the same roof. This level of integration significantly simplifies the supply chain, and it makes for a more cost- and time-efficient process thanks to reduced shipping times, quicker verification tests, and one project manager with a bird's eye view.
What are the limitations of ADC development right now and how do you think therapies will evolve in the future?

Iwan: There are many new ADCs under development in the preclinical stage. With that, I don't really see limitations but exciting potential for a continuous flow of new ADCs into the clinic and market. As there are a lot of unmet needs for difficult to treat diseases such as cancer, there is a healthy competition between different technologies and modalities. Whatever concept improves the lives of patients suffering from these conditions will be a success, and I expect ADCs will play a relevant role in that.
Giovanna: I'm optimistic about how these therapeutic areas will diversify outside of oncology in the next couple of years, as several ADCs in the pipeline already address musculoskeletal conditions and autoimmune diseases.
Receive content, products, events as well as relevant industry updates from The Medicine Maker and its sponsors.