Discovery & Development
Drug Discovery,
Advanced Medicine
Lung Cancer Collaboration
The Lung Cancer Research Foundation has partnered with Daiichi Sankyo and AstraZeneca to offer grants for research exploring ADCs against lung cancer
Jamie Irvine | | 2 min read | News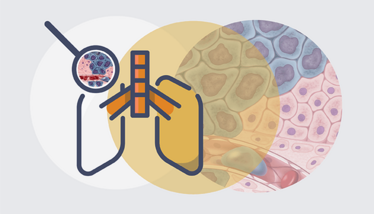 The Lung Cancer Research Foundation (LCRF) is looking to boost research efforts through a collaboration with Daiichi Sankyo and AstraZeneca. The LCRF is particularly interested in the potential of antibody-drug conjugates (ADCs), but it's not Daiichi Sankyo and AstraZeneca that will be conducting the research; instead, the collaboration will offer research grants to exciting ADC projects.

In particular, the parties are interested in research on HER2 and TROP2 directed ADCs, including mechanism of action, biomarkers, and resistance mechanisms, with a focus on datopotamab deruxtecan-based combinations – a TROP2-directed ADC being jointly developed by Daiichi Sankyo and AstraZeneca. "TROP2 (trophoblast cell surface antigen 2) may play a role in cancer development through involvement in growth pathways. TROP2 is overexpressed on the cell surface in a number of different cancers," explains LCRF's Chief Scientific Officer, Antoinette Wozniak. "Initial results from the TROPION-Lung02 Phase Ib trial showed that datopotamab deruxtecan (Dato-DXd) in combination with pembrolizumab – with or without platinum chemotherapy – demonstrated promising clinical activity and a tolerable safety profile in patients with previously untreated or pretreated, advanced or metastatic, non-small cell lung cancer (NSCLC) without actionable genomic alterations."
Lung cancer research is generally quite underfunded, especially when considering how prevalent it is compared with other cancers. "One phrase I've heard repeated during my time with LCRF, in my current capacity and as a previous member of its Scientific Advisory Board, is that research is our true north," says Wozniak. "Research is LCRF's entire reason for existing, and only research will cure lung cancer for good. The importance of this work can't be overestimated. I'm eager to see the impact of our partnership – and the truly innovative work done in the labs we'll support – that will improve outcomes for patients and families."
The deadline for submitting proposals for the $270,000 award is midnight ET on May 31, 2023. More details, along with eligibility, requirements, and deadlines can be found here on LCRF's webiste
Receive content, products, events as well as relevant industry updates from The Medicine Maker and its sponsors.