Discovery & Development
Drug Delivery
Melt Away Delivery
Could frozen microneedles change the way we deliver cell therapies?
Maryam Mahdi | | Quick Read

Researchers have designed and developed a microneedle technology to allow intradermal delivery of cell therapies for the treatment of skin disorders (1). The team, led by Xu Chenjie, Associate Professor at the Department of Biomedical Engineering at City University of Hong Kong, has produced cryogenic microneedle patches (cryomicroneedles) that melt after delivering the therapeutic payload. Traditional cell delivery methods usually involve hypodermic needles and surgical intervention.
Commenting on the development, Xu says, "The cryomicroneedles are manufactured by micromolding an optimized cryogenic medium and pre-suspended therapeutic living cells at extremely low temperatures (-20 to -196℃). The original process relied on the crystallization of ice, which held the potential to kill the cells used, but the cryogenic medium we developed helped avoid this issue by protecting the cells." The needles measure less than 1 mm and deliver loaded living cells into the skin.
In healthy mice, cells delivered using the cryomicroneedle patch retained viability and proliferative capability. And in mice with subcutaneous melanoma tumours, the delivery of ovalbumin-pulsed dendritic cells using the cryomicroneedle approach led to higher antigen-specific immune responses and slower tumor growth compared with intravenous and subcutaneous injections of the cells.
Xu believes this approach would help avoid complex processes such as cell harvesting and the preparation of cell-infusing solution during administration of a cell therapy. "Another important design feature is the fact that cells packed into cryomicroneedles can be stored for months, allowing easy transportation and deployment," says Xu.
The cryomicroneedles aren't limited to cell therapy delivery; they can also be used to package, store, and deliver a variety of bioactive therapeutic agents, such as proteins, peptides, and vaccines – potential applications Xu hopes to explore in future studies.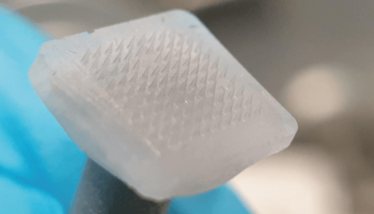 Receive content, products, events as well as relevant industry updates from The Medicine Maker and its sponsors.
H Chang et al, Nature Biomedical Engineering (2021). DOI: 10.1038/s41551-021-00720-1.