Discovery & Development
Drug Discovery,
Small Molecules
Memorable Mushrooms
These fungi have some real nerve (developing properties)
Rob Coker | | 2 min read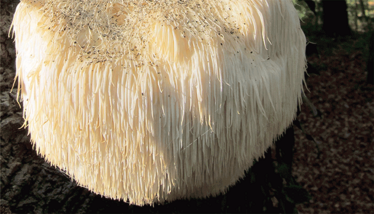 With the pharmaceutical industry still eagerly awaiting positive results from ongoing Alzheimer's drug trials, perhaps the search for an effective – and sustainable – treatment needs to extend into the dark, damp places preferred by fungi. In fact, extracts from the lion's mane mushroom (Hericium erinaceus) have been used in traditional medicines for centuries, but scientists from the University of Queensland, Australia, and Chungbuk National University and Gachon University, South Korea, are now investigating the compounds for potential applications in Alzheimer's treatment (1).
Tests have shown that certain compounds from the mushrooms could potentially improve memory in both rats and humans, although scientists have not yet pinpointed the exact compound or combination of compounds. The lion's mane mushroom contains, in its edible parts, both hericenones and erinacines, which the research team says are linked to brain cell growth and memory improvement. Lead author of the paper, Frédéric Meunier, Clem Jones Centre for Ageing Dementia Research, Queensland Brain Institute, Australia, said, "Using super-resolution microscopy, we found the mushroom extract and its active components largely increase the size of growth cones, which are particularly important for brain cells to sense their environment and establish new connections with other neurons in the brain."
Further evidence suggests that the active ingredients could also help brain cells live longer, hence the interest in Alzheimer's treatment. According to the researchers, a Japanese study from 2009 showed similar results in people aged 50–80 who were diagnosed with mild cognitive impairment (2). Those participants who took lion's mane mushroom extracts three times per day for 16 weeks exhibited significant improvement in cognitive function compared with a control group. Tests continued after the 16 week intake period and showed a subsequent decline in cognitive function.

Is there a future of lion's mane compounds in Alzheimer's treatments? Well, I don't think there's mushroom for debate (sorry).
Receive content, products, events as well as relevant industry updates from The Medicine Maker and its sponsors.
F Meunier et al, 'Hericerin derivatives activates a pan-neurotrophic pathway in central hippocampal neurons converging to ERK1/2 signaling enhancing spatial memory', J Neurochem, [online ahead of print] (2023). DOI: 10.1111/jnc.15767
K Mori et al, 'Improving effects of the mushroom Yamabushitake (Hericium erinaceus) on mild cognitive impairment: a double-blind placebo-controlled clinical trial', Phytother Res, 23,3 (2009). PMID: 18844328