Discovery & Development
Ingredients,
Small Molecules,
Drug Discovery
Natural Born Therapeutics
Two leaders from the Trinity Centre for Natural Products Research in Ireland explain how nature can create molecules that go beyond the human imagination
Angus Stewart | | Longer Read
With Helen Sheridan, Associate Professor of Natural Product Chemistry and Academic Director of NatPro, and Gaia Scalabrino, Executive Director of NatPro, Trinity Centre for Natural Products Research, Ireland.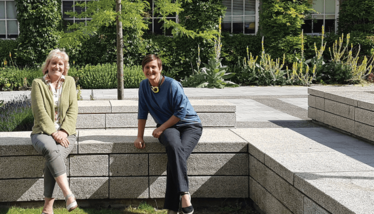 Why look for bioactives in nature?
Nature is a complex and fascinating system. Our planet's diverse environments – oceans, grasslands, arctic ice, thermal pools – all present unique and sometimes challenging environments for organisms. As a result, species that live in these environments have generated complex and varied natural scaffolds far beyond the imaginations of human scientists.
Therapeutic molecules usually derive from the more complex "secondary" metabolite pathways in nature that give rise to alkaloids, polyketides, terpenoids and so on. These classes frequently display anticancer, immunomodulatory, analgesic, and other properties needed in human medicine. One example of a key bioactive among the more than 40 percent of drugs that originate from nature is paclitaxel, a cancer drug derived from the bark of the Pacific yew tree. As with many natural materials, using naturally sourced paclitaxel at scale is not sustainable, so this drug is produced in the laboratory using a number of different approaches. Today, we know it as Taxol.
Once a potential therapeutic candidate from nature has been identified, isolated, and its properties established, difficulties often arise in cultivation conditions, processing methods, sustainable supply, IP constraints, and regulations. Many natural products have very complex chemical scaffolds with multiple chiral centers, which makes procuring sufficient quantities of material for clinical evaluation a serious hurdle. They are often too difficult to synthesize economically (think 40–60 synthetic steps) and are produced only at low levels in plants.
If an interesting bioactive is found in a marine species, the challenges are even more significant. The marine environment brings all the associated difficulties of harvesting wet plants at depth and contamination of plant material by microbes (which, in some cases, we now believe to be the primary producers of the active metabolite). A good example of a drug that has faced these scale and marine challenges is the alkaloid trabectedin (Yondelis), isolated from the sea squirt Ecteinascidia turbinata. It takes one tonne of these animals to isolate one gram of trabectedin. Many different methods have been explored to generate this drug, including commercial mariculture. The solution? Synthesis of the molecule from an advanced chemical intermediate isolated from a bacterium.
What is NatPro's focus?
Nature is the source and starting point of our work. The products nature gives rise to broaden our scientific knowledge and the myriad ways we can apply it. At NatPro, we've gone beyond traditional phytochemistry, isolation, and characterization to include AI as part of our strategy. We use a mixture of network pharmacology and advanced computer applications to predict the biological and disease targets of plant extracts and isolated molecules. It's an efficient, cost-effective way to combine the potency of nature with the accelerative power of technology.
We focus on both terrestrial and marine sources of bioactives. Some natural products we study are herbal medicine plants, cereals, micro-, and macro-algae; others are byproducts of industry, such as spent grain and fruit pulp. We look at crude extracts, small stable and volatile molecules, and essential and fixed oils – all derived from terrestrial and marine plants and microbes. Currently, we are supporting a small-to-medium enterprise (SME) in assessing the quality and stability of their commercial tinctures to optimize their production. One example of work we are doing for this SME involves generating data that inform the selection of optimal locations and conditions for growth to increase chemical content and allow producers to access high-value organic international markets.
In another project – a collaboration with industry at an earlier stage of development – we are completing background work for an early study in clinical aromatherapy intervention. We're looking at using a blend of aromatherapy oils as a complementary aid for reducing stress in patients receiving chemotherapy. Part of this project involves unlocking regulatory constraints on the novel development of such products.
As a research center, we want to reframe natural products. We explore innovative approaches in the use of biomass generated as byproducts in other processes, seeking ways to repurpose them using novel processing/biotransformation approaches. One tangible example is a project we worked on at the European level, exploring the use of brewers' spent grain to create functional foods. We applied metabolomic and chemometric techniques to identify the chemical fingerprints of this spent and fermented grain. Applied more broadly, our approach could create added-value products from biomass and byproducts in breweries and distilleries across Ireland and the UK. At present, we are discussing this area of work with industry partners.
What have been the key successes?
"Success" is very subjective. At NatPro, we take pride in building valuable relationships and disseminating high-quality science. We have developed a multidisciplinary, cross-cultural team of researchers, nurtured partnerships across numerous industry sectors, run educational civic science programs in communities and schools, and offered fellowships and scholarships to students in areas where natural products could morph into innovative solutions (such as therapeutics, functional food, and cosmetics) – and we did it all during a pandemic!
At a national level, NatPro is contributing to policymaking for Ireland's national bioeconomy. We're taking a lead in the area of natural products, with Helen Sheridan serving as the natural products representative in the government's expert advisory group. This is a privileged role and we recognize the importance of best using national natural resources effectively while contributing to global environmental and climate goals.
Looking to the future, NatPro has also secured the hosting of an international conference on natural products to be held in Dublin in 2023. This will bring together several hundred candidates from academia and industry worldwide, offering enormous international science and networking opportunities. Watch this space!
What are your hopes for the future?
The natural product market is rising globally across sectors, driven by social, environmental, and economic needs. Importantly, consumers are becoming more aware of nutrition and health. At NatPro, we aim to contribute to the development of innovative products and to support Ireland at the forefront of this positive wave in the global natural product ecosystem by harnessing national natural resources, key research expertise, and commercial capacity.
Our ambition is to become a national center for natural products research, joining a collective global network. In this vision, we would also link with a regional hub that could act as a center for the processing of natural product biomass and conversion to higher-value extracts and finished products for national and international markets.
Our active roles in startups, experience in working with SMEs, and training in lean startup methodologies with the I-Corps SFI Academy and the US NSF I-Corp have benefited us enormously. Using this experience, we plan to create innovative products, spinning them out from the center or by creating startups to address unmet and urgent medical needs. We are especially interested in serving as a global accreditation center for commercial products to promote added-value products marketed at high-quality standards.
How does the Centre draw on its Irish heritage?
Innovation is a global affair, and we relish partnering with international stakeholders, but if we ask what is "uniquely Irish," there's much to say!
One project we are engaged with is of real national significance in Ireland. Its name is Unlocking Nature's Pharmacy from Bogland Species (UNPBS). We're turning the lens of "medicine hunting" on the flora of the Irish boglands. This means we're applying historical ethnomedical use, contemporary science, and advanced metabolomics to direct and inform the search for species with therapeutic and commercial potential. We are bringing together the remaining knowledge of traditional Irish healing plants to modern practices.
The Irish boglands represent a rich and diverse source of biodiversity. Many plants growing on the bogs have been used traditionally as healing plants, such as bog myrtle (Myrica gale) to treat wounds and acne; bogbean (Menyanthes trifoliata) for skin diseases or rheumatism; and chickweed (Stellaria media) for warts.
The UNPBS project involves extensive civic and educational engagement. We work closely with state agencies, not-for-profits, SMEs, schools, farmers, communities, and other stakeholders to focus on biodiversity and ethnomedicine and to deliver positive outcomes in research and education.
Origin Stories
Helen, can you tell us about the origins of NatPro?
I prepared a report in 2012 for Enterprise Ireland, a company in the west of Ireland that wanted to understand the international markets available for natural products. While researching that report, I became more aware of the vast international opportunities for the trade in plant biomass and high value extracts. Over the next few years, it became increasingly obvious that, in Ireland and abroad, the tide for natural products was rising.
Over the last five years, my colleague Anne Marie Healy and I realized that the interdisciplinary experience we have in the Trinity College Dublin (TCD) School of Pharmacy would be a great bedrock on which to establish a center for natural products. In addition, I had worked with Gaia Scalabrino for several years in a TCD spinout company, Trino Therapeutics. There, we worked in translational research and in the commercialization and regulation of products. The center was approved by TCD's Dean of Research in December 2019. We now advise and work with a range of small traders, small-to-medium enterprises, and larger companies in the sector.
Helen Sheridan's story
I was born a scientist. My mother described my first experiments as observational – collecting and sorting caterpillars in glass bowls and drawing dots in my notebook corresponding to each one… my first lab books! At the age of eight, I started teaching local children in the summertime, out in our front garden with a small blackboard and a lot of enthusiasm! When I was 12, I had my first chemistry explosion in our sitting room. There was a blue stain on the ceiling for some years after…
I did a Bachelor of Science in University College Dublin. I loved every second of it and was strongly drawn to chemical sciences, microbiology, and zoology. In 1983, I completed my PhD on the chemistry of fungal infestations of pine trees. We were looking for bioactive molecules, medicines, and agrochemicals. At that time in Ireland, there was a lot of investment in forestry and science "followed the money." Unfortunately, it still does.
All of my research has been in natural products. I got a scholarship from the French and Irish governments to study for a short period in the "Centre national de la recherche scientifique" (CNRS) at Gif-Sur-Yvette in Paris, where I worked in the labs of Nobel laureate Derek Barton on the chemistry of the anticancer triterpenes – the quassinoids from the Simaroubaceae species. There, I met a wonderful scientist, Judith Polonsky, who instructed me in the art of phytochemistry while also showing me the cultural history of Paris, French literature, and La Couple.
From Paris, I went to the University of Oxford on a Royal Commission for the Exhibition of 1851 Overseas Travelling Fellowship, where I worked on penicillin biosynthesis under the direction of Jack Baldwin.
I then returned to Ireland on a postdoctoral fellowship from the Irish government and worked at University College Dublin for a year. In 1985, I secured my lectureship in the School of Pharmacy in Trinity College Dublin (TCD). I was allocated a tiny lab with no equipment and no sink! But I did have one massive advantage – I was in a multidisciplinary school of pharmacologists, pharmaceutical botanists, medicinal chemists, and formulation scientists. We worked on multidisciplinary research long before it came into vogue.
I worked on metabolites from plants, plant cell cultures, fungi, and marine microalgae. One plant that I identified from traditional cultural use – a fern of the genus Onychium – gave us the lead for a novel molecular class that I subsequently brought to human clinical trials for the treatment of inflammatory bowel disease alongside my colleague, Neil Frankish, who handled the pharmacology arm of the research. On that leg of my academic odyssey, I co-founded the TCD spinout company Trino Therapeutics, where Gaia Scalabrino and I first worked together.
Gaia Scalabrino's story
I consider myself fortunate to have grown up in a cross-cultural environment, raised between Europe and Africa. I have been exposed to a variety of Mediterranean landscapes; I have dived among colourful corals, walked in the Savannah among amazing flora and fauna, and met a number of different African tribes. Exploring this rainbow of environments and people taught me to appreciate diversity and made me ever more curious about the power hidden within the beautiful natural world I saw with my naked eyes. To that end, I studied chemistry and, in the 1990s, I completed a PhD in Natural Product Chemistry. I then moved to industry, with particular focus on drug development. I wanted to strengthen the bond between the beauty of nature and human health and wellbeing. This is still a goal I am passionately working towards.
The diverse experiences of my youth gifted me an adventurous spirit, which is why I enjoy growing enterprises from inception and managing product development programs towards commercialization. Risks and change are part of this dynamic work environment, and these drive me. I worked in strategic and operations roles in startups and as an advisor to SMEs based in the EU and US, supporting the development of drug candidates from bench to market. Now, at NatPro, Helen and I are cultivating a new research center to create innovative products and sustainable solutions derived from nature and with applications across sectors. Helen and I have complementary skills and personalities. We share curious minds and an entrepreneurial focus, which make the venture stronger and the journey more exciting.
Receive content, products, events as well as relevant industry updates from The Medicine Maker and its sponsors.