Discovery & Development
Drug Discovery,
COVID-19,
Translational Science
Nurse Sharks and VNARs
A collaboration between Scottish and American researchers has snatched potential treatments for COVID-19 from the jaws of… Jaws
The first sharks existed 150 million years before the first dinosaurs, and it's exactly that brain-breakingly ancient pedigree that makes these oft-maligned species so compelling when it comes to developing new therapeutics.
We spoke to Caroline Barelle, CEO and founder of the Aberdeen biotech Elasmogen, and her overseas collaborator, Aaron LeBeau, Associate Professor of Pathology and Radiology at the University of Wisconsin Carbone Cancer Center, about their work on sharks – and how it could lead to new therapeutics for COVID-19 – and many other diseases.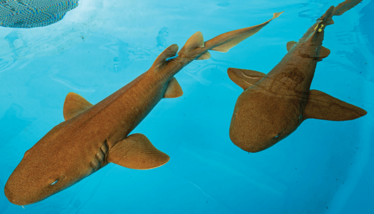 What makes sharks so special?

Barelle: Sharks are uncanny creatures. Despite being almost half a billion years old and living on a branch of the evolutionary tree far from homo sapiens, their immune systems are strikingly similar to those of mammals. This seeming contradiction is exactly what early pharmaceutical research into these ancient creatures wanted to understand. One point of difference that research honed in on is the existence within sharks of IgNAR variable domains (VNARs) – antibody-like molecules that are a mere one tenth the size of human antibodies, yet far more stable and effective at fighting disease. VNARs also do not have an antibody lineage; they began as something else in the animal, and by some convergent quirk in evolution became part of the shark's defensive arsenal. Today, scientists like Aaron and I are working to bring VNARs into humankind's own pharmaceutical arsenal.
Sharks are uncanny creatures. Despite being almost half a billion years old and living on a branch of the evolutionary tree far from homo sapiens, their immune systems are strikingly similar to those of mammals.
We isolate VNARs from the blood samples of immunized sharks or from a library of billions of synthetic (lab-made) shark VNARs, screen them against the target, select the most effective one, and ultimately humanize it into a product suitable for clinical use.
Now over to humans. Tell us about your backgrounds…

LeBeau: The fact I'm a scientist is also something of a quirk in evolution. I was raised by hippie parents, and, as a teenger, I was most interested in art, photography, and so on. At college, I began as a classical art and archeology major, but chose a chemistry course as one of my minors. I loved it, and was hooked by science. I ended up graduating with a major in molecular biology. From there, I went to grad school at the Johns Hopkins University School of Medicine, where I worked on my PhD studying proteases and their role in prostate cancer. Following that, I worked at the University of California, San Francisco as a post-doctoral fellow studying antibody engineering. Seven years ago, I started my independent research career at the University of Minnesota, and last year my laboratory moved to the University of Wisconsin.
CB: I'm the CEO and founder of Elasmogen, a company that takes its name from "elasmobranchii" – a subclass of cartilaginous fish. Sharks are part of that family and furthermore they are the stars of my company.
In 2015, when I last spoke to The Medicine Maker (1), I was preparing to spin Elasmogen off from the University of Aberdeen after nine years of working on sharks and their immune systems – first with Haptogen, then with Pfizer, and then with the university itself. Much has changed since then – both in my company and in the world at large. The spinoff came in 2016 and was a huge landmark for Elasmogen. Our early-stage science had cohered into an investable platform, and so we began to seek collaborations that could multiply the breadth and scope of the innovations we can bring to modern medicine.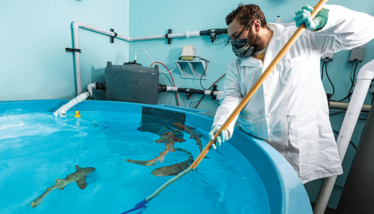 How did the two of you link up?

CB: Back in 2015, Elasmogen was working with a spiny dogfish local to Scotland. They're tough animals and were a great match for the kind of research that we were doing at the time. But looking ahead, we decided that we should take the existing literature into account and switch to a better-understood species: nurse sharks. We knew that getting these warm water sharks all the way from balmy Florida to the somewhat less balmy northeast coast of Scotland would be challenging – for us and the animal – so we needed to find a collaborator with access to nurse sharks, who could set up the right environment for them to ensure their continuing good health. And that's where Aaron enters our story.
The seeds of our collaboration were planted in a very "pre-COVID" corridor moment at the 2019 PEGS Europe conference in Lisbon. There I met a wonderful young scientist named Joseph Gallant, who was a member of Aaron's team in Minnesota. Joe knew about VNARs, and he knew I liked them too. It all took off from there.
At my very last conference before lockdown – the 2020 World ADC event in London –Aaron and I had the opportunity to meet in person. There's no question about it: I think we're very similar individuals. We have the same sense of humor, the same passion for science, and – crucially – we have complementary scientific expertise.
AL: Joe deserves the real credit here. I sent him – a second year grad student – to an international conference in Europe, and he really went for it. Rather than devoting hours to running around Lisbon having fun (as I might have, at his age!) he attended every single session and that's how we met Caroline. It's safe to say Joe's plane tickets paid for themselves.
Prior to meeting the "wonderful shark lady" of Aberdeen, my team and I had been most interested in using llama antibodies for our research in prostate cancer. At a certain point down the line, we had actually become interested in sharks and their VNARs, but then ran into hurdles and dead ends when trying to acquire them. As you can imagine, those encounters with Caroline in Lisbon and London marked the start of a turning point for us.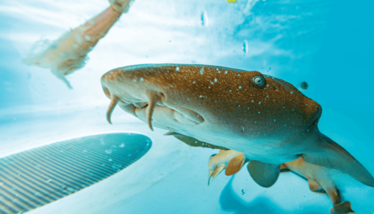 And what are the challenges of looking after sharks in the lab?

AL: Nurse sharks are really quite friendly animals – a little like a family dog. Whenever I walk into the room, they swim over to me. We pet them, play fetch with them, and feed them by hand. They're also very curious animals. They like to investigate new things. To meet that urge, we popped a little rubber Thermo-branded ducky into the tank. The sharks immediately swam up and began to nudge it, play with it, and pass it around. Now the ducky lives in the tank with them – though we do need to take it out every now and again to keep the novelty from wearing off. My tip: keep your sharks sharp!
Sounds like everything was going swimmingly(!) – but then COVID-19 hit. What happened next?

CB: We actually had to exit our labs. From a business perspective, it was a dire moment for Elasmogen. We faced serious questions concerning R&D and maintaining the flow of the company's lifeblood – investment.
Funding from the Scottish government's Chief Scientist Office came at a critical point for us. They were keen to leverage any available platforms that might prove useful for combating SARS-CoV-2. Therefore, it made complete sense for us to pull Aaron into the conversation. While Elasmogen handled the frontend – isolating the receptor-binding domains of the virus – we drew on the wealth of coronavirus expertise, materials, and equipment that Aaron and his colleagues possess.
AL: When the pandemic hit, every university in the US was shut down and we had to cease all research except for coronavirus research. My laboratory metamorphosed from a prostate cancer research laboratory to a coronavirus laboratory in a matter of 12 hours.
We started this new work developing llama-antibody-based therapeutics for the coronavirus spike protein, but when Caroline suggested using VNARs against COVID-19, we were game. We sent our spike proteins across the Atlantic to Elasmogen, and they sent back their findings. Then, very talented biologists in my laboratory took those findings and used them to form critical assays to try and neutralize a pseudovirus.
Through a collaborator, we were then able to test these VNARs against a live virus. The results floored all of us. These tiny little shark proteins worked as well as – or better than – the antibody cocktails currently on the market. The VNARs were so effective because they were so small and could recognize the spike protein in areas that were inaccessible to conventional antibodies.
Funding in Scotland, the UK, and the US
AL: The US federal government is quite keen on funding research for cancer and infectious disease – especially COVID-19. And at the University of Wisconsin specifically, we have many private donors who are lined up and willing to fund individual projects, including this work I'm doing with Caroline.
CB: The Scottish government is incredibly supportive of any initiative that brings economic value to the country, and particularly those that leverage new innovations. Under that umbrella, Scottish Enterprise really is the agency that has backed us right from the start. From as far back as 2012 they've supported us in developing our technology to the point that we became investable, and could spin out from the University of Aberdeen.
Outside Elasmogen's walls, the Scottish life sciences ecosystem is really strong and well-supported. Right by my office in Aberdeen a new bio hub is under construction, and that's indicative of the wave of investment across Scotland's northeast. Historically, Aberdeen has been an oil town, but now we're seeing an exciting – and quite prescient – shift toward other sectors raising their flags.
I would also be remiss not to give a nod to the wider British funding system, because UKRI and Innovate UK are phenomenal. They have consistently supported Elasmogen and enabled collaborations like the one I mentioned with Almac Discovery, but also – to name only one of many – a very fun joint project on nanomedicine with Queen's University Belfast. Overall, we're really pleased that so much great funding is out there, because without those investments we simply could not be who we are.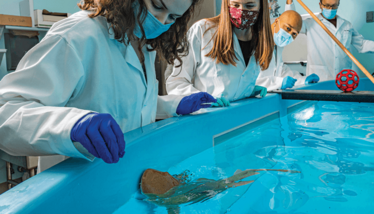 How were you able to pivot to neutralizing SARS-CoV-2 so quickly? And what role do you expect VNARs to play in the future?

CB: At Elasmogen, we have two solid platforms available for immediate deployment. The one we used for the COVID-19 project is our synthetic platform, which is a little like having thousands of sharks in a test tube that we can use to interrogate any target, including the spike protein that Aaron's team sent over to us.
All the preparation and upgrades we've implemented since 2015 have enabled us to switch from one target to another with relative ease. So when the pandemic hit, everything was in place to handle a rapid shift from our usual oncology and autoimmune targets to a deadly viral protein. We were ready to rock and roll.
AL: When thinking about the future, we shouldn't forget that worldwide vaccination rates remain very low. Roughly 40 percent of the world population have not received a single dose, and in low-income countries that figure leaps to around 90 percent. In addition, there are many people who simply refuse the vaccine outright. With these factors in mind, we are purposely selecting for further virus variants. We are now at "Omicron" and I expect that we will be marching through the remainder of the Greek alphabet in short order.
As mutations in the virus accrue, it's highly possible that the current vaccines will become ineffective. When that happens, we will be facing a huge gap in therapy because the neutralizing antibody cocktails from Regeneron and Eli Lilly don't even work on the Omicron variant. The anti-COVID-19 armory will need to be retooled. We just found out that our VNARs are as effective against Omicron as they are against the non-mutated virus. This suggests that VNARs could be effective against variants yet to arise. We are investigating this right now as we speak.
Where else will shark VNARs likely make a difference?

CB: Elasmogen's furthest developed programs are in oncology. We have a wonderful ongoing collaboration with Almac Discovery, in which we are combining chemistry with our biology domains to create VNAR drug conjugates. We've seen again and again that VNAR's unusual interactions with their targets can translate into increased efficacy and potency.
The target we are focused on right now is triple negative breast cancer, and that work has already produced some beautiful disease model data. At present, we are working through the relevant toxicology safety studies. The next step will be our entry into manufacturing. It's all very exciting – this therapy has the potential to be our first shark VNAR in patients.
Caroline Barelle's Famous Five
Since her 2015 interview with us, Caroline has helped author well over a dozen papers on shark VNARs. Here's the essential reading, as curated by the Aberdeen shark lady herself.

1. O Ubah, "Mechanisms of SARS-CoV-2 neutralization by shark variable new antigen receptors elucidated through X-ray crystallography," Nat Commun, 16, (2021). DOI: 10.1038/s41467-021-27611-y

2. O Ubah, "In Vitro ELISA and Cell-Based Assays Confirm the Low Immunogenicity of VNAR Therapeutic Constructs in a Mouse Model of Human RA," J Immunol Res (2020). DOI: 10.1155/2020/7283239

3. J Steven, "In Vitro Maturation of a Humanized Shark VNAR Domain to Improve Its Biophysical Properties," Methods Mol Biol, 2070, 115-142 (2020). DOI: 10.1007/978-1-4939-9853-1_7

4. O Ubah, "An anti-TNF-α Variable New Antigen Receptor Format Demonstrates Superior in vivo Preclinical Efficacy to Humira in a Transgenic Mouse Autoimmune Polyarthritis Disease Model," Front Immunol, 526 (2019). DOI: 10.3389/fimmu.2019.00526

5. O Ubah, "Next-generation flexible formats of VNAR domains expand the drug platform's utility and developability," Biochem Soc Trans, 17, 1559-1565 (2018). DOI: 10.1042/bst20180177
Image Credit - University of Wisconsin - Madison
Receive content, products, events as well as relevant industry updates from The Medicine Maker and its sponsors.
C Barker, "Shark Attack", The Medicine Maker (2015). Available at: https://bit.ly/VNAR-2015