Discovery & Development
Drug Delivery,
Drug Discovery,
Formulation,
Small Molecules
Self-Sealing the Deal
PULSED – a self-sealing drug delivery depot – enables precise timing and tunable release of therapeutic doses
| 3 min read | Interview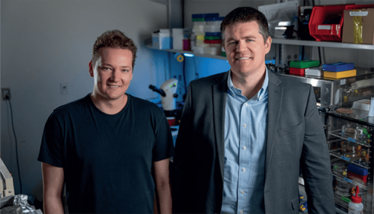 How PULSED enables precise timing and tunable release of therapeutic doses

Imagine "particles uniformly liquified and sealed to encapsulate drugs" – and then give it a snappy name. Meet PULSED – the self-sealing drug delivery depot that can administer multiple therapeutic doses in a single injection with a tunable delay ranging from days to months. When patients fail to take prescription medicine or take it incorrectly, the costs can be staggering. The annual toll of poor adherence in the US alone has been estimated at more than 100,000 deaths, up to 25 percent of hospitalizations, and more than $100 billion in healthcare costs. Is PULSED the answer? We spoke with Tyler Graf, lead author and PhD student in the McHugh Lab at Rice University, and Kevin McHugh, Assistant Professor of Bioengineering CPRIT Scholar in Cancer Research, to find out
What is pulsatile drug delivery?

Pulsatile drug delivery is a unique approach that involves a tunable delay followed by rapid release of therapeutics or vaccines. However, existing pulsatile systems come with significant limitations that hinder clinical translation. Our research sought to address these barriers, with a focus on two major limitations facing current systems: leakage of the cargo before the desired release event and manufacturing challenges that complicate the mass fabrication of microparticles. By designing particles that consistently self-seal when heated and potentially enable simultaneous sealing of massive arrays, our findings suggest we can overcome key barriers to translation.
How does PULSED work?

Our technology employs high-resolution 3D printing and soft lithography to produce arrays of more than 300 nontoxic, biodegradable cylinders that are small enough to be injected with standard hypodermic needles. Simply put, PULSED seals medicinal drugs in a central depot within a microparticle, providing controlled release kinetics with a tunable delay of days to months. This enables multiple therapeutic doses to be administered in a single injection by combining multiple particle populations programmed to release at different times.
The self-sealing nature of this system -in which material flows over the opening at the top of the cylinder to encapsulate the loaded drug cargo entirely when heated is a major benefit of this approach that allows for simultaneous sealing of hundreds of particles. Another promising application for this technology is vaccine delivery. By delivering all boosters of a vaccine in a single injection, we can increase vaccination rates and delivery in areas with limited access to healthcare.
What have been the highs and lows of your research?

One significant challenge of our research was demonstrating the release of a bioactive protein. Though protein therapeutics offer several advantages over small molecule therapeutics, they are less stable and are not orally bioavailable due to their complex nature and large size, respectively. This often requires frequent injections, which can become burdensome for patients. As such, our goal was to create a system that could deliver multiple doses of a protein in a single injection.
Conversely (or reflecting that challenge), the most exciting moment so far was achieving the release of a clinically relevant antibody. I remember excitedly sharing the news with lab mates after seeing even a minimal release of the bioactive antibody! After optimization, I was overjoyed when we demonstrated the release of most of the antibody in its bioactive form.
We hope to experience many more moments like this! Next, we plan to demonstrate therapeutic efficacy of a specific therapeutic in a preclinical model… Watch this space!
Receive content, products, events as well as relevant industry updates from The Medicine Maker and its sponsors.