Discovery & Development
Drug Discovery,
Advanced Medicine
Enhancing CRISPR-Cas9
Is safeguard sgRNA the key to reducing the off-target effects of gene editing, while increasing its potential applications?
Stephanie Sutton | | 3 min read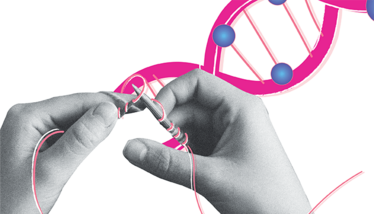 In Japan, researchers at Kyushu University and Nagoya University have been working on reducing issues with mutations (and hopefully toxicity and side effects) when using CRISPR-Cas9.
Masaki Kawamata, assistant professor at Kyushu University and one of the authors of the study, says, "Even before the discovery of the CRISPR editing system, I was interested in genome editing. I have actually produced genetically modified mice and rats using knockout and knockin strategies. When I joined Fernando Camargo's lab at Harvard University in 2013, he asked me to start working on gene therapy by establishing the CRISPR-Cas9 system in the lab."
Kawamata and colleagues were interested in the current limitations of CRISPR-Cas9. If CRISPR-Cas9 activity is too strong, off-target effects and cytotoxicity can be introduced. Even on-target, excessive DNA breaks lead to large deletions as well as chromosome loss and translocations. "In addition, the strong Cas9 activity prevents precise genome editing, such as mono-allelic single nucleotide replacement, which is important for generating and correcting disease models," says Kawamata. "We have overcome these problems with a new technology that allows us to fine-tune the activity of Cas9. However, CRISPR-Cas9 itself still has its limitations for precision gene therapy in that it preferentially introduces indels that may cause unknown side effects."
Publishing in Nature Biomedical Engineering, the authors reported on a "renovation strategy" to directly limit Cas9 activity through simple and tunable single-guide RNA (sgRNA) redesign – what they refer to as safeguard sgRNA in the paper. Kawamata explains how the approach works. "Addition of cytosine stretches to the 5'-end of conventional sgRNAs enables length-dependent and large-dynamic-range inhibition by constraining the formation of functional Cas9 complexes. Overall, short cytosine extension reduced cytotoxicity and enhanced homology-directed repair, while maintaining bi-allelic editing capacity. Long extension further decreased on-target activity but improved specificity, thereby facilitating mono-allelic and precise editing."
The safeguard sgRNA is also compatible with CRISPR activation/interference and Cas12a systems. The integration of a fluorescence-based allele-specific indel monitor system (AIMS), computational simulation, and systematic validation established optimal windows of Cas9 activity for diverse applications, including precise one-step generation and correction of disease-associated single-nucleotide substitutions. "Importantly, this method dramatically alleviated p53 activation and cytotoxicity in highly sensitive human pluripotent stem cells, enabling precise gene correction. Together, the safeguard sgRNA represents a promising strategy to prune excessive activity, improve safety, and maximize applicability for CRISPR-Cas9-related biomedical technologies," says Kawamata. "Safeguard sgRNA is expected to be safer and more efficient than the conventional gRNAs that have been used in clinical trials. Since the modification is simple, requiring only the addition of cytosine to the 5' end of the gRNA, safeguard sgRNA can be applied to clinical trials relatively easily without major changes to the protocol. Adopting sgRNA and expanding the functionality of CRISPR tools will increase safety and accessibility for each disease."
The research team initially applied the safeguard sgRNA in fibrodysplasia ossificans progressiva (FOP) disease model as a proof of technology because they believe that gene-correction therapy has strong potential in the area. Based on the technology, a start-up company called One Genomics was founded in the US. The focus is developing safe and high precision novel gene therapies using safeguard sgRNA technology.
Receive content, products, events as well as relevant industry updates from The Medicine Maker and its sponsors.