Discovery & Development
Drug Discovery,
Small Molecules,
Profession
Fabulously Interesting
Sitting Down With… Sharon L Rogers, AmyriAD CEO, Renowned drug developer, 2023 Power Lister, and Olympic figure skating official
| 6 min read | Interview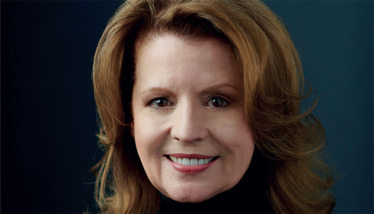 What inspired you to pursue a career in your field?

Between undergraduate and graduate school, I was working at the Ohio State University in Columbus in a laboratory studying viral-chemical co-carcinogenesis related to asbestos. I was fascinated by how a virus and a chemical could work together, to produce decrements in cell communication and replication, causing cells to become cancerous and life threatening. One usually thinks about viruses as engaging separately, not how they can interlink with a chemical and interfere with biological communication within the cell. Drug development, especially small molecule drug development, is really all about cell communication – and how you can modify it.
You're also an athlete. How did you become involved in Olympic figure skating?

I skated, but I'm not of the Olympic caliber at all. I was just out there with friends, laughing and having a good time. You have to be realistic about what you can do. I got into officiating, starting with little kids and moving through the ranks to the point where I was officiating at the Olympic level. With those athletes, it's a different responsibility; they're a unique subset of athletes, but I just had a knack for it. During the non-competition season, one has an opportunity to ensure athletes learn how officials think about their programs and the trajectory of their progress. I get along with the athletes. I get along with their coaches. I consider it an honor and I'm always trying to be mindful of how to pull the best out of them when explaining why I may have scored them in a certain way at past events. I talk about what they're not doing well, but elevate the discussion by reminding them of the things they do well, and hope they take that into their next competition season.
What research are you best known for?

A drug I developed (Aricept) has been the number one standard of care for Alzheimer's and dementia for over a quarter of a century. As a standalone achievement, it is a great accomplishment – but, if something has prevailed as a standard of care for 25 years, it reminds us that we have not done enough. I continue to be dedicated to developing new and improved treatments for the management of Alzheirmer's. Currently, there's a movement toward disease modification in Alzheimer's, which came about because people believe they know what causes Alzheimer's – proteins known as amyloid plaques and tau tangles. I believe these proteins are risk factors but find the disease process infinitely more complicated. For that reason, I continue to believe we need more agents to manage disease symptoms, with the goal of helping patients maintain independent function for as long as possible.
How did you come to be CEO of AmyriAD Therapeutics?

I was asked to helm AmyriAD by the company's founders. AmyriAD has a portfolio of compounds all directed toward the treatment of Alzheimer's and, because I've had measurable success in a development field littered with failed studies, the founders had confidence their company would be in good hands with me.
What are you working on at AmyriAD at the moment?

Our lead compound is a drug which we currently refer to as AD101. It is designed to improve neurotransmission in Alzheimer's patients, improving both general cognition as well as independent global function. The drug has been studied and has completed Phase I and Phase II development. Studies to date have demonstrated a very good safety profile, along with significant improvement in both cognition and function. We are planning to move to large scale Phase III trials within the next few months.
What other research developments in small molecules have caught your eye?

All aspects of small molecule research are exciting in their own way, but that's probably because I'm rather easily entertained on this topic! One standout moment for me was a project focusing on what was referred to as sepsis syndrome. We learned so much from that program, including how much we didn't know. People used to think sepsis syndrome was caused by a bacterial infection of the blood. We have since learned that what we called sepsis was really a massive inflammatory response we now call Systemic Inflammatory Response Syndrome, or SIRS. SIRS can be produced by a viral, bacterial, or fungal infection – or with no infection at all other than significant inflammatory stress. It was fabulously interesting because we learned so much about the cascade of biochemical events that results in the syndrome. We also learned that you can stop it right in its tracks at one particular early step in the process – but, if you miss that step, the rest of the inflammatory cascade is likely going to happen. That information was just priceless.
Your appearance on our Power List taught us that you have an interest in politics and culture. How have those two things helped steer your career?

I'm always interested in how people use their voices in a way that is going to be of some benefit to humankind. Some folks have a massive megaphone, so what should they do with it? Consider the artist Banksy, for example; he makes sociological statements that invite people to think about compassion in ways they might not have done before.
And then there is Janet Yellen. She is a tiny, white-haired lady who looks like everybody's grandma, and she wanted to emphasize the point that people's lives are affected by government decisions. She came under scrutiny for her choice of language in the White House, but she helped ensure that those downstream effects were mitigated. I'm attracted to people who do not give up on their core values.
What about your core values?

My own personal values include looking at the bigger picture. We're all individuals, but we're part of a larger family, and everything I do in my work might impact employees, patients, and caregivers. Everything we do impacts something else, and you just never know how far that repercussion will spread. The decisions we make and the way we conduct ourselves can make us successful and profitable, but we should never forget who we are doing it for.
I love my work. I learn so much about the way the body functions by drilling down to these tiny molecular areas. It's all mind-blowing.
On days when your motivation runs low, how do you re-energize?

There are many days when motivation runs low. The most I can do is try to focus on the things that are going to be important and meaningful, while I block the rest of it out. Maybe that stems from my experience as a competitive athlete and as a marathon runner; you learn how to tune out anything that's not going to help you keep putting one foot in front of the other.
Receive content, products, events as well as relevant industry updates from The Medicine Maker and its sponsors.