Discovery & Development
Drug Discovery,
Advanced Medicine
Making Miracles
After serving as the Head of Strategic Research Development and Director of the Office of the Dean of Research at Trinity College Dublin, Fiona Killard-Lynch was appointed Director of Research and Innovation at NIBRT
| 6 min read | News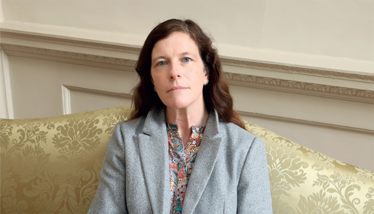 What kicked off your career in bioprocessing?

Even as a child, I was always interested in health, diseases, and drug development. Interests like this become a passion in childhood, setting you on a particular path. Then, life unfolds in front of you and the pathway becomes serendipitous. The spark was always there, it just needed to be developed.
At the same time, I also knew that I wanted to be involved in something meaningful and impactful – I wanted to be engaged. As I progressed in my career, I developed a real passion for research and how important it is to open debates. Emerging research in bioprocessing has a real world impact on people's lives. Seeing therapies developed for diseases, such as multiple myeloma, and seeing people help babies with neurodegenerative disorders were considerable drivers for my trajectory into the sector.
My current role at NIBRT is a great environment for research because the Irish government has invested significantly in biopharma R&D.
How do you keep your research team interested and focused?

Enabling researchers to engage in whatever they are passionate about is important – it means they need no motivation! That said, we do need to make sure talented people are properly funded. Notably, we've made progress in ensuring our PhD students receive a living wage. At NIBRT, they also have the infrastructure and a dynamic community to work within. The entire research community should always be working to help people reach their potential, while removing barriers.
What's your greatest achievement in research?

During the pandemic, there was a real risk of research being shut down. Along with my team, we were able to secure almost 10 million euros from the Irish government, and we worked very hard to disseminate it as quickly as possible so that as much research as possible could continue. Researchers were given assurance that they could continue and their career wouldn't be impacted by COVID-19.
The funding went across Trinity and was given to researchers from countries where COVID-19 had been particularly devastating. In some cases, researchers had family members who had died from COVID-19. The funding allowed them to continue their careers. I'd say it had an immeasurable impact.
How important are relationships with policymakers when it comes to research and training?

You need policymakers to have successful research programs, and those policymakers need to be integrated at all stages of that pathway. Part of NIBRT's success is a result of involving policymakers from the very beginning – in turn, they saw the huge need for a facility like NIBRT, which was established to train talent for the biopharma industry.
What factors are detrimental to research?

Knowledge security is one. There needs to be a balance between what you're doing and what the industry wants – improvements in manufacturing processes, for example, and building on knowledge that comes from other research groups. There is also a lack of clarity around research careers. Some researchers remain on precarious contracts – it's not a stable landscape for them, so there's a risk of a brain drain from academia into industry.
Academic research is sometimes viewed by the outside world as a very comfortable lifestyle, but from the inside I can attest to the fact that they are struggling. In Ireland, the third level sector is very underfunded; second level students are funded at a greater level, but PhD candidates are not on a living wage. When you look at the biopharma sector and how strong it is in Ireland, it should be much more tempting to stay in academia rather than move into manufacturing where there are so many opportunities and so many great companies.
What challenges have you faced in your career?

As a woman in science, meetings tend to be dominated by males, and whoever is speaking will speak with the guys in the room. You could see it during the pandemic, in particular, where I was, maybe naively, a little surprised by how many childcare responsibilities still fell on women. The impact affected grant applications and scholarly outputs from female academics. However, if you start to dwell on that topic too much, you can start to drown in it. I've been extremely fortunate in the Irish system because most of the presidents or provosts of Irish universities are inspirational female leaders. The former Dean of Research is now the provost at Trinity. I worked with her for years and she's just an incredible person. She taught me to just keep moving forward.
If you want to maintain a forward momentum, you can't get bogged down by convention. People have many different challenges, so it's important to persevere (even when it frustrates you).
Where I get a lot of satisfaction is in people saying, "It was hard!" Research is hard, but when you break through to the other side you commit to making it easier for the people coming behind you. Empower and enable them – especially other females – to have as positive an experience as possible. Converting all that stress and frustration into energy used for developing somebody else's life and career is what I try to do. Yes, there may be glass ceilings, but let's just keep breaking through them.
So you enjoy mentoring female researchers…

When you look at two grant applications, you can often tell which was written by a male and which by a female just from the language and the tone used. Having the opportunity to motivate and inspire women to sell themselves, because they have the skills and capabilities to match anybody in their field, gives me a real sense of satisfaction. What better legacy could I hope to leave behind?
What do you see in biopharma's future?

We're on the cusp of something incredible. I'm not one for hyperbole, but some of the new therapies emerging are nothing short of miracles. We all remember a time when cancer was (and still is) a frightening thing. There is now a war against cancer and a real future for cancer patients is within touching distance. There has been a huge surge in developments in cell and gene therapy, too. We are going to see a world where people live longer and better lives. NIBRT's CONCEPT, a core facility for early-stage biotherapy, could be a key enabler of these developments where researchers and industry can generate optimized cell lines and biological material for advanced therapeutics and biologics experiments.
Now, the onus is on the nations of the world to work together to realize these miracles. And it begins by recognizing and supporting the incredible work of researchers – the young people dedicating their lives to enabling these changes.
Receive content, products, events as well as relevant industry updates from The Medicine Maker and its sponsors.