Discovery & Development
Clinical Trials,
Technology and Equipment,
Business Practice,
COVID-19,
Digital Technologies
Taking the Trial to the Patient
"Thank you for signing up for this clinical trial. We expect you to visit the trial site twice a month and fill in this daily diary… Wait, why are you all dropping out?" It's high time pharma made improvements to the clinical trial process.
Stephanie Sutton |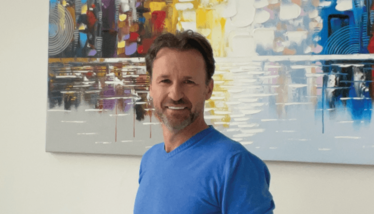 Based on an interview with Rob Bohacs, Founder and Chief Solutions Officer, ClinOne
Clinical trial patients are incredibly special. They embark on a journey to help discover and provide clinical data for drugs that could help not only themselves but also patients all over the world. However, the way the pharma industry has traditionally handled clinical trials does not make participation easy. In fact, it can be quite an unpleasant experience.
First of all, it can be difficult for patients to find clinical trials in the first place, let alone be accepted for a trial, for a variety of different reasons, including often stringent inclusion/exclusion criteria. When patients do finally secure a place on a trial, a great deal is asked of them. Many patients are asked to attend a trial center once or twice a month – and I've even seen trials that require patients to visit once a week. Patients may also have to take part in additional imaging or biopsy procedures. Then, when they are at home, patients have to fill in diaries or electronic questionnaires on quality of life, using antiquated devices. It's a difficult experience. In addition, although some clinical trial coordinators do an amazing job, others can be quite poor, and there can be disruption and confusion for patients if coordinators change. At times, I'm amazed that some trials even get off the ground in the first place!
Patients need an easy way to access information about which clinical trials they can qualify for.
I can provide an example from personal experience. A member of my family was diagnosed with stage three breast cancer. She had to call up institutions one at a time to see what trials she might qualify for. You may be surprised to learn that large academic institutions typically do not communicate or collaborate to spread information about what trials exist even with other providers on their own campus – never mind what patients they have that may qualify for trials outside of their own four walls. I'm involved in the pharma industry and even I was having a hard time figuring out how to help my family. I can only imagine how someone feels when they are trying to understand the process without the support of someone who knows the industry.
We have to change this. Patients need an easy way to access information about which clinical trials they can qualify for, and there is a huge opportunity in the industry to consolidate information and improve the clinical trials process. Given that patients can be asked to commit to a trial (and all of the above challenges) for years, it's no wonder that clinical trials tend to suffer from low patient enrolment and high dropout rates. This will not change until pharma addresses three important pillars: the perception of clinical trials, the availability of clinical trials, and how patients are managed on trial
Another challenge is that clinical trials are dynamic (particularly oncology trials); screening criteria change and protocols may change. At the same time, a cancer patient's disease can change and progress, and this may affect whether a patient still qualifies for (or must be disqualified from) a trial.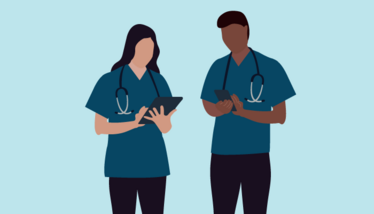 Modernizing trials with technology
My background lies in pharmaceutical contract research management and it was clear early on that there was much room for improvement, particularly when it came to remote patient management and implementing technology. I felt there was a real need to support patients better. Patients who participate in clinical trials should be given the best experience possible.
As an obvious starting point, it would be much easier for patients if they could contribute more from the comfort of their own homes – with fewer visits to trial sites. If we want patients participating in a trial for five years, we shouldn't ask them to visit a research site every two weeks. It's a major disruption; not all patients have transport or can afford that constant time off work. What if we developed software that would allow patients to be a part of trials globally – software that could tell participants what to do every day so that they wouldn't feel lost?
I broke away from my role at a contract research organization and founded ClinOne – a company that offers a platform to connect, inform, and empower patients to help them take control of their clinical trial experience.
COVID-19 led a number of clinical trials to be placed on enrolment hold for a long time because many patients wanted to stay safe at home and manage their indication as best they could. But in some cases, patients with serious illnesses didn't have a choice and trials had to continue. Cancer patients, for example, must have treatment or take part in a clinical trial, but venturing out to a clinical trial site could expose patients to risk of catching COVID-19.
In some cases, patients may barely need to visit the trial site at all because the information can be gathered by wearables and telemedicine calls.
Not all companies were in a position to simply halt their trials; companies rely on clinical programs to meet funding milestones. The challenges led more companies to think outside of the box – and we saw more companies coming to us to ask about solutions. And there definitely are solutions! Prior to the pandemic, pharma companies were already exploring telemedicine to reduce some site visits, but many were having a hard time moving away from the old way of doing clinical trials because it's what they have always done. There are technologies that can touch both the research side and the patient, but for me it is the technology for patients that is really exciting. Why? Because it allows us to recruit and manage patients remotely.
It would be amazing if a clinical trial investigator had time to call Jane (the patient) every single day to ask if she had taken her medication, how she's feeling, help her arrange transportation when needed, and discuss her activity level. But this is impossible; investigators simply don't have the bandwidth or the time, but software does. Software can "talk" to the patient through interactive text messages or other mobile technologies. We can also equip patients with – frankly amazing – wearables that track heart rate, temperature, activity levels, and much more. If something doesn't seem right – for example, if a patient doesn't get out of bed for two days – the device can alert the site. In some cases, patients may barely need to visit the trial site at all because the information can be gathered by wearables and telemedicine calls. The information can also be captured in real time – something that the FDA and the EMA continue to push forward.
There is also a lot of investment entering the remote clinical trials space. If you haven't already started, you should explore the technology landscape, consider how your clinical trials are run – and then ask yourself: "Can we do better?"
Raising awareness
We live in a fast-paced world. We are used to convenience; packages and groceries can be ordered with same-day delivery. We cannot blame patients for not wanting to take part in archaic clinical trials or for dropping out when we constantly ask them to come to us. In this day and age, we need to take the trial to the patient.
So, how could – or will (let's be optimistic!) – clinical trials work in the future? I want patients to be able to log in from home, have the opportunity to add in their electronic healthcare record data, and have the opportunity to see relevant trials. Imagine if all clinical trial datasets from major institutions could be pulled together so that patients could see what was available… From there, a patient could choose to participate from home, wearables could be delivered to their door, which would help keep them safe and us apprised of what is happening. And we can make it even easier. When it's time for a blood draw, the patient doesn't have to go to the clinic; again, they receive a package that allows them to do it themselves – and us to receive the data (or sample) we need. I want all of the information to be collected and integrated – and that's something we're constantly focusing on at ClinOne. My goal is for a seamless patient experience.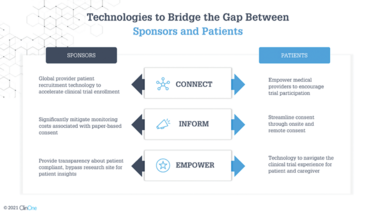 And with increasing innovation and convenience, I hope more patients (and their families and friends) will become more knowledgeable and more interested – even excited – about clinical trials. From the sponsor to the technology companies to the researchers… so much investment goes into the clinical trials process – but I don't think there are enough organizations fighting to raise awareness with patients about how clinical trials are evolving.
Besides ourselves, there are many people trying to improve the clinical trials process and it's important that patients learn about the progress – it could change their lives.
On a side note, it has been incredible to see how many members of the public were willing to take part in clinical trials for COVID-19 vaccines. In less than a year, there were over 40,000 individuals participating – and many of these people had never taken part in a trial before.
We were involved in managing some COVID-19 trials and it's been very exciting. There is now a much greater awareness amongst the public about COVID-19 trials – and trials in general. I hope the experience was eye-opening – in a good way! I hope people realized that being a participant in a trial wasn't scary and that the end result was amazing.
As an industry, we should take this momentum and generate even more publicity around the fact that clinical trials move medicines forward for everyone in the world.
---
Interested in clinical trials content? Check out our other content:
Updates Ready: Reboot Necessary by Temitope Keyes
Clinical trials are now more complex than ever, and technology has not kept pace. Though a shift to digital decentralization has begun, all too often the solutions are just stitched onto already underperforming legacy systems.
The Global Stage by Claudia Berron
How do we overcome the challenges of taking clinical trials into emerging geographies?
Receive content, products, events as well as relevant industry updates from The Medicine Maker and its sponsors.