Discovery & Development
Drug Discovery,
Advanced Medicine,
Trends & Forecasts
CRISPR With Caution
Deputy editor Rob Coker recalls his trip to the labs of Vilnius-based biotech start-up Caszyme, where he spoke with CEO Monika Paule about the potential of genome editing
Rob Coker | | 3 min read | Review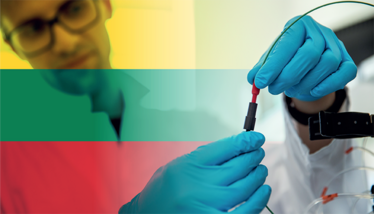 Vilnius-based biotech company Caszyme specializes in the development and application of CRISPR-Cas technology. Applications that use CRISPR-Cas technology (new diagnostic tools, therapies, reagents, and others) require Cas proteins with various characteristics, which Caszyme identifies, characterizes, and develops based on the individual needs of a project.
In May 2023, I enjoyed traveling to the Lithuanian capital to see for myself the lab space in which all this potential is generated. Co-founded by 2018 Kavli Prize laureate Virginijus Šikšnys, Caszyme is located in the life science campus of Vilnius University. There, I met co-founder and CEO Monika Paule, who shared her excitement about the potential of the company, the technology, and the field.
"Prior to discovery of this technology, there were no tools that would allow us to edit the genomes of cells or organisms so precisely and simply," Paule said. "Now, even more than a decade since the technology was discovered, CRISPR-Cas continues to display its versatility. It's a fascinating field of ongoing research and innovation."
CRISPR-Cas and its potential has generated a great deal of hype but also driven clear scientific progress. Researchers have developed enhancements and variations of CRISPR-Cas technology, including base editing, prime editing, and epigenome editing, which have all helped to expand the possible applications. However, as raised in a recent roundtable discussion, some people are still confused about the true reality of the technology. That said, we could potentially see FDA approval of the first CRISPR-Cas drug this year.
Paule believes that (mis)understanding CRISPR-Cas technology relates to a unique set of challenges. "It is necessary to stay up-to-date with the latest research and scientific discussions surrounding gene editing. This can be achieved by following reputable scientific journals, attending conferences, and engaging with experts in the field. By actively seeking reliable sources and evaluating the credibility of the information encountered, a more accurate understanding of the current state and potential of CRISPR-Cas technology can be made."
Safety and ethics

CRISPR technology is still new, and any major safety issues could cause serious setbacks for the field as a whole. Ensuring the accuracy and safety of gene editing in different contexts remains crucial. I asked Paule what the biggest questions were as far as the long-term effects of CRISPR gene editing in humans is concerned. "Safety is essential for the widespread clinical application of the technology in the human therapeutics field," she said. "Also, I believe that we must find more efficient ways to deliver gene editing tools to different cell types and tissues, and to identify solutions that lower off-target effects."
The social perception and acceptance of CRISPR is another obstacle, however, to which Paule added, "To address public concerns, we must provide accurate information, engage in meaningful dialogue about the benefits, risks, and ethical considerations, while developing appropriate regulatory frameworks and oversight mechanisms for CRISPR gene editing technologies. Ensuring responsible use, addressing safety concerns, and balancing innovation with ethical considerations requires robust and adaptive regulations that could keep pace with scientific advancements."
As the technology increasingly faces regulatory approval, safety and efficacy of CRISPR-based therapies will be validated, which should help generate public awareness and trust. But ethical considerations cannot remain unaddressed… "One of the applications in which ethical questions emerge is evaluating the use of gene editing to resurrect extinct species or their traits, weighing the benefits against potential risks to ecosystems, and the moral implications of altering – even reversing – natural processes," Paule concluded. "But these ethical considerations can be addressed through the development of novel, more precise editing tools and by careful deliberation and open conversation between businesses, government, and regulatory institutions that would guide the ethical and responsible use of CRISPR technology."
Nevertheless, and as Paule confirmed, research will continue in Lithuania – and around the globe – with various stakeholders seeking to optimize current approaches to ensure the effective and precise delivery of CRISPR gene editing tools for a wide range of applications.
Receive content, products, events as well as relevant industry updates from The Medicine Maker and its sponsors.