Discovery & Development
Dosage Forms,
Drug Delivery,
Formulation
The New Filmmakers
Could thin-film drug delivery help defuse the population bomb facing 21st century healthcare?
Angus Stewart | | Interview
Not so long ago, The Medicine Maker covered an interesting drug delivery approach designed by Swiss firm EsoCap – a mucoadhesive film that unrolled in the esophagus (1). Now, we turn our attention to another oral film – this time from Scotland. I spoke with Fitabeo Therapeutics CEO Mallikarjun Chityala about the controlled release single-layer film the company is developing to improve the quality of life and medical adherence of dysphagic adults, the elderly, and children.
Chityala is from Hyderabad in southern India and, since moving to Scotland in 2016, he has become proud to call the considerably smaller nation his home, bonding particularly with its social values and great outdoors. Fitabeo Therapeutics itself is split between the two metropolitan poles of Scotland's central belt – Edinburgh and Glasgow – and has been endorsed by both Scottish Enterprise and Converge Challenge Scotland.
As with many of us, the COVID-19 pandemic prompted Chityala to rethink his purpose in life. After a period of reflection, he turned to entrepreneurship because he wanted to improve his contribution to humankind, both during and after his time on Earth.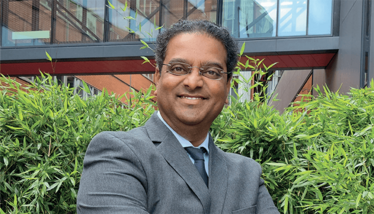 What problem do you want Fitabeo to address?

Swallowing difficulties are our main focus; up to 23 percent of elderly people and 75 percent of nursing home residents experience this problem. And that drives medication non-adherence, which adds to the healthcare cost burden. The thin films we are developing are a great way of delivering medicines built from multiple compounds with complex release profiles to dysphagic patients and children. But, in particular, we want to help the elderly.
By 2050, the world population of over 65s is expected to grow by 120 percent to 1.5 billion, with an anticipated increase in global healthcare costs of over £1.6 trillion (US$2 trillion). This rapid rise could result in a crisis in the social care and healthcare sectors, and I believe this looming threat should compel industry-wide innovation towards healthy aging and decentralized patient care.
Fitabeo Therapeutics was born out of a vision to meet these rising needs. We want to enhance quality of life for patients and their families by playing a role in decentralizing patient care, enhancing medication adherence, and providing greater patient autonomy.
What's it like being a startup in 2022?

Our journey so far has been very exciting. The COVID-19 pandemic brought in new working practices and means for professional connection. At Fitabeo, we have chosen to adopt a four-day week, with a hybrid working policy from the outset. We believe that this improved work-life balance will translate into having work teams that are energized and highly focused on reaching our ambitious targets.
We have made great progress so far in developing our technology, and we already have "expressions of interest" from several global and regional pharmaceutical companies that are keen to commercialize our products.
Which therapeutic areas are you targeting?

Our portfolio focus is in the area of opioid pain management. Of the 57 million people who need palliative care each year, only 14 percent have access to it. Both the number of people in need and the level of access to palliative care is growing across low-and-middle-income countries, whose populations make up 78 percent of the palliative care headcount. Pain is one of the most common symptoms experienced in people entering palliative or end-of-life care.
Our technology allows the complex release of one or more drugs on a fast dissolving, single-layered film, for up to twelve hours. I believe it will enable the development and commercialization of products that reduce medicine intake to twice a day or less, replacing traditional dosing. Some patients find it easier to tolerate saliva-soluble, thin films on their tongue, allowing even those receiving palliative care to maintain greater freedom and autonomy by successfully managing pain and other symptoms outside of clinical care settings.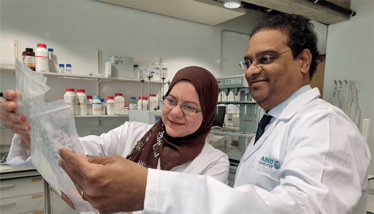 What motivates you, and what will "mission accomplished" look like?

Our founding mission motivates us day in and day out. Being in a position to develop medicines that bridge a gap for disadvantaged patient populations provides a marvelous sense of purpose.
Alex Mullen – cofounder, Chief Scientific Officer, and inventor of the technology –and I can't wait to see our first two products commercialized in global markets. However, there are many remaining disease areas where we feel our technology can play a significant role. We still have a lot of work to do.
What surprises, if any, have you encountered since founding the company?

There have been many surprises that have made our journey very exciting. To give just one example, fundraising has been a steep but invaluable learning experience. The Scottish Entrepreneurial ecosystem has been immensely helpful. Everyone involved has been so supportive of our technology. To date, Scottish Enterprise, the University of Strathclyde, and Strathclyde Inspire have played a major role in our journey.
Accelerators such as the Converge Challenge, Barclays' Financial Readiness program, the RBS Accelerator, plus mentoring we have received from various high-profile individuals has also been incredibly useful.
I would highly recommend innovators and entrepreneurs to consider Scotland as the place to launch their new business as the startup ecosystem in Scotland is world-class; help is available every step of the way.
Credit: Collage collated from Unsplash.com
Receive content, products, events as well as relevant industry updates from The Medicine Maker and its sponsors.
A Stewart, "Easy Film to Swallow, Hard Act to Follow?", The Medicine Maker (2022). Available at: https://bit.ly/TMM-EsoCap