Discovery & Development
Formulation,
Ingredients
The Need for Novel Excipients
Keith Horspool reflects on the efforts that led the FDA to launch its pilot review program for novel excipients
Stephanie Sutton | | 6 min read
Featuring Keith Horspool
While doing a PhD in medicinal chemistry with a cancer chemotherapy group, Keith Horspool was fortunate to have Professor Malcolm Stevens as his supervisor. Professor Stevens' lab synthesized temozolomide which, as of 2019, was the only FDA approved drug to treat glioblastoma multiforme (Wikipedia). The industry sponsor's role in the project, with a short industrial secondment, sparked Horspool's interest in pharma and set his direction. "It really got me thinking that industry was the right place to further my scientific career. I've been in industry ever since. I've never looked back, and it has been very rewarding."
Horspool has held roles at Pfizer, Zeneca, and Boehringer Ingelheim; before his retirement, he was one of Boehringer's representatives on the Board of the IQ Consortium and played a role in advancing efforts to explore ways to encourage use of novel excipients in drug development. Under current FDA regulations, a novel excipient gains a specific acceptance for use through being incorporated in a drug product NDA and its approval. The challenge is that pharma companies have been reluctant to use new excipients in product development because they see it as additional risk to the approval of the new therapeutic. With companies reluctant to use novel excipients, there is little incentive for excipient innovation and for excipient manufacturers companies to develop new materials.
You can find out more about the challenges in this field in this roundtable discussion featuring IPEC-Americas experts.
Although big pharma companies can be reluctant to use novel excipients, that doesn't mean there's no interest. Horspool points out that Pfizer previously was involved in development of Sulfobutyl ether Beta-cyclodextrin sodium (sold as Captisol by Ligand) and, in conjunction with Bend Research and suppliers, also helped to underwrite use of HPMCAS for solid dispersions. Both materials have led to numerous notable pharmaceutical products being marketed over the last decade. "But in general, there are very few examples of pharma companies getting engaged and really moving conversations around novel excipients forward," says Horspool. "It has really been left to the excipient companies and they've had some daunting challenges with the current regulations. IPEC-Americas and the IQ Consortium have been collaborating to support an effort to address the challenges to novel excipient use and identifying potential solutions, including lobbying the FDA."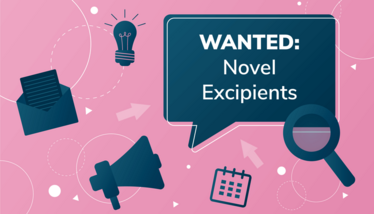 Learning to inspire

One of the biggest challenges faced by IPEC-Americas and the IQ Consortium was the fact that both pharma manufacturers and FDA were traditionally reluctant to even discuss the topic. "Excipients aren't their core business, so they were wondering why they needed to get involved," says Horspool. "These attitudes meant that we had to really think about how we project the need for novel excipients and the opportunities they can create. I like to summarize the situation by saying that we had to learn to be like JK Rowling; we had to tell a compelling narrative that inspired people."
To do this, IPEC-Americas and the IQ Consortium solicited industrial opinions, and recommendations that were shared with the FDA via various means including making use of the FDA Critical Path Initiative. Communications to the FDA included a White paper and presentations that highlighted examples of how excipients make a key difference to products - accelerating development, increasing the probability of research success, and ultimately bringing more and better products to patients. "There are many unmet needs among patients that will need more diverse and more challenging therapeutic entities for treatment. There are increasing cases where success of a therapeutic will also require the right (functional) excipients to be incorporated in the product" says Horspool. "And yet it's so challenging to get new excipients developed."
One significant turning point came when the USP offered its support to this effort and raised the topic through one of its interactions with the FDA. This led to USP conducting a significant survey of formulators worldwide to explore needs, challenges and requests for the future. Results from this seminal survey helped demonstrate to the FDA that formulators see huge benefits in novel excipients. Through all these various endeavours, now, it seems that IPEC-Americas and the IQ Consortium, and USP, have succeeded in their quest to inspire; in September 2021, the FDA announced its Novel Excipient Review Pilot Program – which Horspool and many others hope will be successful and will eventually lead to permanent change.
It's possible that the COVID-19 pandemic may also have encouraged recent events. For instance, the Pfizer/BioNTech vaccine incorporates two novel lipids that are important for mRNA delivery, emphasizing the value and importance of new excipients. Horspool says, "We've seen a profound change in the last couple of years in terms of bringing COVID-19 vaccines forward in phenomenally accelerated timeframes. There is a lot we can learn from the experience that could help bring forth the next generation of therapies – in which I believe novel excipients will play an important part."
All aboard

Horspool says that a lot has been learned on the long journey – particularly in terms of the work and collaboration required to bring big discussions forward and achieve change.
Early on, the IQ Consortium and IPEC-Americas focused on formulation needs and the challenges in getting new excipients accepted for use – but, as they engaged more with the FDA, it became clear that there were many non-clinical safety considerations that also needed to be part of the discussion. "In short, we learned that we needed a bigger boat!" says Horspool. "As discussions went on, we had to involve more and more people. For example, we needed toxicologists to answer toxicology questions. And, although we were interested in the use of novel excipients primarily for oral delivery, this soon expanded to other areas, such as biologics and parenterals. Fortunately, we had a wide scope of experience through our industrial organizations. The IQ Consortium and IPEC-Americas serve their communities extremely well. At the time I was serving on the Board of IQ there were appproximately1,000 scientists working together and collaboration among the various leadership teams was important. Contrast this to when I first started out in my career, industry didn't like to collaborate, and companies were very closed. Nowadays, through communities like those fostered through the IQ Consortium and IPEC-Americas, and the teams we created between our organizations, companies can really work together – and this synergistic effort is far more effective than what one can accomplish alone. It is essential that we have organizations that can work together to bring big topics – like novel excipients – forward." "It was a real pleasure to participate in such an important initiative and I am grateful to everyone involved for their gracious and generous support. I also applaud FDA's willingness to explore opportunities to improve on the current situation, I am sure it will be beneficial to our industry and ultimately for patients in the long term."
Receive content, products, events as well as relevant industry updates from The Medicine Maker and its sponsors.