Discovery & Development
Drug Discovery
The Changing of the Seasons
Ulrike Gnad-Vogt, Senior Vice President Area Head Oncology at CureVac, talks us through the company's efforts to target seasonal influenza through mRNA-based vaccines – and what its platform means for the future of cancer treatment
Rob Coker | | 3 min read | Interview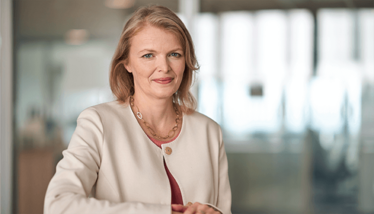 Could you provide a potted history of CureVac?

CureVac is a global biotech company and a pioneer of mRNA technology. We have more than 20 years of expertise in using this versatile biological molecule for medical purposes. It started unexpectedly when our founder, Ingmar Hoerr, discovered that mRNA could be used as a vaccine or therapeutic agent after optimization when it was administered directly into tissue. This was a true breakthrough as, at the time, mRNA was thought to be too unstable for medical application.
Since then, CureVac has built a broad pipeline across prophylactic vaccines, cancer immunotherapies, and molecular therapeutics. We are now in clinical development with our second-generation mRNA backbone for prophylactic and therapeutic vaccines, which was designed to improve intracellular mRNA translation for increased and extended protein expression. We plan to test the same backbone for therapeutic cancer vaccines soon.
What prompted CureVac to work on a flu vaccine?

As an infectious disease, seasonal flu is a promising target for prophylactic mRNA-based vaccines. The flexibility to encode different antigens is well suited to address seasonal changes in the influenza virus. mRNA vaccines can also be produced faster than protein-based vaccines, which need to be produced early in the year to be ready for the autumn flu season. If there is a change in the relevant flu strains after the start of vaccine production, vaccine efficacy for the season could be lower. For mRNA, vaccine production could theoretically start later in the year when it might be clearer which flu strains need to be targeted. This time advantage is one of the reasons why mRNA-based flu vaccines have the potential to be more effective.
What makes mRNA so special as a vaccine?

mRNA enables protein synthesis in the human body, carrying the genetic code required for cells to manufacture and express proteins. When used as a vaccine, specific proteins (antigens) are produced by the body's own cells, enabling the immune system to mount a response and to prevent or fight disease.
The plan for our flu program is to develop a multivalent flu vaccine that would allow the relevant flu strains expected to occur in the next flu season to be addressed. In the future, our technology has the potential not only to combine strains of flu but also other viruses, such as COVID-19, in one shot.
What is the nature of CureVac's collaboration with GSK?

GSK is a key partner for CureVac in prophylactic vaccines. We first started working together in July 2020 to jointly develop new prophylactic vaccine products for infectious diseases, including flu, based on our second-generation mRNA backbone. This collaboration was later extended to the development of COVID-19 vaccine candidates, as well as modified mRNA vaccine technologies.
The vaccine is progressing through the pharma pipeline – how far along is it and how smooth has the ride been?

The flu program is currently in phase I clinical studies. Preliminary data from this study has been positive and we anticipate starting a phase I/II study in 2023.
What else is CureVac working on?

Our mRNA technology platform is very versatile and has many potential applications. We are particularly excited about its application in cancer vaccine development. Here, we can encode and combine different types of cancer antigens, such as mutation derived neoantigens or tumor associated antigens, that are strongly overexpressed by cancer cells versus healthy tissues in one vaccine. In short, this approach could enable the development of off-the-shelf cancer vaccines for specific patient populations sharing the same antigens but also a fully personalized approach where a vaccine can be tailored to a patient's individual tumor profile. With our recent acquisition of Frame Cancer Therapeutics and our collaboration with myNEO, we are investing in cancer antigen discovery to create a strong basis for our cancer vaccine pipeline.
Receive content, products, events as well as relevant industry updates from The Medicine Maker and its sponsors.