Discovery & Development
Drug Discovery,
Profession,
Advanced Medicine
Time for (CAR) T
Sitting Down With… Carl June, Richard W. Vague Professor in Immunotherapy in the Department of Pathology and Laboratory Medicine; Director of the Center for Cellular Immunotherapies at the Perelman School of Medicine; Director of the Parker Institute for Cancer Immunotherapy, at the University of Pennsylvania – and 2018 TIME 100 honoree!
Stephanie Sutton | | 6 min read | Interview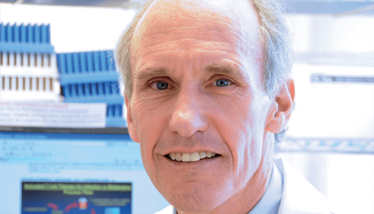 How did you feel when you were recently honored at Advanced Therapies Week with the Lifetime Achievement Award?

It is a huge honor – and really it's down to the team. In some cases, I've been working with people for 25 years who have been involved with this. It's great to have the recognition, particularly at such an exciting time for the field since it's the 10-year anniversary of when we started CAR T therapy in humans.
How far back in time do the roots of CAR T reach?

The first successful cell therapies in humans were bone marrow transplants in the 1980s. In this type of transplant, a donor's T cells are given to a patient with cancer, but the cells are not genetically modified. Around 1989, Zelig Eshhar at the Weizmann Institute of Science made something called "T bodies." He made the first T cell that worked with antibodies binding the target cells instead of a T cell receptor – and this is really at the heart of what a CAR is. With this work in place, it was acknowledged that T cells could be very potent for bone marrow transplants and could work with an antibody redirection – a chimeric form of a cell between a B and a T cell. However, it took until 2017 to get FDA approval for a CAR T.
How did you get involved with this field?

I'm a medical oncologist and immunologist. After completing medical school, I trained in bone marrow transplantation and became interested in how T cells could activate and kill with "graft versus host disease". In the case of a bone marrow transplant, donor T cells can go out of control and cause severe damage. T cells are highly potent and research in this area has led to breakthroughs in CAR T therapy – but it's taken 25 years to get to this point.
Looking back to what first got you interested in the field, do you think the success of CAR T could have been predicted?

No one could have predicted what has happened in CAR T – for many reasons! For one thing, it actually worked a lot better in our initial trials in humans than it had worked in mice. That's a very unusual situation; over the years, many mice have been cured of cancer but there are still only very few new therapies for humans. Also, back in the 1990s, there were only about five labs working on CAR T cells. There was no pharmaceutical industry involvement back then, and for the academics (including my own lab) that were working on the topic, it was more of an academic thought experiment: Could you redirect a T cell and use it to treat cancer? We weren't necessarily thinking it would or could ever be commercialized, but it worked. Back then, there was no cell therapy industry – but now there is. And the statistics are amazing.
You were in the movie Of Medicines and Miracles; how did that come about?

Ross Kauffman is an accomplished documentary filmmaker who has won Academy Awards. When he saw the first report in The New York Times about our CAR T cell therapies, he thought it would be an interesting story.
He got permission to make a three-minute documentary called Fire With Fire about Emily Whitehead's treatment, severe cytokine storm, and then recovery. That three-minute video went viral with about 25 million views, and it also served a really important purpose because it allowed people to see that cell and gene therapy had promise. It also helped increase research funding – which at the time had been difficult to obtain.
Ross Kaufman then decided to make a full-length documentary, which was released in 2022 at the Tribeca Film Festival. It's been an exciting time and I never thought in my career that I would end up in a film! I'm really glad that he has made Of Medicines and Miracles because it highlights the true benefits of these new therapies, and can help educate the public about the long-term need for funding basic science research.
How has CAR T success affected the University of Pennsylvania?

Usually, new findings in academia at the bench get licensed and go into industry so there is a clear handover. Since there is a handoff, the academics don't really benefit from the growth or participate in new directions of the research. In the case of the CAR T cells, we worked with those first patients, and that caught the attention of Novartis, who then licensed the CAR molecule; we had a very vibrant research partnership with them.
The effect of that first CAR T trial has led us to become a center with broad experience and expertise. And that has led to new faculty, attracted very talented postdocs and graduate students, and led to huge growth and innovation at the university. But the real reason it happened is strategic planning. In the early 1990s, Penn made a strategic plan to bring in cell and gene therapy, which is how I got recruited to the university in 1999 to establish human immune therapy. Today, there is a large and diverse research portfolio at the university.
Are you emotionally affected by your work?

Personalized therapy is a unique experience because the therapy is made from the patient's own cells. When a pharmaceutical company usually makes a batch of drugs, the people who make that product never actually see the patients. But with cell therapy, it is hard baked into what we do. We get the blood from the patient and then a few weeks later the patient gets their treatment. The people in our group get to know our patients and it is hugely rewarding. We've seen cases where people are deathly ill but then they come back to our center and they are healthy: true Lazarus cases. When you are so involved with the patient, this experience is hard to put into words.
You are well known in these circles for being named one of the 100 most influential people in the world in 2018. But could you share a little known fact about yourself?

I've had a lifelong interest in athletics. During the COVID-19 pandemic, I suffered a little from cabin fever because I could not go outside and do the races that I usually do, so I took part in something called the Everesting Challenge, which is where you go up the equivalent height of Mount Everest (29,000 feet) in one bike ride. About 12,000 people – and only seven of my age – have done the challenge. I did it in Haleakala with my wife and daughter. And it took 19 hours!
Receive content, products, events as well as relevant industry updates from The Medicine Maker and its sponsors.