Discovery & Development
Drug Discovery
Close the Care Gap
Cary Adams is CEO of the Union for International Cancer Control. Here, he gives his insights into the challenges of getting cancer treatment to people in low- and middle-income countries.
Rob Coker | | 9 min read | Interview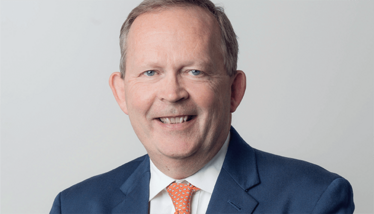 What is the role of the UICC in the international anticancer community?

As the world's largest and longest-serving nonprofit membership organization dedicated to cancer control, we bring together and represent over 1,200 major cancer societies, research institutes, treatment centers, hospitals, professional associations, public health agencies and patient support groups, in low- as well as high-income countries. We also enjoy the support of more than 60 strategic partners, including cancer organisations, foundations, and private sector companies.
Our work focuses on global advocacy, convening the cancer community, and delivering capacity-building projects to help members respond to global issues in cancer. We enjoy official relations with international agencies such as the World Health Organization (WHO), the International Agency for Research on Cancer, and the International Atomic Energy Agency so that cancer and the needs of patients remain central to discussions on global health and development.
What challenges do patients in LMICs face when it comes to cancer treatment? How do patient experiences in high-income countries differ?

All over the world, we see millions of people die unnecessarily from cancer. Between 30 and 50 percent of the 10 million cancer deaths each year are preventable. We know more about cancer than ever before; we even have cures for many people living with cancer. We have the evidence and the policy levers to enact real change and affect the lives of millions of people, particularly in those countries where we see the greatest numbers of cases and deaths.
LMICs bear the brunt; around 70 percent of cancer deaths occur in these countries. Without significant action, this proportion is expected to increase, highlighting health outcome disparities in countries with limited resources. For example, the survival rate of childhood cancers is often over 80 percent in high-income countries, whereas in low-income countries, it can be as low as 20 percent. Cervical and breast cancers can be effectively treated when detected early through routine screening, and cervical cancer can largely be prevented by vaccinating young girls against human papillomavirus, but lack of access to these lifesaving services means that around 90 percent of deaths due to cervical cancer and 68 percent of deaths due to breast cancer occur in LMICs.
We know that a significant number of lives can be saved by implementing interventions with proven efficiency, including greater national investment in health systems and universal health coverage. As a global community, we must do more to close the care gap.
What factors contribute to these problems?

There are several economic, social, and political factors that impede equitable access to cancer care. Low-resource countries in particular often struggle with longstanding systemic barriers to accessing essential cancer medicines and diagnostics: weak health systems, insufficient infrastructure, a lack of regulatory frameworks, inefficient procurement practices and supply chains, a lack of diagnostics and pathology, an insufficient number of trained health workforce professionals, and financial challenges. As a result, over half of the cancer drugs on the WHO Essential Medicines List remain unavailable in many of these countries (1).
Historically, how have pharma companies responded to the issues?

Pharmaceutical companies have made significant positive progress in improving access to medicines in LMICs. Many have adopted systematic access planning approaches for new medicines and vaccines alongside governments and civil society organizations. In just the last 12 months, we saw two major pharmaceutical companies commit to offering existing products – including cancer medicines – at cost and supporting measures to strengthen health systems in LMICs, with a focus on increasing the affordability and availability of their medicines (2,3). This offers an encouraging trend to build on as industry access programs previously lacked the scale and sustainability required to meet the health needs of people in low-resource settings.
But there is room for greater action. COVID-19 brought to light the glaring global disparities in access to medicines and vaccines. As society increasingly demands equitable access to health, the pharmaceutical industry has the opportunity to embrace access to medicines as a central business objective, not just as part of its CSR or philanthropic endeavors.
More public-private partnerships are also needed to increase the affordability and availability of medicines in LMICs. With the increased strain on health budgets, the healthcare sector will have to do more with fewer resources. Collaborations should accelerate the design of scalable solutions to address common access barriers such as cost, unsupportive regulatory environments, lack of diagnostic capacity, weak supply chains, and inefficient procurement processes to ensure that we achieve the greatest impact.
What is the Access to Oncology Medicines (ATOM) Coalition's approach to addressing disparities in cancer medicines access?

To effectively address these challenges requires a true partnership and a concerted, coordinated effort. The ATOM Coalition was launched in May 2022, during the World Health Assembly in Geneva, as a first-of-its kind network bringing together organizations committed to medicines access to develop a comprehensive, cohesive strategy to tackle access barriers that limit the availability of essential cancer medicines and diagnostics in LMICs.
With the UICC as the Secretariat, the ATOM Coalition brings together the collective expertise of over 30 partners and the experience of the UICC's member organizations. This will allow the ATOM Coalition to pool knowledge and resources to expand access to medicines alongside the capacity to use them in a sustainable, scalable way.
Central to the work of the ATOM Coalition are three intertwined pillars: i) supporting governments in target countries through capacity-building efforts, ii) making WHO EML generic and biosimilar cancer medicines more widely available, and iii) securing an increasing number of patented medicines and new medicines in the pipeline from biopharma over time and through a variety of channels, including donations, discounted pricing, and voluntary licensing.
All of this will be done with the engagement of other allied organizations to facilitate connections, avoid siloed efforts, and ensure effective coordination across health initiatives.
The ATOM Coalition aims to "support the implementation of intensive coordinated capacity-building activities in up to 10 countries." How will this be achieved?

The ATOM Coalition is currently in the early phase of preparing and securing resources to provide appropriate capacity-building support for selected countries. The initial selection of up to 10 countries for capacity building will be based on several criteria, including the presence of ATOM Coalition partners, health system readiness, diagnostic capability, the status of the national EMLs, and the existence of access programs in the country.
Once this initial phase is complete, a country engagement strategy led by partners and key stakeholders in each country, who will form a coordination group, will help support the launch planning and initial implementation of activities. This includes partners working closely with local stakeholders to design targeted capacity-building programs that reflect their identified needs.
Will certain types of drugs be prioritized over others?

In the very early stages of the ATOM Coalition, we brought together a Medicines Expert Advisory Group that includes experts from the Medicines Patent Pool Advisory Committee, members of the WHO Expert Committee on Selection and Use of Essential Medicines, the Access to Medicine Foundation, the American Society for Clinical Pathology, and the WHO. They have recommended prioritizing medicines listed on the WHO EML that target the cancers with the highest mortality in LMICs, such as lung, breast, colorectal, prostate, cervical, and childhood cancers.
Most recently, the group has reached a consensus on a priority list of generic and biosimilar medicines to make available in ATOM Coalition target countries. This consensus was guided by the Access to Medicine Foundation's new industry program on generic manufacturers and their work on a product list for cancer medicines.
What is your call to action to the pharma industry when it comes to addressing health inequity?

The ATOM Coalition's call to industry partners is simple: commit to increasing the availability and use of key essential cancer medicines, diagnostics, and other technologies at affordable prices and propose potential candidates for patented cancer medicines that could benefit ATOM Coalition target countries through a public health-oriented voluntary license.
Our industry partners, which include pharmaceutical and diagnostic partners, are an important group of ATOM Coalition supporters, providing essential seed funding in the first phase of operations and reflecting on how their medicines and technologies can be made available in LMICs. By collaborating with the ATOM Coalition, private sector partners contribute to the development of capacity-building programs, make medicines more broadly available across ATOM Coalition countries, and source and secure sustainable funding for these countries.
ATOM Coalition partners are already beginning to deliver on this commitment. In October 2022, Novartis was the first pharmaceutical company to announce a voluntary license for a cancer medicine under the ATOM Coalition (4).
We recognize that making cancer medicines available doesn't guarantee that patients will receive the medicine they need when they need it. But that commitment is a great first step and motivates others to collectively address the barriers that prevent that life-saving medicine from reaching a patient. The full solution will involve leveraging all the assets, skills, knowledge, and commitments at our disposal – from working with generic, biosimilar, and originator medicines to increase the availability of cancer medicines and diagnostic technologies to supporting countries in streamlining their regulatory processes, forecasting, procurement, and funding. We will also look to strengthen logistics and supply chain management and to implement training and education programs for healthcare workers and support staff.
We face an incredibly challenging situation that no individual organization or company can address alone. The ATOM Coalition represents a new approach whose success depends on the collective efforts of every partner across every sector working toward the shared goal of increasing access to effective, affordable cancer medicines and diagnostics – and, ultimately, saving millions of lives.
How can companies and institutions get involved?

The ATOM Coalition welcomes partners across all sectors who are committed to working together to improve access to cancer diagnostics and medicines in LMICs. Each coalition partner has expertise in implementing cancer-focused access programs or supporting countries in improving their ability to diagnose and treat cancer patients. Any companies or organizations who want to get involved are invited to make contact by emailing [email protected].
Receive content, products, events as well as relevant industry updates from The Medicine Maker and its sponsors.