Manufacture
Bioprocessing - Upstream & Downstream,
Bioprocessing - Single Use Systems,
Trends & Forecasts,
COVID-19,
Advanced Medicine
Biopharma Trends to Watch
Five trends that will shape the future of biopharma manufacturing in 2021
Priyanka Gupta, Amélie Boulais | | Longer Read
The COVID-19 crisis showed us more clearly than ever that faster biopharmaceutical manufacturing saves lives. But to reach the level of efficiency needed to respond to the world's greatest health challenges, biopharmaceutical manufacturers need to invest in novel tools and strategies that will enable them to intensify and automate their bioprocesses. Here, we discuss the top five factors that will contribute to greater efficiency in biopharma manufacturing in 2021 and beyond.
1. Process intensification
Manufacturers have discussed the potential of "process intensification" for decades, but 2020 generated renewed urgency in implementation. Intensifying a bioprocess means increasing efficiency by reducing manufacturing timelines and using fewer input materials and less complex workflows in a smaller space – all while increasing productivity. We've already seen some biopharma companies embrace the benefits of process intensification in response to the pandemic. But, even after the pandemic is over, the industry will continue to face demand for less expensive products delivered quickly. Today, there are a variety of technologies available for process intensification. For example, advances in rocking motion and stirred tank bioreactors give manufacturers a choice of flexible upstream single-use seed train options that not only enhance flexibility but also lower the cost of goods. Also, using high cell density to inoculate a seed train enables one to inoculate at higher volumes. Finally, the use of multi-column chromatography systems in downstream bioprocessing can significantly lower resin cost, reduce timelines and also save on buffer volumes and cost.
2. Bioprocessing 4.0
Another popular approach that leads to a streamlined bioprocessing workflow is the concept of "bioprocessing 4.0", which allows manufacturers to measure and adjust process parameters more quickly and easily. A key element of bioprocessing 4.0 is the introduction of automation, where all of the tools and equipment within a workflow are connected digitally, from end-to-end, to reduce human error. It also improves the process by incorporating sophisticated feedback loops and machine learning to automatically introduce improvements. Today, bioreactor technologies exist that incorporate in-line sensors that report data in real time, to help scientists measure critical quality attributes and make modifications to the workflow while it's running. It is also possible to replicate bioprocesses digitally to run simulations for optimization. This method can shave weeks off manufacturing timelines and would reduce the time needed for testing data off-line and for cleaning equipment.
In our view, bioprocessing 4.0 is the most impactful way of accelerating biopharmaceutical development and processing.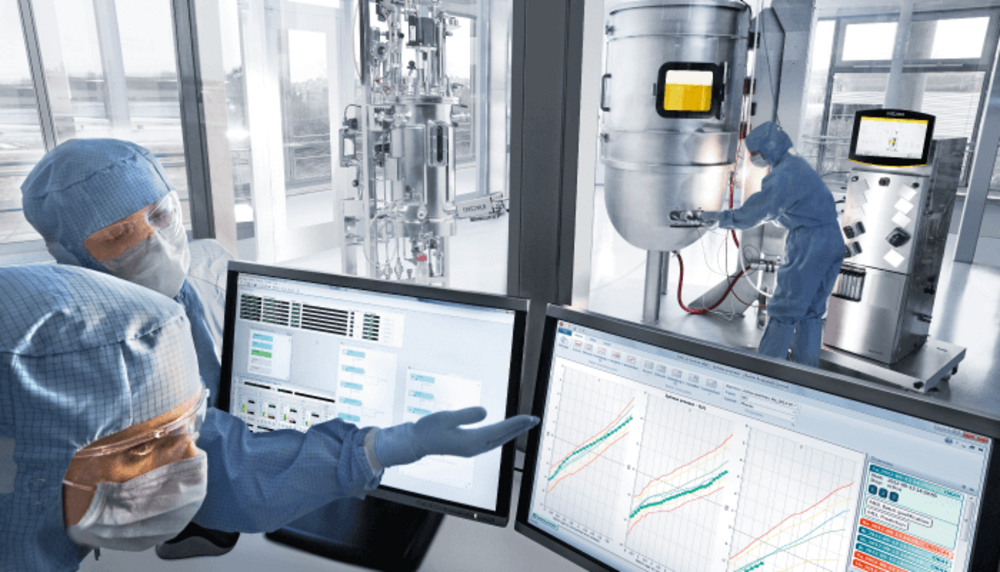 3. Flexible manufacturing
Speed and efficiency will not only enable faster drug and biologic development, but will also help manufacturers produce a wider diversity of pharmaceutical products based on novel modalities, such as complex drug conjugates, viral vectors, nucleic acids, and fusion proteins. To accommodate these new modalities, biopharmaceutical companies will need the flexibility to easily adopt the necessary new manufacturing platforms and transition to new indications as needed.
The COVID-19 pandemic, for example, showed us the true value of flexibility. As biopharmaceutical manufacturers were able to transition almost immediately to SARS-CoV-2 vaccine development, we've seen the first wave of vaccine approvals in record time. Even more incredible; the Pfizer and Moderna vaccines are based on mRNA technology, which had not been implemented successfully prior to SARS-CoV-2. Despite the novelty, the industry was able to innovate quickly, with flexibility enabling the efficient adoption of processes for manufacturing mRNA vaccines.
mRNA technology is a truly versatile platform. The same process that was used to develop an mRNA vaccine for SARS-CoV-2 can be used to produce vaccines for other indications by simply switching out the nucleic acid sequence. This platform makes it easier for manufacturers to transition from one vaccine to another in the same facility, enabling faster and more efficient vaccine development in response to future public health threats. Additionally, an mRNA platform makes the process of vaccine development easier, to the point where these vaccines can be developed in local facilitates all around the world, potentially helping developing nations gain better access to vaccines.
Flexibility can also be achieved via single-use technologies These technologies can be implemented much more quickly than stainless steel technologies, and in the case of COVID-19, vaccine developers can leverage existing facilities to save time and cost. For example, before COVID-19, there was no large-scale capacity for mRNA production, but with the adoption of single-use technologies, existing CDMOs have been repurposing facilities to produce mRNA-based vaccines.
4. Demand for biosimilars in emerging markets
Biosimilars are in high demand worldwide because they are cheaper alternatives to their corresponding innovator drugs. According to McKinsey, global biosimilar sales are set to more than double to $15 billion by 2025, with roughly $5–8 billion of these sales predicted to come from emerging markets (1). And yet, though biopharmaceutical companies race to capture their share of this growing biosimilars market, they also face several hurdles.
First, dozens of biopharmaceutical companies are competing to produce biosimilars for the same 10 to 15 biologics. At the same time, producers of innovator drugs are adopting more streamlined approaches to biologic development so they can produce biologics at a lower cost. And that makes it even harder for biosimilar developers to be competitive.
In the race to be first, cost becomes the major bottleneck. To receive approval for their biosimilars, manufacturers must spend a great deal of time and money proving their molecule's biosimilarity to the innovator. Also, though these companies may ultimately seek a share of emerging markets, they must achieve approval in the US and EU – both regions impose high regulatory standards on biologic development.
All of which makes efficiency even more important; manufacturers must build facilities that can produce multiple biosimilars simultaneously. Additionally, manufacturers must build redundancies into their workflows that will enable them to adapt to new public health threats. Efficiency and flexibility are related and essential.
5. Cellular and genetic approaches
Only a small handful of cell and gene therapies have been approved by the FDA so far, but more than 1,000 different therapies are in the pipeline, with more on the way. By 2025, the FDA anticipates that it will have approved 10–20 more cell and gene therapy products (2). And in the next decade, the gene therapy market is expected to grow at a 30 percent compound annual growth rate (3). Some FDA-approved advanced therapies are already showing success, including a gene therapy for spinal muscular atrophy (Zolgensma from Novartis/Avexis). The future is bright, with biopharmaceutical companies looking to expand beyond rare diseases to oncology and other chronic conditions.
As the cell and gene therapy pipeline grows, the need to produce clinical material will increase. And as developers begin producing therapies for a wider range of indications, including cancer and chronic diseases, more patients will become eligible to benefit from these therapies. These two factors will produce a shortage in manufacturing capacity. This means that manufacturing facilities not only have to grow in number, but developers will also have to intensify production.
Facing the future
The COVID-19 pandemic has intensified an already competitive race to streamline biopharmaceutical development. By embracing process intensification and the tenets of bioprocessing 4.0, biopharmaceutical companies can optimize their workflows to produce more with less. Such approaches mean shortened development timelines and the ability to produce vaccines and other crucial products more cheaply. As a result, the industry is better equipped to handle current and future health threats. The development of a SARS-CoV-2 vaccine so quickly might seem like an exception, but it is likely a sign of things to come in the biopharmaceutical industry in 2021 and beyond.
Subscribe to The Medicine Maker Newsletters
McKinsey & Company, "What's next for biosimilars in emerging markets?" (2019). Available at https://mck.co/2YB6zhd.
FDA, "Statement from FDA Commissioner Scott Gottlieb, M.D. and Peter Marks, M.D., Ph.D., Director of the Center for Biologics Evaluation and Research on new policies to advance development of safe and effective cell and gene therapies," (2019). Available at https://bit.ly/3tlU72S.
ReportLinker, "The global cell and gene therapy market by revenue is expected to grow at a CAGR of over 30.90% during the period 2019–2025," (2020). Available at https://bit.ly/39CtYoT.
About the Authors
Priyanka Gupta
---
Amélie Boulais