Manufacture
Process Control
Strength in Cell Line Development
How a streamlined CLD process can fast-track biologics to IND
Kim You-lim | | 6 min read | Practical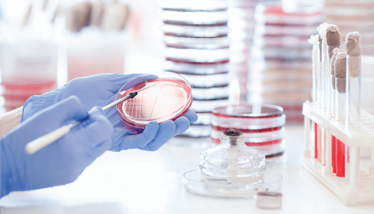 These are exciting times for the cell line development (CLD) market. An ever-increasing need for biologics to treat oncological, autoimmune, and infectious diseases is leading companies to seek more efficient and effective CLD support. This growing demand for biologics – primarily bispecific and mAbs, recombinant proteins, and vaccines – has fueled remarkable growth in the CLD market, which is currently enjoying a double digit growth compound annual growth rate (CAGR) and is predicted to hit $1.7 billion by 2028.
Even further growth in this sector will be driven by a combination of technological advances in cell line engineering and development, emerging screening technologies, and constantly evolving process development models. But the intricacies involved in developing a stable cell line and the risks of contamination demand serious expertise – and that's why so many developers seek external guidance and partnerships.
During my time at Samsung Biologics, I've gained a great deal of insight into what makes CLD successful. Here, I offer my views on this critical stage of biologics development, and how the best partnering practices, the right contract development, and a good manufacturing organization can enhance program efficiency and shorten commercial timelines – all without affecting the yield or quality of the product.
Sound strategy – and why you need it

Conforming to CLD best practices is essential, but it's also time-consuming and labor-intensive. Although the general capabilities of CDMOs are constantly expanding, CLD for biologics has many technical and operational challenges that require specialist attention. For instance, determining the cell line integration of genes using selection markers requires extensive manual isolation and the screening of thousands of clones. The entire process takes at least three months to complete, even with well-established automated platforms.
Developing complex therapeutic molecules is not a static scientific process – there is a constant need for technical innovation and optimization.
Fortunately, there are ways to streamline the CLD process and accelerate the development timeline. Although everyone wants CLD to be as swift as possible, speed cannot come at the cost of quality. Ultimately, you want a rapid CLD process that is capable of delivering a high-titer, high-viability, and high-quality product in line with regulatory expectations. To strike the best possible balance between speed, quality, and compliance, certain processes must be implemented; namely, the optimization of cell culture conditions, introduction of screening technologies, and development of cell lines specifically fit for the project's purpose.
Developing complex therapeutic molecules is not a static scientific process – there is a constant need for technical innovation and optimization. The CLD process is key in this endeavor; optimization increases the specific productivities of difficult-to-express proteins, while ensuring that cell line stability and cell growth are scalable for commercialization, and assuring the quality of the end product. Your CLD strategy should be backed up with dependable data; in my experience, challenging end goals and timelines are more likely to be met when drug programs produce critical data that is accessible and shared.
Plants versus hamsters

When creating a biologic, you'll have access to a range of cell line options – but which one will best suit your drug candidate? Although non-mammalian cell lines from bacteria, yeast, and transgenic plants are on the proverbial table, they cannot create some molecular characteristics offered by mammalian cells. For example:
Glycans. Bacterial cells are unable to perform glycosylation as a post-translational modification (PTMs), and the glycans attached to mAbs in this modification play an important role in their pharmacokinetics, efficacy, and safety.
Folding. Mammalian cells are better equipped to fold and assemble mAbs. The physical conditions in bacteria such as E. coli restrict the formation of bonds crucial to a functional antibody structure.
Large structures. Yeast systems struggle to secrete larger heterologous proteins (>30 kDa), and the proteolysis of secreted proteins and inappropriate glycosylation of human glycoproteins are common problems that can occur with these systems
Inadequate protein assembly drastically reduces the quality of the final product, and using a cell line that is unreliable or poorly characterized will waste time and money in the development process. In particular, the Chinese hamster ovary (CHO) cell line platform has a higher relative potential for success over its counterparts when it comes to producing effective biologics. CHO cell lines have been well characterized over many years and can produce a variety of biological products, including mAbs, multi-specific antibodies and recombinant proteins. They also offer other advantages:
Easy growth. CHO cells have been developed to grow well in suspension cultures, which allows for scalable and adaptable manufacturing.
Productivity. Optimized CHO cells have a high recombinant protein yield.
PTMs: CHO cells can perform the necessary PTMs to produce human products that have excellent biocompatibility and pharmaceutical activity.
Simple selection. It is easy to select the protein of interest in CHO cells using a dihydrofolate reductase or glutamine synthase deficiency.
Characterization. CHO cell lines are well characterized, are often used for cell engineering, and have been used in the development of many approved biotherapeutics in the US and EU.
Line up your lines

Using a cell line that is known to offer advantages, such as strong cell growth, high protein product yield, specific productivity, and high product quality, is fundamental to fast and effective CLD. An optimal cell line allows CLD to start from a position of strength. From there, the building and implementation of any desired modifications are relatively simple additions.
Moreover, a well-developed proprietary line is likely to speed through CLD because it will have a strong foundation of ready-made data and possibly previous product development under its belt. Specific advantages often include full validation with a comprehensive parental cell line history document, along with data concerning cell viability, expression, and vector performance for mAbs. External partners with experience may also have an optimized and customized cell culture medium that better stabilizes the cell line for molecule production and commercial manufacturing – this can be particularly helpful with low-yield and complicated molecules that need a boost in productivity.
Technology is another important factor in CLD. Access to high-throughput tools and advanced analytical technologies can significantly affect the speed and efficiency of a CLD program. For example, affinity capture surface display technology delivers fully automated live cell isolation, selection, and screening. Advanced artificial intelligence and machine learning techniques give access to further automation, which – along with sorting achieved through single-cell printing – can further accelerate the speed of production. Establishing the right technologies and systems suppliers can streamline early-stage development and ease the transition to manufacturing and scale-up.
Having good CLD processes in place early can help you keep sight of your larger IND or Biologic Licence Application goals. And by considering all aspects of the product lifecycle from the outset, you're setting yourself up for commercial success down the road. But CLD is complex – and that's why your partnering strategy is crucial; focus on finding a partner who can provide expert views on parallel processing opportunities and who knows how to avoid false starts. Ultimately, working with a single, end-to-end CDMO partner is a good way to remove the disconnects and gaps between the different stages of production.
The big take home? A smart CLD stage, with a proven platform and provider, will reduce time to IND/BLA and lower eventual drug costs – and that means earlier patient access to more affordable biologics.
Receive content, products, events as well as relevant industry updates from The Medicine Maker and its sponsors.