Manufacture
Drug Delivery,
Small Molecules
Click and Connect
Click chemistry creates biocompatible hydrogels for drug delivery and tissue engineering
Alginate hydrogels have great potential for controlled release because the rate at which they degrade can be fine-tuned by researchers. However, the reagents generally used to produce these polymers are not fully chemoselective – they can cross-react with, and potentially damage, the cells or drugs being encapsulated in the gel.
To harness the potential for clinical use, two labs at Harvard and the Wyss Institute has been working on the development of a true biocompatible alginate hydrogel using simple 'click chemistry' (1).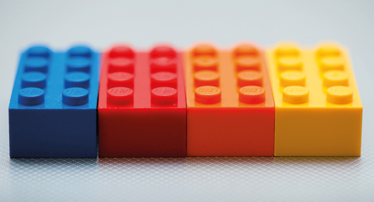 "We wanted to see if we could create a simple, covalently crosslinked alginate system that could be crosslinked in the presence of cells, proteins, drugs, or other biologics. We wanted to really push our capabilities to see if we could do so without an external crosslinker, catalyst, or energy source – to make an epoxy-like hydrogel that would be extremely easy to use for the researcher, and versatile in its applications," says Rajiv Desai, a researcher at the Wyss Institute and one of the authors of the paper.
The gel is formed by mixing two polymer batches. Similar to an epoxy, once the polymers are mixed, a spontaneous reaction occurs that crosslinks the polymers. Desai explains, "This click crosslinking reaction results in a purely alginate-based hydrogel that can quickly form in the presence of cells, proteins, or other biologically active molecules, while retaining their activity. The covalently crosslinked click alginate hydrogel is therefore completely biocompatible – and the first of its kind for a covalent alginate-based material system."
The team found that the gel has minimal inflammatory response and high in vivo stability. "The beauty of the system is that it is a platform technology that can be applied to a lot of situations that require a hydrogel – just about anything in the biomedical space. A lot of people will also be able to pick it up and use for their personal research," says Desai.
Hydrogels are everywhere in medicine, from fillers, to drug delivery devices, to cell carriers and more. The researchers have already put the gels to work in research on how cells interact with their microenvironment, as well as drug delivery and tissue engineering applications. However, there is some way to go before the click alginate hydrogel is ready for commercialization. A significant upfront chemical synthesis needs to occur to make the click precursors, which Desai admits is challenging to do on the very large scale needed in a production setting.
Receive content, products, events as well as relevant industry updates from The Medicine Maker and its sponsors.
Rajiv M. Desai et al., "Versatile Click Alginate Hydrogels Crosslinked via Tetrazine–Norbornene Chemistry", Biomaterials 50, 30-37 (2015).