Manufacture
Bioprocessing - Upstream & Downstream,
Facilities
Getting More from Your Buffer Management Strategy
By implementing MOTIV™ buffer management technology, Lonza has seen many gains, including saving space, greater efficiencies, and being more sustainable. We delve into the story behind the company's collaboration with Asahi Kasei Bioprocess America.
| 7 min read
sponsored by Asahi Kasei Bioprocess
Featuring Matt Macknight, MSAT Manager at Lonza Biologics, Portsmouth, NH, and Chris Rombach, Senior Vice President of Sales and Marketing at Asahi Kasei Bioprocess America, Glenview, IL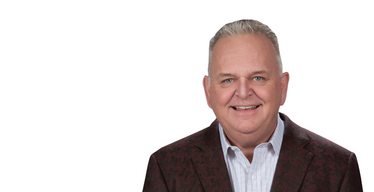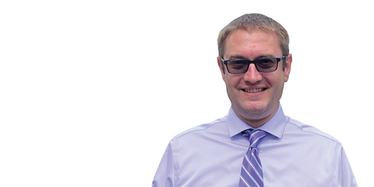 When embarking on a facility expansion focusing on a state-of-the-art 4 X 6,000 L bioreactor multi-product manufacturing suite for complex products, Lonza had limited space for the overall manufacturing area. Buffer preparation and storage can take up a large footprint in a biopharma facility, so the company was keen to look at alternative options, which led them to Asahi Kasei Bioprocess America's (AKBA) MOTIV inline buffer formulation technology.
At Lonza, Matt Macknight developed the method of modelling and applying the MOTIV system across a wide variety of platforms – with help from his engineering par tner Joe Conley. Together, they have collaborated with experts at AKBA to further refine how the technology is used. In this interview, Matt Macknight and Chris Rombach from AKBA discuss the benefits of updating buffer management strategies.
What benefits can new technologies bring to buffer management?

CR: Process buffers are ubiquitous in biopharma manufacturing. Often viewed as a background function, they are not always seen as a key focus area for improvement. However, as companies scale and diversify, material management and storage space become more pressing challenges. At the same time, sustainability is a focus for virtually all drug manufacturers today. All these trends make it a good time to review buffer management strategies.
MM: At Lonza, we've found that technologies like MOTIV allow us to do more with less. Biopharma processes use the same basic chemicals to purify API, but they are used in differing concentrations and different pH targets throughout each process. A traditional manufacturing suite making buffers the old-fashioned way requires a suitable facility footprint to house buffer preparation vessels and store formulated buffers. It also requires the staff to continuously replenish the formulated buffers according to the production schedule, in order to keep purification processes running.
We found that MOTIV removes a lot of these requirements. Instead of making formulated buffers, we can make either highly concentrated individual chemical concentrates that can be mixed with MOTIV to formulate on demand, or we can create a highly concentrated formulated buffer and dilute inline with water for injection. The system also reduces our use of plastic by eliminating the need for single-use bioprocess containers. In a traditional suite, we would be cycling through 50kL–100kL in single use containers for formulated buffer storage per batch. With MOTIV, we are now sending formulated solution directly to the chromatography and TFF systems, with no need for a break tank or containers.
What was the inspiration behind AKBA's MOTIV technology?

CR: AKBA has had buffer systems in the field since 2005 and we were awarded Bioprocess International's Technology of the Decade in 2012 for our inline buffer formulation (IBFTM) systems. In recent years, there has been greater focus from industry on streamlining buffer prep, which inspired us to launch the MOTIV line in 2021, as a rebranding and product expansion of our IBF technology. We offer standard three and five pump designs, coupled with our patented "Pro Yield" mixing technology, and sensing and monitoring instruments to enable PAT.
We also respect that space can be a premium in today's facilities. We develop our systems to have the smallest feasible footprint possible. The fact that the system can also handle concentrated materials also saves space since companies don't need large storage tanks anymore.
MM: The space consideration was a huge focus for Lonza because we only had 10,000 L of storage space for chromatography and TFF concentrates. I reviewed formulated buffer consumption in my asset and found that a typical process would require approximately 50,000 L to 100,000 L of formulated buffer per batch. With the MOTIV system, 10,000 L of storage space is enough, and the concentration is so high that we need only to use small amounts at a time. We have concentrates wherein a single make-up will get us eight production batches. Since we are not using bioprocess containers or a break tank, we only need a very limited number of buffer preparation vessels to supply the concentrates. Zero footprint is required to store chromatography and TFF formulated buffers, as well as reduced resources to maintain buffer supply. The production schedule also only needs ~1-2 buffer make-ups per 24- hour period when in campaign versus 10- 12 in an equivalent asset without MOTIV.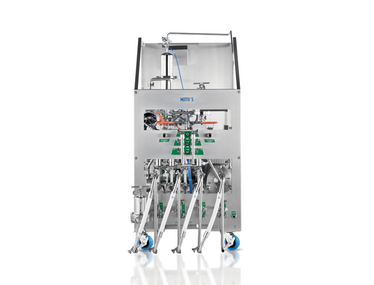 Did Lonza face challenges when implementing the technology?

MM: We have manufactured eight different products in a GMP setting and over 50 unique formulations using the technology. The sheer volume of formulated buffer we have produced using the reduced footprint, equipment, and resource has been a huge advance in the manufacturing process. However, whenever you implement a new technology in a novel way, some challenges will arise.
For all our customers, we perform at-scale formulation testing. As a part of this process, we compare inline MOTIV pH and conductivity to offline using traditional instruments (considered the gold standard). The conductivity discrepancy between inline and offline instruments has been consistent at about 5-8 percent difference in every buffer formulation scenario. This difference is not an issue because conductivity ranges are typically at least +/-10 percent from target. When formulating to a specific conductivity, the system can very reliably maintain midpoint with very little fluctuation. We also incorporate the inline/offline discrepancy into our alarming strategy.
The pH inline/offline comparability has proven to be a little trickier. We have observed that above concentrations of about 50 mM of any chemical and with pH in the 5.5 to 7.5 range, the discrepancy between inline and offline is quite good at <0.05 units. However, at pH of ≤3.5 and/ or a combined concentration of <50 mM of any chemical, the discrepancy is significantly higher and unacceptable for process control.
With pH discrepancies that are considered not comparable or acceptable, the solution can still be formulated by flow rate alone, not relying on inline pH measurement. As we are unable to trust inline pH measurements in these scenarios and unable to alarm for pH, we do more extensive at-scale testing with multiple source concentrates to prove that offline pH measurements are reliable and repeatable using flow rate alone. This has proven to be a very effective alternative control with this system. Ultimately, all scenarios are solvable using a mix of pH and conductivity control, flow control on its own, inline dilution, and inline formulation. As a CDMO that sees a wide variety of different process designs, having a system capable of all these control mechanisms is incredibly useful for us.
How are you collaborating to further enhance the technology?

MM: AKBA listened to our concerns. We provided them with a list of challenging formulations and AKBA has since built a development system. Our two teams are now collaborating to write a test protocol to recreate Lonza's observations, and to identify where on the molarity and pH spectrum the accuracy starts to decrease. Once confirmed, we will work together on system modifications or a new instrument that measures accurately in these scenarios.
CR: At AKBA, we build these systems and test them, and we know that they work well – but ultimately, we are not using them every day. Getting to know Matt, one of the key people using the equipment every day, gave us tremendous insight into the power of this technology and how it can be further refined. We're now recreating the issues that Matt has experienced in certain conditions. We believe that it all comes down to physics and chemistry in action. At low concentrations, we have observed that low levels of solute in the liquid may have an impact on the mixing and measurement by inline sensors. We continue to explore how the technology can be finetuned.
In this collaboration, we all recognize the importance of confidentiality, but it's great to see that Lonza had the open mind to share insights with us. In this industry, equipment providers and users need one another; we are all working towards the end goal of making medicines for patients, and to make manufacturing as easy and as repeatable as possible. It is a pleasure to collaborate with Lonza to improve upon what is already a very advanced technology.
Receive content, products, events as well as relevant industry updates from The Medicine Maker and its sponsors.