Manufacture
Bioprocessing - Upstream & Downstream,
Packaging
Glass Matters
The Medicine Maker 2019 Innovation Awards included Schott's Everic glass vials as a deserved runner up. Biopharmaceuticals are filling company pipelines and many of these drug products are highly sensitive, which means that special consideration must be paid to the primary packaging. Not all glass is created equal and using the right glass and can make a huge difference in terms of reducing unwanted effects between the drug and the packaging, and reducing line downtime through reduced breakage.
Stephanie Sutton | | Interview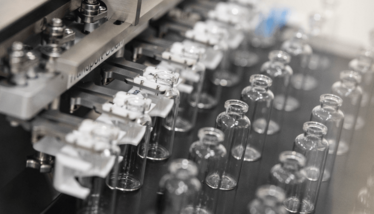 Why does glass matter in the pharma industry?
Borosilicate glass is considered the gold standard in the pharmaceutical packaging industry. It is chemically resistant and, like glass in general, remarkably strong. It was first developed by Otto Schott in 1911, who also founded our company.
Traditional fill and finish operations for drugs rely on bulk filling processes, which allow for high throughput in a short period of time. However, glass-to-glass contact and the mechanical stress on the containers can create small glass particles that can contaminate the medication. In addition, containers may be damaged or even broken. When highly valuable drugs, such as biopharmaceuticals, are involved breakage is particularly problematic but, whatever the drug, it results in downtime, maintenance, and overall manufacturing costs. The glass you use matters. Some types of glass are more prone to breakage than others, and some glass is also more prone to interacting with drugs. For example, glass with high alkalinity levels, high pH-shifts, and high conductivity can increase the risk of drug instability.
How does Everic compare with other pharmaceutical glass?
Our main inspiration always comes from the market. Today's drugs can be highly sensitive, so high-quality glass is essential. Everic vials are manufactured using a delamination-controlled forming process, which ensures drug stability while keeping delamination under control. We use an optimized borosilicate glass with improved hydrolytic resistance of the inner surface, namely FIOLAX CHR (Controlled Hydrolytic Resistance). The containers are extremely chemically stable and have a homogeneous surface, and all aspects of the glass manufacturing process are highly automated and supported by operational data control. We also use mathematical modeling to optimize the geometry of the vial.
Everic is described as a "modular approach" – what does that mean?
Different drugs and different fill and finish manufacturing strategies have different needs and challenges. With Everic, the customer can choose from one to multiple features to overcome their specific challenges; for example, Everic Pure vials have a chemically homogeneous inner surface to ensure drug stability; Everic Strong uses optimized geometry for improved shock and pressure resistance during the filling process or transport; and Everic Smooth has an outer coating that reduces cosmetic defects in the production processes.
It allows manufacturers to choose the glass that best meets their needs – some drug manufacturers may want all three.
In the future, we aim to introduce other modules. In fact, we've already developed a fourth module, which will be ready for testing and sampling by the end of 2020. I look forward to the official market launch in early 2021…
Receive content, products, events as well as relevant industry updates from The Medicine Maker and its sponsors.